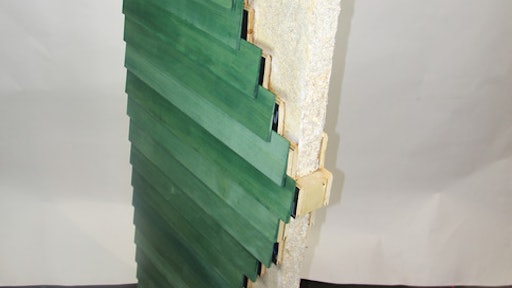 In 1944 Dow invented what they deemed as Styrofoam. A blue foamed, extruded polystyrene product they patented to serve mainly as a building insulation. More commonly, however, Styrofoam is the name people give to the white foamed polystyrene from which packing peanuts and coffee cups and fast-food clamshells are made. In widespread commercial use since the nineteen-fifties, Styrofoam is now everywhere.
Styrofoam poses a problem however because foamed polystyrene breaks down extremely slowly, in timespans no one is sure of, and a major chemical it breaks down to is styrene, listed as a carcinogen in the 2011 toxicology report issued by the National Institutes of Health.
All reasons why we're talking about Ecovative's Myco Foam. This product uses the second item we're investigating as a part of our 2016 Earth Day series on sustainable building materials; mushrooms.  
Mushrooms are a sustainable material that is grown instead of manufactured, and the fungi are naturally fire-resistant, have low or no VOCs and are affordable. This is why the founders or Evocative Design have investigated using mushrooms as building insulation and have built the world's first house made with mushroom insulation.
And by built, they would prefer to say the house was grown.
Ecovative uses mycelium (mushroom "roots") to bond together agricultural byproducts like corn stalks into a material that can replace plastic foam. The company has been selling it for a few years as protective packaging, helping big companies replace thousands of Styrofoam (EPS), and other plastic foam packaging parts. 
Mushroom insulation grows into wood forms over the course of a few days, forming an airtight seal. It dries over the next month (kind of like how concrete cures) and you are left with an airtight wall that is extremely strong. Best yet, it saves on material costs, as you don't need any studs in the wall, and it gives you great thermal performance since it's one continuous insulated wall assembly. The finished Mushroom insulation is also fire resistant and very environmentally friendly.
The advantages are that this insulation uses natural materials, doesn't have the global warming issues associated with the blowing agents in foam insulation and has much lower embodied energy. The main drawback is the lower R-value. XPS is about 5 per inch, and mushroom insulation ranges from 1.8 to 4 per inch, with the typical material coming in at about 3 per inch. So walls are going to have to be thicker.
While mushrooms may not be insulating your next office building, companies like Ecovative, who are investigating how more sustainable materials could work in the world, are truly trying to make a difference.
Wondering if this could work for you? Celebrate this Earth Day (Friday, April 22nd) by pre-ordering mushroom insulation to try growing your own house or project.