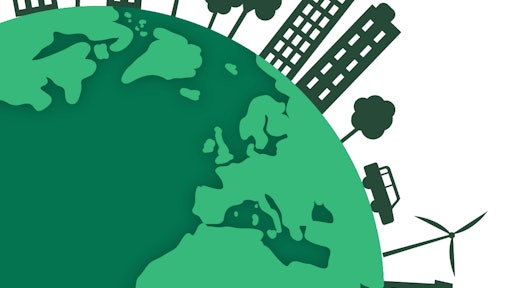 Each year, Earth Day serves as a reminder for people around the world to take small steps towards a greener planet. Here at Sustainable Construction, it's just another day of helping contractors on how they can work towards that goal as well.
We're trying to educate the construction industry on how they can reduce their carbon footprint in big ways, even with small steps. One easy way this can be done is with the purchase of new equipment.
Obviously buying equipment is not a small step. It's a huge investment for your company. We're just here to help you consider options that not only will help your operation, but can also help improve the environment. Not only have many pieces of equipment entered in to the phase where they must meet Tier 4 Final emissions standards, some equipment can also help contractors to work more efficiently on the job every day.
In a new blog series we're calling "Green Machines," we hope to showcase some of this equipment to you monthly with information on how these machines can help you improve productivity, reduce fuel consumption and more.
What if You Could Save up to 14% on Fuel?
We start this month with a new line of skid steer loaders from Caterpillar, Inc.  Not every contractor needs an excavator, but almost every construction company has a skid steer in their equipment fleet.
These new small-chassis skid steer models boost power and fuel efficiency over models that were pre Tier 4-Final/Stage IIIB. Horsepower and torque on the 226D and 232D skid steers and 239D and 249D compact track loaders was boosted 10%, and up to a 14% improvement in fuel efficiency is expected with these models as well.
"We're definitely seeing some fuel efficiency increases," Jeff Brown, product specialist at Caterpillar, Inc says. "We're bringing a very efficient Tier 4 Final engine that's electronically controlled. That electronic control gives you precise fuel delivery, making them more efficient. Plus we've changed the engine from an indirect injection to a direct injection which adds to that fuel efficiency."
That kind of improvement in fuel efficiency can equate to savings you can take right to the bank.
"On top of that, we also added more 10% more power, 10% more torque so it's all about getting more work done in a more efficient manner," Brown says.
In addition, these Small-chassis D Series loaders feature the electronic Intelligent Leveling system that can improve an operator's productivity. The return-to-dig feature allows the operator to set the digging angle of the bucket and automatically return the bucket to that angle by pressing a trigger on the joystick as the arms lower. This means they can get more work done faster.
What other element contributes to productivity? Comfort. A happy operator is a productive one and these models feature all the creature comforts in the cab that can help an operator be more productive.
"These D series models have evolved from the B3 Legacy machines and bring with them the value that customers have come to know in a D series since 2013," Brown says. "Things like the sealed and pressurized cab, the adaptive controls, an advanced display, plus improved visibility with new lift arms and an option to add a backup camera."
So we hope you check back with us each month as we feature equipment that can help you reduce your carbon footprint, while working smarter and more efficiently. Plus these machines work towards keeping our environment healthy, not just on Earth Day, but every day.