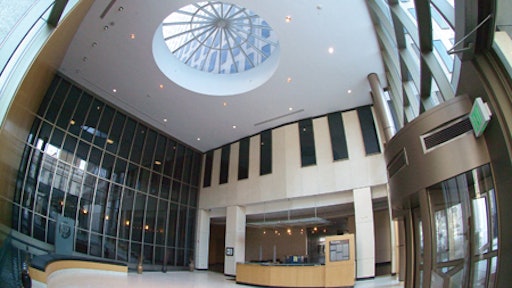 In the United States, about half of America's commercial buildings were constructed prior to 1980, before climate change, global warming and sustainability became everyday phrases. In the US alone, those older buildings consume 41% of the nation's total energy use, through lighting, heating, air conditioning, elevators and the thousands of items plugged into their sockets. In large urban centers such as Chicago and New York, the figure surpasses 70%. As the world seeks to forge a path to a clean energy future, the simple fact is that we need to reduce the energy used by cities and their buildings.
This represents a huge opportunity for contractors: green retrofits. With new construction stalling, it makes sense that the trend in building construction is shifting from new construction to retrofits. In fact, McGraw Hill estimates that 61% of all construction projects today are retrofits.
According to the U.S. Green Building Council (USGBC), green retrofits are any kind of upgrade at an existing building that is wholly or partially occupied to improve energy and environmental performance, reduce water use and improve the comfort and quality of the space in terms of natural light, air quality and noise—all done in a way that it is financially beneficial to the owner. The USGBC promotes these sustainable retrofits through their Leadership in Energy and Environmental Design (LEED) program. 
The average LEED certified building uses 32% less electricity and saves 350 metric tons of CO2 emissions annually. Modest investments in energy-saving and other climate-friendly technologies, both during the design phase and as retrofits, can yield buildings and communities that are environmentally responsible, profitable and healthier places to live and work, and that contribute to reducing CO2 emissions.
However, according to an article on ContractingBusiness.com, several business owners and thus contractors are reluctant to become involved in these retrofits despite the many benefits.
"Deep energy retrofits are hard," says Ken Neuhauser with Building Sciences Corporation's. "They are not simple, quick or cheap."
A traditional energy overhaul of a building (retrofits that include replacing mechanical systems, windows, insulation, and other features during a remodel) requires significant investment, and is therefore typically timed with major renovations or capital-intensive building system replacement. And in most cases that translates directly into a financing challenge – because to a bank with tight credit standards for buildings, hard, complex, slow and expensive means risky.  
The Harvard Business Review says that in order for retrofits to become more widely accepted and rapidly deployed, a more industrialized approach is needed, one that will reduce cost and simplify the decision-making process for buyers. The Harvard Business Review says to gain market traction, retrofits need to be:
Relevant (appropriate to their building)
Fast (a project lasting less than a year),
Capital-light (or better yet, funded by low-cost capital provided by a third party)
Affordable (with a simple payback of less than 4 years, and ideally closer to 2).
Old Buildings are US Cities' Biggest Sustainability Challenge
Retrofit Ready
Despite the challenges, green buildings provide abundant opportunities for saving energy and mitigating CO2 emissions.  Making green retrofits can reduce CO2 emissions while improving the bottom line through energy and other savings and some cities are trying. 
The Rocky Mountain Institute (RMI) proposed a deep energy retrofit plan for the Byron Rogers Federal Office Building in Denver, a project they regard as "a powerful case study for dramatically improving performance of existing buildings." The plan was very aggressive with a goal of reducing the building's energy consumption by 70%. The U.S. General Services Administration (GSA), which owns the 620,000-square-foot building, bought into the concept and used $147 million from the American Recovery and Reinvestment Act to fund a large portion of the project, which, in total, cost about $160 million.
The result: GSA reports that the building now uses less than 45.1 kBtu per square foot per year (note the "whole building" metric) and achieves annual energy savings of about 55% post retrofit.
See more about how Denver and Seattle are leading the way with Deep Retrofits. 
Need more ideas of how buildings can achieve easy retrofits? Here are some examples from the USGBC of measures that can be taken to improve building performance:
Incorporating the most efficient heating, ventilation and air conditioning systems, along with operations and maintenance of such systems to assure optimum performance
Using state of the art lighting and optimizing daylighting
Using recycled content building and interior materials
Reducing potable water usage
Using renewable energy
Implementing proper construction waste management
Using locally produced building materials
 Let us know of any green retrofit projects you're working on at jstoikes@acbusinessmedia.com