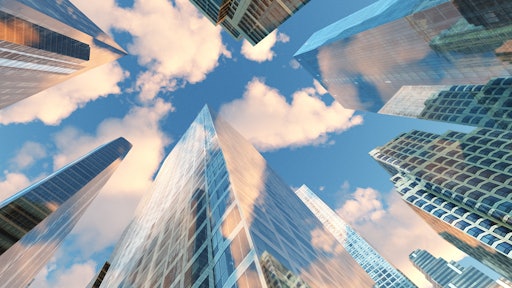 @ustas, AdobeStock
Whatever your political orientation, the developed world's determination to slow the rate of climate change is already altering commercial construction methods, and opportunities. A flurry of stories in the past 12 months (see below) about efforts to reduce the construction industry's carbon emissions and grants to motivate innovation measure real change in the industry's most basic elements – concrete and steel.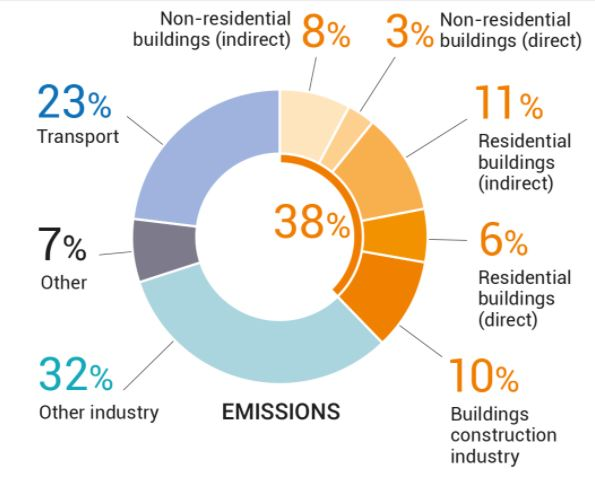 International Energy AgencyTo meet the Intergovernmental Panel on Climate Change's limit of global temperature 1.5 to well below 2 degrees Celsius compared to the preindustrial age, initial milestones for reducing carbon from building construction – one of the largest sources of man-made carbon emissions – come in less than nine years. Contractors who prove effective reducing carbon in the construction process will have access to a uniquely aggressive segment of the market.
World population is urbanizing rapidly. The UN Department of Economic and Social Affairs projects 2.5 billion more people will pour into cities in the coming 30 years, and 60% of buildings required by 2050 have not been built yet.
In 2019, building operations and construction activities together accounted for 38% of global energy-related CO2 emissions, the highest level ever recorded, according to the United Nations Environmental Programme (UNEP).
UNEP says direct building CO2 emissions need to be cut in half by 2030 to get on track for net zero carbon building stock by 2050, and recommends governments prioritize low-carbon buildings in pandemic stimulus packages and updated climate pledges. This equates to building sector emissions falling by around 6% per year until 2030, close to the 7% decrease in 2020 global energy sector CO2 emissions due to the pandemic.
The Global Alliance for Buildings and Construction (GlobalABC) new Buildings Climate Tracker – which considers measures such as incremental energy efficiency investment in buildings and the share of renewable energy in global buildings – finds that the rate of annual improvement is decreasing. The rate of progress fell by half between 2016 and 2019. To get the buildings sector on track to achieving net-zero carbon by 2050, all actors across the buildings value chain need to increase decarbonization actions and their impact by a factor of five.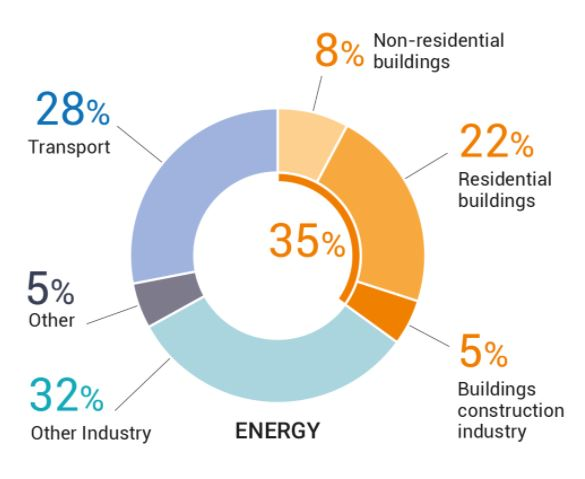 International Energy AgencyIn 2019, spending on energy-efficient buildings increased for the first time in three years, with building energy efficiency across global markets increasing to $152 billion in 2019, 3% more than the previous year. It's a small portion of the $5.8 trillion spent in the global building and construction sector, but there are positive signs across the investment sector that building decarbonization and energy efficiency are changing investment strategies.
For example, of the 1,005 real estate companies, developers, real estate investment trusts, and funds representing more than $4.1 trillion in assets under management that reported to The Global ESG (environmental, social, and governance) Benchmark for Real Assets in 2019, 90% aligned their projects with green building rating standards for construction and operations.
Green buildings represent one of the biggest global investment opportunities of the next decade, estimated by the International Finance Corp. to be $24.7 trillion by 2030.
The groundswell of global action on climate change is not bypassing the U.S. construction industry. Global materials producers such as Cemex, HeidelbergCement, LafargeHolcim and others are bringing new materials and processes to North America, and driving development of construction methods such as 3D printing into the domestic market. The economics of scale will deliver market change even if politics won't.
Low-carbon construction technologies are neither far out nor far off. And they will develop into a powerful competitive advantage for constructors who refine their effective use.
Some low-carbon developments over the past 12 months:
Three industry players in the cement industry have come forward with plans to sustainability and plans for carbon neutrality in the cement and concrete industry - including a September 2020 virtual conference
Balfour Beatty, with Sunbelt and Invisible Systems, has developed technology to manage the power supply of construction sites and reduce carbon emissions on its sites by up to 80%
The players driving sustainability and reducing carbon emissions within the cement and concrete industries
LawnStarter ranked states on a variety of factors to develop an interactive list of how each might fare under Biden's climate plan
Computer scientists at the University of the West of England are developing software that uses artificial intelligence (AI) and machine learning to help construction reduce the amount of embodied carbon in their building and infrastructure
Forty of the world's leading cement and concrete companies unveiled a joint industry '2050 Climate Ambition..'
O&G Industries uses the power of the sun to run their quarry location in Southbury, CT
LafargeHolcim and Witteveen + Bos have announced a 3D printing hackathon in an attempt to reinvent building design and rethink the methods of residential building
HeidelbergCement is starting the further development and scaling-up of the LEILAC technology (Low Emissions Intensity Lime And Cement) together with the Australian technology company Calix and a European consortium
The technology developed seeks to increase industrial by-products availability with cementitious qualities, like fly ash and slag, to produce concretes with a low CO2 footprint
As contractors begin to plan future projects, be on the lookout for these seven sustainable building materials in 2021 and beyond
Volvo Construction Equipment (Volvo CE) was awarded a $2 million grant for a commercial pilot of the company's electric, zero emission excavator and electric wheel loader in California
Tata Steel has collaborated with CII Green Business Centre and relevant stakeholders in the India steel sector to develop GreenPro framework for steel rebars