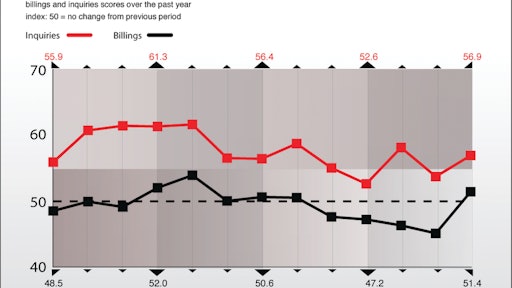 The American Institute of Architects' Architecture Billings Index (ABI) unexpectedly showed a very modest rebound in architecture firm billings in August with a score of 51.4. (A score over 50 indicates growth in firm billings.) This comes on the heels of four consecutive months of fairly substantial declines.
Comments from survey panelists this month continue to indicate mixed business conditions around the country, and the AIA will be tracking the score closely over the coming months. Inquiries into new projects continued to grow, and more firms reported an increase in design contracts in August than in July, although the majority of firms continue to report a decline.
Business conditions remain weak in all regions of the country and for architecture firms of all specializations. Since these figures are computed as three-month moving averages of the index scores, the slight bump up in billings is not apparent in these breakouts. By region, firms located in the Northeast reported the sharpest downturn in firm billings for the second month in a row. Business conditions in August also continued to deteriorate at firms with a residential specialization, in spite of moderate growth reported by those firms earlier this year.
Weakness persisted in the overall economy in August, highlighted by a net employment change of zero for the month; the first month with no employment growth since September 2010. Construction employment was essentially flat, while architecture services employment increased modestly for the fifth consecutive month in July (the most-current data available). The Conference Board's Consumer Confidence Index declined sharply in August, falling to a score of 44.5, the lowest in more than two years. The most recent edition of the Federal Reserve's Beige Book indicates increased demand for multifamily projects in the New York, Philadelphia, and Cleveland districts, but home prices remain flat overall. Commercial construction remains weak in the Cleveland, Atlanta, Chicago, and Kansas City districts, although the Chicago district is tempered slightly by growth in industrial construction.
Stalled projects remain a major issue for architecture firms. Nearly two-thirds of firms (65 percent) report having at least one design project under contract that is currently stalled, but likely to eventually proceed to construction. Three-quarters of these stalled projects are delayed due to difficulties obtaining financing. Firms report that all project types have been impacted by financing issues, with four in 10 of these projects being in the institutional sector: education (16.3 percent), healthcare (9.3 percent), and other institutional projects (15.7 percent). Multifamily residential projects also account for a significant share (15.1 percent) of projects stalled due to problems obtaining financing. In contrast, industrial, single-family residential, and office projects each account for less than 8 percent of projects stalled with financing issues.
(More on the August Architecture Billings Index . . . )