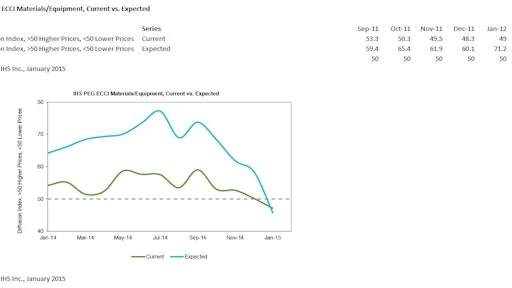 Construction costs fell in January, bringing a halt to three years of rising prices, according to IHS and the Procurement Executives Group (PEG). The headline current IHS PEG Engineering and Construction Cost Index (ECCI) dropped to 48.8 percent in January, down from 52.7 percent in December, the lowest level since January 2012.
The current materials/equipment price index registered 47.2 percent in January, the softest reading on record, and down from 50.2 percent in December. Nine of the 12 individual components registered falling prices in January, led by copper-based wire and cable, carbon steel pipe and freight rates. January's plunge into negative territory was a particularly notable reversal for fabricated structural steel and alloy steel pipe — both of which had seen rising prices over all of 2014. Of the remaining subcomponents, only ready-mix concrete, turbines, and pumps and compressors tallied rising prices.
"After three years of rising prices, North American construction costs reversed course in January," said Laura Hodges, director, IHS pricing and purchasing service. "While eye-opening to some, this soft reading really isn't a surprise; it reflects a trend that's been building over time. Prices are being tempered not just by the recent drop in oil prices globally but by a combination of other factors, including softness in global demand and a strong US dollar."  
Labor costs flat to slightly higher in most regions
The current subcontractor labor index eased to 52.4 percent in January, down from 58.6 percent last month. The U.S. South continues to experience the highest readings of any region, but most other regions registered flat to slightly rising labor costs. As had been the consistent message over the course of 2014, respondents again referenced the U.S. Gulf Coast as a tight labor market despite the recent oil price drop.
The six-month headline expectations index fell to 48.3 percent in January, down from 60.9 in December. This marks the first time in survey history that the forward-looking index implies falling prices over the six-month horizon. The materials/equipment index also sank to a new low. Ten of 12 individual components showed falling price expectations, with ready-mix concrete and turbines as the only subcomponents above the neutral mark. Meanwhile, expectations for subcontractor labor also softened to a new low, falling to 54.1 from 66.8 in December. The regional detail eased across the board, but still conveyed strong expectations across most geographies.
The IHS PEG Engineering and Construction Cost Index (ECCI) is based on data independently obtained and compiled by IHS from the procurement executives of leading engineering, procurement and construction firms. The headline index tracks industry-specific trends and variations, identifying market-turning points for key projects, and is intended to act as a leading indicator for wage and material inflation specific to this industry.
Each survey response is weighted equally for every $2 billion in spending in North America. Respondents are asked whether prices — either actual paid transactions or company-informed transactions — during the current month for individual materials, equipment and regional subcontractor rates, were higher, lower or the same as the prior month.
Respondents are then asked for their six-month pricing expectations among these same subcategories. The results are compiled into diffusion indexes, in which a reading greater than 50 represents upward pricing strength and a reading below 50 represents downward pricing strength.