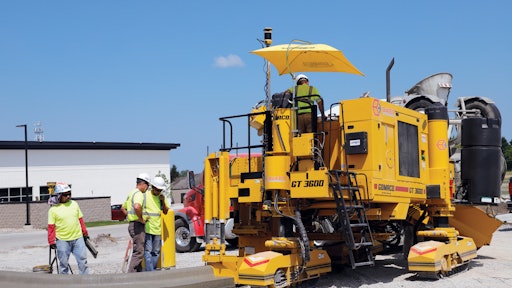 GOMACO
There are many jobsite application considerations to examine when selecting a curb and gutter slipform paving machine. "For example, what is the customer currently using and what are his plans for the future? We want to sell them a machine that provides solutions for today and in the future," says Darick Franzen, vice president of business development, Miller Formless. "We want the customer to be able to maintain and have the ability to grow their business with our products, so understanding applications and plans for the future are important." 
Slipform pavers come in many sizes with varying degrees of versatility. Select machines can be used to not only produce a variety of cross-sections for curb and gutter, but also sidewalks, median barriers and other shapes. Because project requirements vary, it is important to understand the features and capabilities of the slipform paver and how that may impact future bid opportunities.
Versatility Expands Opportunities
"Versatility is a critical consideration when choosing a machine," says Stephen Bullock, president of Power Curbers. "Very few machines can pour production curb and gutter in housing developments and DOT projects and fit into a tight parking lot for radius work, as well as being equipped for rehab jobs on city streets." Make sure you understand any limitations in what you can slipform with the specific paver being researched.
Kevin Klein, vice president of engineering and R&D, GOMACO, adds, "We understand you have a specific and immediate need, but buyers need to plan for the future, as well. Why buy a machine only for curb and gutter applications, and then a few years later buy a different paver for a barrier application or maybe a sidewalk or some other profile? GOMACO's curb and gutter machines are capable of slipforming a variety of different applications in different paving configurations."
Also research features on the specific pavers. For instance, does the paver include a trimmer attachment to fine trim the subgrade prior to placing the concrete? Even on pavers that have trimming attachments, only a few allow simultaneous operation. "GOMACO's machines are all equipped with fine grade trimmers to simultaneously prepare the subgrade for the curb and gutter to achieve maximum concrete yield on your project," says Klein.
Maximize productivity through labor savings
Most pavers offer a working (paving) speed and a travel speed. Paving speed is controlled by jobsite conditions, including concrete slump and the cross-sectional area of the concrete being placed. Even the radius of the pour can impact paving speed, which will decrease as the radii gets tight.
"Most machines pour at roughly the same speed. But efficiency can still be gained by selecting a machine that requires less labor," says Bullock.
The setup of the jobsite has a large impact on paving efficiency. "We want to provide a machine that adapts or responds to how well a job is set up," says Franzen. "Subgrade, trucks, material and labor force all play into the speed of the machine."
Quality should be the main focus. "Paving speed and production is dictated by delivery of concrete," says Klein. "Contractors should be equally or even more concerned about the quality of the product the paver slipforms. GOMACO machines have several features for a quality end product, including fine grade trimmers and a trailing stainless used on the mold. We can also provide driveway cutout devices to save concrete and labor through the driveways of a project."
For a jobsite with multiple pours in different locations, travel speed can also be a consideration for moving from site to site.
Select the Right Paver for Tight Radii 

Power Curbers
Depending upon the nature of your projects, the ability to handle tight radius pours is also important. This type of work requires careful planning.
"You need to understand how many tight radii are on the project and what is the layout to efficiently get trucks and manpower throughout the project. The Miller Formless M-1000 four-track machine is very popular in 24-in. radius and straightaway slipforming," says Franzen.
You then need to select the best paver for the application. "Several manufacturers advertise tight radius capability," says Bullock. "Does the machine fit in tight spots? Are additional sensors and setup time involved in preparing the machine for tight radius turning?" Compare setup time when selecting a slipform paver that will do a lot of tight radius curb and gutter.
"First and foremost, [you] need a machine built to handle tight radius paving," says Klein. "The GOMACO GT-3600 was the first three-track machine to slipform a 24-in. radius. Paving through a radius with the machine rather than hand setting can save the contractor a good bit of material cost and labor."
Make sure the paver can productively handle a mix of straight and curved curb and gutter. "GOMACO's line of new Xtreme curb and gutter machines do an excellent job in the straightaways, but are built for tight radii paving, as well," says Klein. "They have rotary-sensored slew drives on each of their three tracks for extreme steering capabilities. Their new hydraulics package allows independent, individual control of track speed for smooth machine travel through a radius."
The paver controls can simplify tight radius pours. "The G+ control system easily interfaces with stringline or 3D guidance," says Klein. "The Xtreme machines are also available with G+ radius software, which allows the operator to simply input the radius to be slipformed and the G+ calibrates and manages all aspects of traveling around the radius, including the speed and angles of the tracks."
Power Curbers

Quickly Get In and Out
To be successful in curb and gutter work, you need to be able to quickly get to the jobsite, set up, perform the pour, load up and get to the next jobsite.
"Most contractors who specialize in curb and gutter work need a paver that can quickly and easily be transported from one project to the next," says Klein. "The nature of their work is to spend just a few days on a project and move the machine again as soon as it is completed. GOMACO's curb and gutter machines are designed for jobsite mobility and quick and easy transportability. They feature a side-shifting and vertical-lifting trimmerhead and mold and tracks that can turn more than 90˚ for quick loading onto a trailer. The molds used are also designed with the quick-attach feature to allow contractors to change profiles quickly from job to job."
The cost of transport is also an important factor. "Being able to transport a machine with a dump truck and trailer has an advantage over those that must have a dedicated lowboy," says Bullock.
"Transportation and the cost to transport should always be a consideration in selecting a curb machine," says Franzen. "The cost of owning and maintaining a truck and trailer or lowboy continue to rise. Situations that require lots of moves or tight work areas are always a factor. Is a smaller truck and tag trailer more efficient than a traditional lowboy setup? Cost-effective ways of moving any machinery are always of importance to a company's bottom line. The weight and nature of the Miller Formless M-1000 makes it a favorite for fast and easy transportation from jobsite to jobsite."
A Stringless Future
While you may not be using stringless technology now, it is going to continue to become more popular and should be a factor in the selection of a curb and gutter paver. As the technology continues to expand, pavers that are not compatible may become harder to sell.
The consideration of stringless compatibility is critically important, according to Franzen. "Is the machine capable and compatible with the three providers of stringless technology?"
The number of jobs currently using stringless technology is hard to pin down. "Many of our customers at times go stringless after the machine has been delivered or used over a period of time," Franzen notes. "Additionally, many road building companies use two different providers when it comes to this type of technology. However, as the industry continues to grow and demand this sort of technology it will become a higher percentage application. We are being asked more regularly about stringless abilities.
Bullock adds, "We don't have a good number on the percentage of jobs that are now stringless, but that number is growing year over year. Most of our customers are ordering their machines 'stringless ready' even if they're not ready to go stringless. All of our current pavers are stringless ready and it should certainly be considered for future work."
Stringless technology can handle almost any type of curb and gutter pour. "In today's market, I think most applications can be slipformed with 3D technology," says Klein. "We have many customers who will only use 3D control on their projects, while others are in markets where they use 3D on some projects while still setting stringline on other projects."
The technology is becoming user friendly. "3D stringless paving technology is becoming easier to operate and has been adopted on many concrete paving jobsites," says Klein. "All GOMACO's pavers are plug-and-play with the major 3D technology manufacturers — Topcon, Leica Geosystems and Trimble. We have a dedicated team of 3D experts in house to support customers adopting 3D paving while continuously working on new developments in 3D technology."
Upgrading pavers not initially designed for stringless technology can be cost prohibitive. "New Miller Formless pavers come equipped with MFSmart Control Stringless," says Franzen. "However, it is very costly to upfit an older machine to go stringless. Most manufacturers are able to upfit machine controls to go stringless, however, it has not yet proven to be cost effective to upgrade an older machine."
Simplified Controls Widen Operator Pool 
"Any contractor will tell you that finding labor, especially quality operators, is their biggest challenge," says Bullock. "That's why we focus on building operator-friendly, simple machinery. With just a few days training we can take someone who's never been on a machine and make them a proficient operator. Simple controls and good visibility factor into this tremendously."
"The ability for a contractor to easily train and have numerous employees capable of running these types of machines only makes sense from a cost basis of operation," says Franzen. "Therefore, ease of use and user-friendly control systems play a major role in the purchasing decisions on a machine like this."
Visibility is critically important from a safety perspective, for operations and for monitoring the pour. "The operator needs to have the ability to see his surrounding area for safety's sake and to properly operate the machine in an efficient, productive manner," says Franzen.
Control system location in relationship to the visibility of the machine pouring a curb can simplify operation. This includes the control system layout and the ability to run the machine remotely. "Recently, Miller Formless added a remote control system standard to all of its slipform paving machines."
"We design our equipment to be easy to use and operator friendly from all aspects starting with the operator's platform, which is isolated, reducing vibration and providing a more comfortable operating experience," says Klein. "Some of our curb and gutter machines feature moveable operator's consoles so they can be positioned for the best view of the entire paving operation no matter what the application being slipformed."
GOMACO curb and gutter machines can be equipped with an optional remote control to allow the operator to move away from the normal operating position if desired. "Our software engineers are constantly working to improve the G+ system," adds Klein. "Because updates are incorporated inside the G+ software and not developed in completely new platforms, operators aren't constantly having to learn a new system."
Try to Calculate the Total Cost of Ownership 
Curb and gutter slipform pavers vary from rather simplistic to very sophisticated and no one machine will meet the needs of every contractor.
"Total cost of ownership does vary significantly," says Bullock. "Machines that appear to be bargains going in sometimes carry very high-priced parts. A simple, well-built machine saves contractors with less time-consuming troubleshooting and expensive downtime repairs. A known machine like the [Power Curbers] 5700 series also retains its value at trade-in time."
Make sure to look beyond the purchase price. "Certainly, the initial upfront cost of purchasing such a machine can create some heartache. However, the real value in owning and operating this type of equipment is how long it will last and provide productivity and profits for the company long term," says Franzen.
Support of the machine, parts availability, off-site diagnostic abilities and training resources all play a role in the total cost of ownership, Klein adds. 
Companies in this article