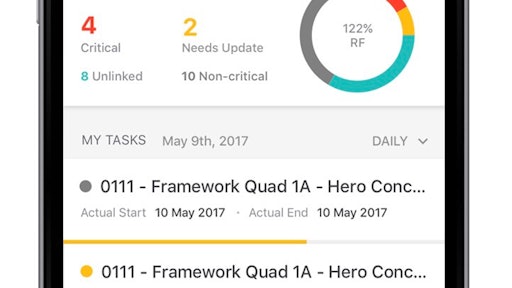 Mobile app: mCollaborationDeveloper: onTarget
mCollaboration is a field app from onTarget. The collaboration solution provides a single interface with real time project management integrated with 3D BIM models. The mobile app allows project managers in the field to stay up to date on critical schedule activities. It also allows them to visualize in exact location on a 3D BIM model.
[VIDEO] Overview of onTarget Mobile Field App

The app also features alerts and notifications for emergency or specific situations such as when jobs haven't been billed, subcontractor insurance expired or current profits are less than forecast.
App features:
Dashboard provides overview of project status including tasks, documents, timecards, safety and weather

Create and assign tasks

Share mark ups and annotations

Share ideas and chat with team members

Attach site photos to verify completion

Update progress from the field

Collaborate virtually in the specific location of the virtual model of the building