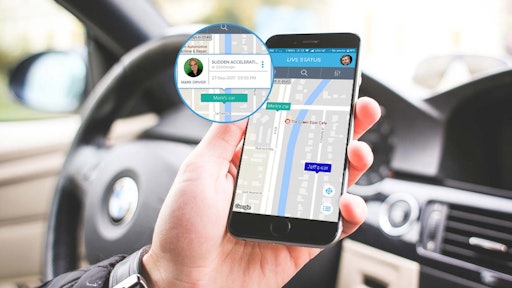 Mobile app: Azuga FleetMobile: Standalone Smartphone Edition (SSE)
Developer: Azuga
Cost: $9.99 per driver/per month
Available on: Apple and Android devices
Launched at the end of 2017, Azuga FleetMobile: Standalone Smartphone Edition (SSE) became the only fleet mobile application on the market in its price point to provide data analysis and tracking features for time card management, driver behavior and location monitoring. With Azuga FleetMobile SSE, users no longer need in-vehicle hardware to get access to Azuga FleetMobile application features including GPS tracking, driver behavior monitoring, location-based timestamps, driver rewards and more.
According to Azuga, by having all of a vehicle's data at your fingertips, construction fleet managers will be able to take a deep dive into the daily activities that move their businesses forward and develop plans on how to increase efficiency through these activities.
Contractors are able to capture detailed trip data to find out how to become more efficient and increase their bottom line. From route optimization and vehicle health notifications to finding the closest and cheapest gas stations, leveraging detailed trip data will assist contractors with increasing overall fleet profitability. In addition, contractors using the FleetMobile: SSE app typically receive breaks on insurance premiums and can streamline operations by using the app's automated time cards and trip logs, making it easier for office staff to track mileage and vehicle usage.
Azuga FleetMobile SSE not only uses GPS tracking on a map but the app has also been proven to help fleets reduce accidents by up to 70% by detecting driving behavior including speeding, harsh braking and rapid acceleration, according to the developer.
"With Azuga FleetMobile: Smartphone Standalone Edition, we're making it easy and affordable for fleet managers who have already invested in mobile devices to monitor their vehicles' location and driver behavior," said Ananth Rani, co-founder and CEO of Azuga. "This information is then deciphered by our trusted data science team, producing insights that give businesses the power to improve workforce productivity, enable better risk management, and ultimately enhance overall field operations."
App features:
Precise location and timestamps for time cards submitted directly from phone

Live maps and breadcrumbs

Driver grouping and hierarchies

Trip details and trip detection

Stop time and number of stops

Usage summary

Geofences

Scheduled reports

Custom reporting

Driver coaching

Automated service and maintenance alerts