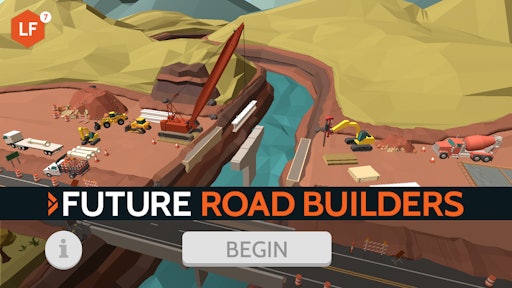 Mobile app: Future Road Builders
Developer: Simcoach Games
Cost: Free
Available on: Apple and Android devices
This free game app allows players to explore a career in highway construction and provides organizations with qualified talent for occupation opportunities within the skills trades.
Simcoach Games describes Future Road Builders as a pre-apprenticeship experience where players interact with each phase of a virtual highway construction project while learning about the skills needed to be a construction professional.  Future Road Builders was built in partnership with the Constructors Association of Western Pennsylvania.
Players uncover the skills needed to be a carpenter, concrete finisher, skilled laborer, heavy equipment operator and inspector. In addition to exploring the trades, users also take practice tests and complete interactive activities. Players are rewarded for achieving certain benchmarks and milestones.
Future Road Builders is part of the Simcoach Skill Arcade, which is a workforce development training platform that uses video games to expose the next generation to career paths while connecting them with training, apprenticeships and employment in their region.
For employers, Future Road Builders offers a dashboard that connects players and companies. The dashboard provides organizations with data to gain insights into potential employees including what region players are in, what interests they have and what aptitudes they have shown. Organizations can also license the ability to target message to specific audiences based on players' registered zip codes.
App features:
Learn ins and outs of some construction trades
Play mini-games that test your aptitudes and skills
Receive links to learning about and applying to real training opportunities
Watch videos of real construction workers on the job
Earn industry-recognized badges
Track accomplishments through Simcoach Skill Arcade