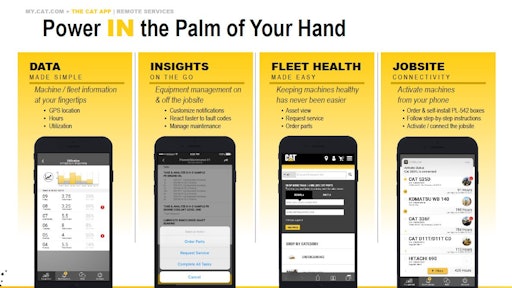 Mobile app: Cat App
Developer: Caterpillar
Cost: Free
Available on: Apple and Android devices
Caterpillar has launched a mobile app designed to help Caterpillar customers take advantage of their equipment telematics data. The Cat App delivers simplified, streamlined data directly to a user's mobile device so they can quickly view and monitor machine location and health, react faster to fault codes and maximize uptime.
"App development included 150 customers and dealers from around the world to learn what they considered most important from their telematics data," says Fred Rio, director of digital and technology for Caterpillar Construction Industries. "The vast majority of the feedback, regardless of brand, fell into three customer challenges: tracking machine hours and location, receiving equipment fault codes, and managing maintenance without being tied to the computer back at the office."
With the Cat App, users will see the location of all equipment as well as machines' operating hours, health and utilization data. They will receive notifications of upcoming planned maintenance as well as fault codes.
App features:
Monitor your entire fleet
Track hours, location, fuel level and utilization
Customizable push notifications alert users of machine operating conditions
Upcoming planned service indicators based on machine operating hours
Establish different thresholds for sending event notification
Enable keyless start/Operator ID for Next Generation

Cat

Excavators
Activate Product Link devices
Order parts and/or service with an auto-filled contact form
Connect with your

Cat

dealer from the worksite
35 different languages available
Data can be viewed and uploaded on the companion website: https://my.cat.com