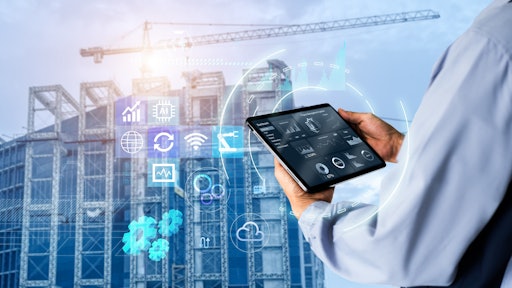 @panuwat - adobe.stock.com
The Internet of Things (IoT), with its transformative potential, is undeniably leading the vanguard in technology. It is fundamentally reshaping operational paradigms across the globe. This revolution isn't novel, rather, it has been progressively unfolding, with an impressive network of approximately 13.15 billion IoT devices interconnected worldwide. Given its rapid proliferation, it's essential to strategically consider the integration of IoT with mobile applications to accomplish an operational triad - efficiency, safety, and productivity, especially within equipment management in the field of construction.
What Is Smart Equipment Management?
Smart equipment management is a modern, transformative approach that integrates advanced technologies and intelligent systems to optimize the monitoring, utilization, and maintenance of construction equipment.
In the construction sector, rather than waiting for a critical asset to fail, potentially disrupting operations, risking lives, and incurring significant costs, smart equipment management systems anticipate issues in advance. Utilizing IoT-based monitoring and predictive analytics, these systems can detect irregularities, pinpoint their location, and facilitate timely repairs, thereby averting equipment shutdowns and substantial operational disruptions.
This preventive methodology is revolutionizing construction operations by integrating Internet of Things (IoT) sensors and devices, enhancing data collection and analysis, and advancing real-time monitoring and tracking. The implementation of these technologies not only mitigates the risk and cost associated with equipment replacement and onsite repairs but also minimizes downtime, leading to maximized efficiency across all operational aspects. In essence, the efficacy of smart equipment management is rooted in its capacity to meticulously track and measure the performance of equipment, reiterating that prevention is indeed more cost-effective and efficient than cure.
The Power Duo: Combining IoT and Mobile Technology
Mobile applications have infiltrated every other industry in the modern day, and the construction sector is no exception. Within the framework of smart equipment management in the construction sector, mobile applications, synergized with IoT capabilities, have carved a pivotal niche. As indispensable catalysts in the present-day construction landscape, these applications, armed with IoT, deftly enable real-time equipment monitoring, tracking, and management, even on the move.
What strengthens this power duo is the availability of real-time data paired with intuitive interfaces. These digitally-empowered platforms enable construction professionals to make informed, data-centric decisions. Here are more reasons why this duo leads to optimized equipment utilization and a pronounced uptick in operational efficiency.
1. IoT-Enhanced Mobility and Data Integration in Construction
Utilizing the convergence of IoT and mobile technology, construction teams unlock exceptional mobility and remote accessibility. IoT devices and sensors feed critical data to mobile applications, facilitating real-time monitoring of equipment status and performance, irrespective of location. Simultaneously, seamless data integration and sharing across platforms provide a comprehensive overview of equipment health, usage patterns, and maintenance needs.
2. Real-time Alerts and Predictive Maintenance
IoT integration gives rise to real-time alerts and notifications, thereby fostering an environment of proactive intervention. These immediate updates on equipment performance, potential issues, or maintenance needs empower professionals to address concerns promptly, substantially minimizing downtime and costly disruptions. Moreover, the application of predictive analytics allows for the forecasting of maintenance schedules, optimizing equipment performance, and ensuring timely upkeep.
3. Data-Driven Decision-Making and Resource Optimization
The inclusion of IoT in construction mobile apps provides a platform for data-driven decision-making. Detailed analysis of equipment performance and utilization data identifies inefficiencies and areas for improvement. These insights further facilitate optimal equipment deployment and effective resource allocation. This level of strategic planning and foresight significantly streamlines operations, enhances productivity, and leads to a pronounced uptick in operational efficiency.
Future Trends and Innovations
As IoT sensors and devices become more cost-effective and sophisticated, they will provide a wealth of real-time data, enabling precise monitoring of equipment health, usage patterns, and performance. This data-driven approach will lead to optimized equipment utilization, predictive maintenance, and better resource allocation, ultimately streamlining construction operations.
The integration of AI and machine learning is set to augment smart equipment management with advanced analytics. With the availability of vast data generated by IoT sensors, AI algorithms will be capable of analyzing and interpreting complex patterns, providing construction professionals with valuable insights. Predictive and prescriptive analytics will empower decision-makers to anticipate equipment maintenance needs, optimize workflows, and enhance overall project planning and execution.
The construction industry stands on the brink of a profound digital transformation steered by IoT and mobile technologies. This revolution forecasts a future where smart equipment management characterizes construction work— predictive, intelligent, and efficient. With this shift, the sector will witness more informed decision-making, diminished downtime, and enhanced productivity, all contributing to optimal resource utilization. The upshot will be a safer, more streamlined, and increasingly profitable construction environment. Tomorrow's construction landscape is undeniably smarter and more connected, bridging the gap between digital technology and physical operations like never before.