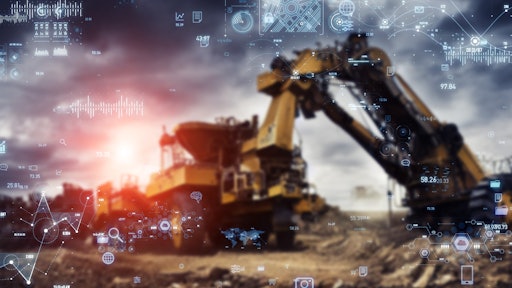 @metamorworks - adobe.stock.com
The construction industry, currently valued at $10 trillion, is set to boost its contributions to the global economy thanks to the rapid integration of artificial intelligence (AI).
AI-driven tools and software are accelerating growth by automating workflows in nearly all stages of construction, from pre-construction design, offsite prefabrication and assembly, onsite building to ongoing maintenance and performance. The technology is also modernizing the notoriously complex financial side of the business, empowering construction owners to revolutionize operations by curbing costs from high materials, alleviating supply chain chaos and creating game-changing efficiencies.
These capabilities can help construction firms reap several benefits, including better visibility, faster and more accurate payments, as well as stronger collaboration with enhanced productivity. As more firms embrace the adoption of AI solutions in their back-offices, the construction industry at-large can be propelled forward and experience reduced financial distress while curbing labor market challenges, which ultimately creates a more collaborative future.
Easing Financial Woes
While the construction industry made an impressive rebound from historic challenges brought on by the pandemic and the global economic crisis that followed, its growth hinges on firms' abilities to accurately manage risk, liabilities and cash flow while sustaining strong relationships with contractors and suppliers.
This is no easy feat given that the industry is dealing with wild pricing fluctuations as well as supply and labor shortages that make it difficult to provide reliable, timely bids to drive new business. Inaccurate data and little visibility into these factors also contribute to ongoing challenges in operations. For example, an Autodesk and FMI Corporation survey found that inaccurate, incomplete and inaccessible data may have cost the global construction industry $1.85 trillion in 2020 alone. Conversely, the study shows that firms that effectively collect, manage and analyze their data experience fewer project delays, budget overages, change orders and safety incidents.
Automated platforms and solutions support effective data management strategies for construction companies, keeping financial and project data more secure than if executed manually using paper methods, while providing real-time access and powerful insights for firms. As a result, firms can quickly and easily track financial metrics, such as committed costs, change orders and invoiced costs all the way through to proof of payment. This enables them to carefully manage bids and commitments against budget and time, harnessing better control over cash flow. The solutions can also keep a historical view of work, including what went right and wrong, which can be used to guide future projects and optimize the allocation of labor and materials. This is valuable for when resources are in short supply, as they are today.
In addition to providing course-directing insights, continuous monitoring provided by AI protects firms by identifying risks—anything from a suspicious payment to a project that has an unusually high rate of safety incidents, to a crew with low productivity rates. Flagging risks empowers construction companies to address them and pivot when needed to avoid unnecessary costs or delays. Monitoring also provides protection against security risks like fraud and ensures ongoing regulatory compliance.
Offsetting Labor Challenges and Keeping Up With Demand
A survey conducted by the Associated General Contractors of America and Autodesk shows that worker shortages continue to plague nearly all construction firms, largely due to an aging workforce and a lack of qualified candidates. Having too few people to do the work makes it difficult for firms to finish jobs on time or take advantage of federal investments in infrastructure and manufacturing, hindering their bottom lines and overall industry growth.
In addition to hiring and retention initiatives, such as increased pay, training and development programs to prepare staff for advancements, the industry is leaning on technology to do more with less. New research from McKinsey illustrates this powerful potential, predicting that AI could replace as much as 30 percent of work hours by 2030.
Automated bots and software solutions replace labor-intensive manual processes that are mission critical to the construction business, such as those in procurement, finance, accounting and reporting. This frees people from time-consuming work and empowers them to handle greater workloads without additional hiring.
No longer saddled with mundane tasks like entering invoice data or calling suppliers to check on pricing and availability, staff can turn their attention to more satisfying, strategic work, such as managing cash flow, negotiating new vendor contracts and strengthening supplier relationships.
Automation also enables growth by eliminating the paper shuffle that ensues between construction firms, contractors and suppliers. For instance, AI-driven, cloud-based financial solutions can digitize invoices and receipts and provide electronic payment options, requiring far less time and labor than manual financial processes. Since they eliminate the need for employees to be tethered to an office, the solutions also provide remote work opportunities for staff, allowing firms to recruit without geographical restrictions.
Solidifying Relationships and Powering Seamless Collaboration
The financial side of the construction business is complex, reliant on scores of suppliers, vendors, contractors and subcontractors who might be scattered across jobsites— creating pressures to pay quickly and retain labor over competitors. Finances can be riddled with complexities like partial deliveries and back orders that are intensified in today's volatile environment, and there's intense competition for qualified tradespeople.
AI-driven tools are providing one of the most powerful ways to cut through the chaos and win contractor and supplier loyalty by paving the way to faster payments. Automated invoicing and payment solutions integrate with accounting systems, replacing manual data entry with advanced capture tools, OCR technology and automated coding, speeding the process and ensuring accuracy. End-to-end solutions eliminate the need for error-prone, slow-moving paper checks and offer suppliers the speed, convenience and security of electronic payments.
Because financials are digitized, owners and their suppliers get real-time access to payment statuses. The shared visibility shows when payments arrive and saves both sides the time and hassle of phone and email follow ups. It also provides peace of mind for suppliers, assuring them that they'll have cash on hand to pay their bills, their suppliers and make payroll for their employees. For some, that access to capital allows them to purchase inventory and equipment, expand operations and invest in employees.
Creating a More Efficient and Collaborative Future
Advanced technologies like AI are transforming the construction industry, creating new workflows and providing powerful insights that empower firms to build stronger businesses and better serve their customers.
The global economy has a lot to gain from this transformation. In fact, McKinsey predicts that if the construction industry can close the productivity gap that it has long suffered from, it could increase its value by $1.6 trillion a year, bumping the global GDP up 2 percent.
What's standing in its way? 87 percent of construction firms polled by The Association of General Contractors and Autodesk said their employees need to possess digital technology skills to be successful as firms adopt exciting new technologies. As firms continue to embrace automation, upskilling becomes increasingly essential. The industry needs to commit to providing training and development opportunities that help employees expand their technical skills to advance their careers. By ensuring that their people develop the skills they need to succeed in an automated workplace, construction companies can increase their productivity, improve employee engagement and drive innovation throughout the industry.