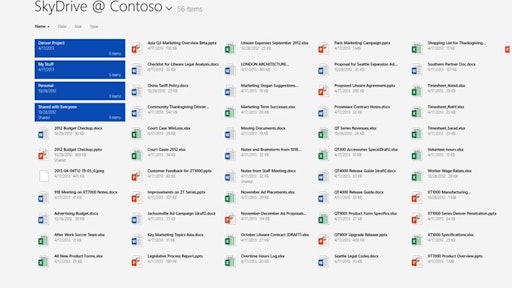 Mobile app: SkyDrive Pro
Developer:  Microsoft Corporation
Cost: Free with SharePoint Online or Office 365 subscription
Available on: Apple, Android and Windows devices
Contractors can use the SkyDrive Pro mobile app to store files in the cloud and access them from anywhere with a mobile device. It allows users to access, manage and share files while on the go. Files uploaded from mobile devices can be accessed on a PC, Mac tablet or phone.
SkyDrive Pro works with SharePoint 2013 and is available with Office 365 Small Business and Office 365 Enterprise. The app is specifically intended for workplace documents.
Video: Learn More About the SkyDrive Pro Mobile App
Recent improvements have been made to SkyDrive Pro including an upgrade to 25 GB of default storage space, up from 7 GB previously. SharePoint Online admins can also increase storage space even more for up to 25 users at once. Storage can be increased in increments up to 50 or 100 GB.
Another update is the Shared with Me view where users can find documents that others have shared with them. The documents and folders you can see in this view may live in another user's SkyDrive Pro or may be shared from a standard team site document library. You can view, edit, share and download these documents just as if they were natively stored in your SkyDrive Pro.
App features:
Access most recently used files
Edit files from mobile device
Access files while offline
Share files with colleagues
Open documents, photos and videos
Open and save files from other apps
Interoperates with Office Mobile and Office Web Apps for editing Word, Excel and Powerpoint documents
Integration with OneNote app for viewing and editing notebooks
Overall file upload limit in SharPoint Online is 2 GB/file
Default recycle bin retention is 90 days
Versioning by default on newly provisioned SkyDrive Pro libraries saves the last 10 versions so you won't lose important documents