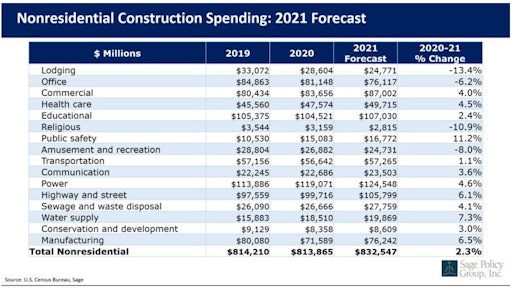 data: U.S. Census Bureau, table: Sage Policy Group
Improving COVID-19 statistics are generally good for the economy. As the second quarter of 2021 rolled out, ConstructionExecutive.com produced an economic-update webinar in which Anirban Basu, economist with the Sage Policy Group, celebrated the U.S. economy's demonstration of dramatic recuperative power.
He also warned that the gradual transition to a post-pandemic economy is misaligning supply and demand at multiple levels of construction in a way that will likely push full recovery of large segments of the industry out to 2022.
"For an economy to flourish both the demand and supply sides of the economy must participate. With the federal stimulus coming, demand gets a boost. But supply will be constrained by ongoing lock-down measures not just in America, but in Canada, in South Africa, in Ireland and England, Italy, Spain and Portugal," says Basu. "So the result in the near term is that the U.S. savings rate will continue to be high, and that will spring-load the economy for rapid economic growth once vaccines become even more broadly available. So the back half of 2021 should be simply spectacular for (general) economic growth."
Construction Executive polled the webinar's attendees on how long they expect it will take for construction-industry demand to stabilize at the pre-pandemic level of spending:
9% believe it's already stabilized
18% expect it later in 2021
41% said in 2022
28% said 2023 or beyond
4% believe it may never reach the pre-pandemic levels
Materials prices in crisis
Incentivized demand and pinched supply leads to inflation, and Basu believes today's rising material costs are the leading edge of a precipitous turn in the general economy. "We're about to see a tsunami of demand, as the global economy opens back up. That is inflationary, and you already see that in steel, softwood lumber, tin, iron, aluminum, copper, so on and so forth."
Soaring materials prices are currently having an outsized impact on construction. Basu talked about how prices might change this year.
"Oil prices have picked back up. This morning we're at $61 a barrel in North America [Brent Crude at time of this posting was $66.42 per barrel]. So that's a lot different from a negative price (like we saw early in the pandemic).
"But the world is awash in oil. And a lot of that has to do with America's shale revolution. It's not however, awash in copper, aluminum, steel and softwood lumber. So even though I don't expect oil prices to take off, that is not to suggest we won't see a massive increase in other input prices through the next couple of years."
With softwood prices setting records, Basu described what he called a "perfect storm" in lumber demand. 
"For decades, Americans and Canadians have been in this simmering trade dispute over softwood lumber, and that trade dispute heated up predictably under Donald Trump. That probably constrained some of investment in supply capacity pre-pandemic. Moreover, many softwood lumber manufacturers have been impacted by the pandemic, they've suffered an interruption in their workflow, as some members of their teams have become COVID-19 positive. The housing market took off in the midst of a pandemic. So all of a sudden, by the late spring into the summer, all these builders were putting in their softwood lumber package orders, and the suppliers were not ready to meet that demand. Shortages mounted, prices took off and the supply side has never really caught up with all that demand.
"So realtors out there are tearing their hair out, because they have so many buyers looking to buy and they don't have anything to show them. What you'd want in that situation, of course, is a lot of building to transpire. But the building process takes time, it takes time to purchase and develop lots, to get your permits and to put homes up for people to purchase and actually live in. All the while, the demand for softwood lumber is climbing.
"Is there any relief in sight? I think so. This is a free market economy at the end of the day. The supply side has plenty of incentive to get this right to start delivering more lumber. And I think by later this year, you'll start to see a little correction in softwood lumber prices. So in the short term, you might see some more increased softwood lumber prices. But in the longer term, these prices are coming back to Earth."
Supply and demand for steel, aluminum and other mineral construction inputs through most of 2021 is likely to be similar to lumber, but metals' longer-term prospects aren't as encouraging as wood.
"I expect them to stay quite high, because global steel and aluminum supply chains are still shifting around," Basu says. "This has a lot to do with the passage of the USMCA, the U.S. Mexico Canada trade agreement. That agreement, among other things, creates more incentives for CEOs to put more of their supply chains in North America to benefit from favorable tariff treatment. There's a lot of anger towards China right now with respect to intellectual property rights, with respect to government intrusion, with respect to hacking, and of course, with respect to the pandemic. So a lot of CEOs, including those who operate in steel and aluminum segments, have said, 'We are considering de-linking from the Chinese economy more aggressively.' That means shifting supply chains around. The industry can easily add capacity in the short term. They're deconstructing some capacity and putting that capacity elsewhere.
"With the global economy set to come back strong later this year into 2022, with a massive infrastructure stimulus package on the way in the United States of America, I don't see any major relief for steel prices or aluminum prices anytime soon."
Problematic supply and soaring demand
The outlook for construction-input volatility is not great. The basics of economic stability are simply not in place.
"What you need is predictability of supply and demand. You don't have volatility when you can easily predict what demand is going to be. You also need predictability on the supply side. Now, even though we in America have made some significant progress in our vaccinations, in many emerging parts of the world (where many of constructions key inputs originate) the vaccines, protocols, or programs have just begun. So it's not anytime soon that we will see a lack of volatility, I will expect price volatility throughout 2021, throughout 2022, as America begins to implement its infrastructure package in earnest into 2023. And at that point, you might start to see some stability in materials prices. But not, I don't think, for a couple of years."
Basu believes construction's input-price escalation is the leading edge of an inherently inflationary turn.
"Many of you will ask, 'Anirban, is this inflation story real?' You better believe it's real! I know the Federal Reserve doesn't think so. I know our new Treasury Secretary, Janet Yellen, doesn't think so. I think so.
"If I look at bond yields today – the yield on the 10-year Treasury at 1.7% – the bond market doesn't seem to be worried about inflation. Interest rates are so low, and I understand that."
But Basu says rising material prices have the power to set off much larger-scale inflation in the very likely evolution of current conditions.
"Demand growth is about to be quite vigorous economy-wide in the months ahead, so I see inflation as being a real phenomenon. You've got all the ingredients – a rapidly recovering economy, federal stimulus, federal deficit spending, buckling supply chains globally – all of those factors will tend to push inflation higher. So my inflation prediction is much higher than other economists.
"I'm not saying late-'70s-type inflation, but inflation that forces the federal reserve to tighten monetary policy more aggressively than they currently project. And remember we're such a leveraged society that even small increases in interest rates can take a lot of vigor out of the economy.
"There will be a day of reckoning as desktops come back into fashion. At some point we'll have a bond market crisis for America. There is no free lunch. But that is not the 2021 story."
The 2021 Construction Outlook
Basu forecasts overall growth in construction spending in 2021 of 2.3%, "With a lot of weakness in private segments like lodging and office, and some residual strength in some of the more public-funded construction segments.
"But an infrastructure package passed this year does not translate into a lot of infrastructure spending in calendar year 2021. A lot of that will end up coming in 2022 and beyond. And so that's reflected in these forecasts."
Expect greater-than-average growth in spending on:
Data centers and fulfillment centers
Hospital expansions adding ventilators and ICU beds
Facilities that support manufacturing
U.S. recovery since April of 2020 is remarkable, and the effort to return to the pre-pandemic curve is funding critical solutions to long-term competitiveness challenges.
"We've seen demonstrated the enormous recuperative powers of the U.S. economy, and the fact that this pandemic has engendered some response on issues that really matter including infrastructure is very positive," Basu says, rounding up key benefits of this past year of hard lessons. "The Biden Administration for instance, as had the Trump Administration, is focusing on worker training and on other aspects of economic life that would bring more people into the labor force. We are trying to maintain global supremacy here and it's not easy; China is coming on fast. If we want to stay No. 1, we have to have more Americans involved in the labor market – more Americans able to work skilled construction jobs.
"Let's get to it. Let's bring those people back to work. Let's train them. Let's be one country. And I think we'll see more of that coming in the years ahead. At least I hope the crisis has caused Americans to think that way, because that's the only way we can say No. 1."