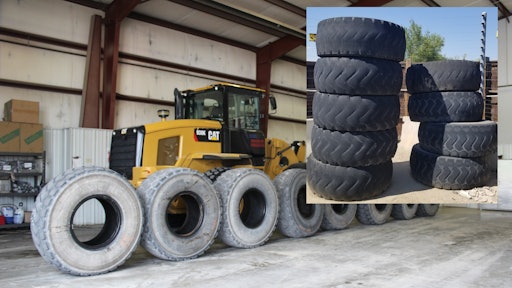 By Gregg Wartgow, Contributing Editor
The carcass of a construction equipment tire is built tough to withstand immense loads and harsh off-road use, so they can still have value after the tread has worn out. It's a situation that should encourage lots of retreading if the carcass isn't damaged before the tread wears to a retreadable level. But retreading the wrong tires, or in the wrong application, can turn out to be more expensive than replacing with new rubber.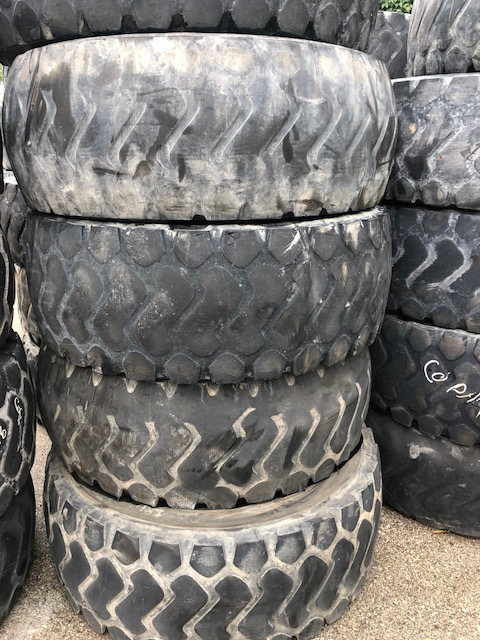 A recapped tire that fails before its expected tread life also falls short of its expected return on investment. Unbudgeted time and money is spent mounting and dismounting failed tires and, the unforseen course equipment downtime can seem like a strong deterrent to recapping.
But equipment fleets can definitely save money and beat tire shortages recapping off-the-road (OTR) tires. Equipment managers just need a strategy to make sure their recaps perform as intended.
"The devil is in the details," says Joe O'Leary, CEM, senior director of equipment, safety and environmental compliance at Copart. "Unless an equipment manager has taken the time to vet his recapping program – and his recapping vendors – he could end up spending more money on recapping than if he had purchased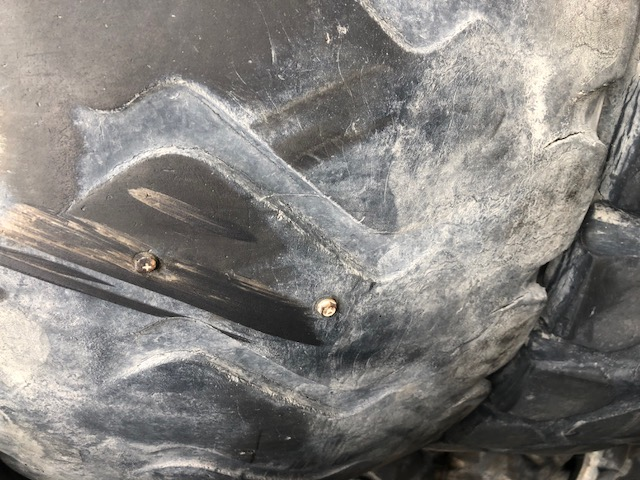 These 20.5R25 tires have been run fairly smooth, but still have a hard pack surface and very few cuts, which Community Tire Retreading says makes them good candidates for retreading. brand new tires."
O'Leary has learned a lot about the pros and cons of tire recapping over the past five to ten years. When he joined Copart and assumed control of its 850-loader fleet, not much of a tire program was in place. O'Leary challenged one of his area equipment managers to prove that tire recapping was cost-effective. After accounting for all of the mounts/dismounts, casing repairs and shipping costs, he learned that recapping was actually costing at least 2.5% more than buying new tires. Furthermore, the recapped tire failure rate was roughly 10%.
This is the type of thing that can happen to a construction company if it doesn't have a handle on the numbers. "If you don't have a tire program and know what your true costs are, I don't know how you can look at retreading," says Mike Berra Jr., the third-generation co-owner of Community Tire Retreading based in Maryland Heights, Missouri. "Keep in mind that a tire program can be relatively simple. It could be that you run your tires until there is 6/32 of tread left, or maybe that there is zero tread left. Regardless, you can work with your tire vendor on that. But if you don't have that defined, there will never be any consistency."
Establishing systems and standards
Since O'Leary's team has developed a formal tire program, Copart's recap failure rate has plummeted from 10% to around 1%. O'Leary says the impressive turnaround is the result of putting systems and standards in place – and putting the onus on tire vendors to help meet their expectations.
One policy O'Leary's team has implemented is that a given tire will never be recapped more than twice, despite the fact that some recappers say you can recap the same tire three or four times. You have to take equipment, application and environment into consideration, so there is no one-size-fits-all policy. The point is that equipment managers must be cognizant of the potential recapping of bad tires.
"The recapper must know that you expect the recap to go a full tread life without issue, just like a new tire would," O'Leary says. "With retreads, there are a lot of ways a tire fails before it wears out the rubber. For instance, there isn't the right adhesion between the retread rubber and the base carcass. And the biggest issue is wrapping rubber around a bad casing."
There are two manufacturing methods: cut cap and mold cap. Berra says both will work if done correctly, but believes the mold-capping method his company uses produces a better tire. "The consistency of the product is much more controllable, the diameter is fixed and you don't abuse the casing by sticking the whole thing in a heat chamber. I also think you get a more consistent-running tire because the cure rate matches what the new tire manufacturers are doing," Berra explains.
Doug King, CEM, corporate equipment manager for Sherwood Companies based in Wichita, Kansas, also likes the mold cap method. He sees much longer casing life, and his operators feel better about the tires. "Perception is reality," King says. "With the bead-to-bead process Community Tire uses, you can hardly tell that it isn't a brand-new tire."
Roughly 25% of King's fleet's tire replacements are recaps. "I'm only using my best casings," he points out. Everything in the fleet is fair game, aside from articulated dump trucks, scrapers and the front tires on haul trucks.
"Load and speed are our two biggest factors," King explains. "With our scrapers, we've even had blowouts with virgin tires. So with retreads, I'm just erroring on the side of caution. With our articulated dump trucks, we load them to maximum capacity and run them near 35 mph. If you have a tire that's a little low, you're going to build a lot of heat. Any tire can have an issue in that scenario, but I just don't want to take that chance with a recap."
For the other equipment in the fleet, King says he often goes with a recap if a unit typically has issues with tire wear – especially if a new tire would not wear significantly longer. "If you are going to burn something up, go cheaper," King says. "Some machines are also better for recapping. One example is our prime loaders in the quarry where the savings are huge and the wear not much different."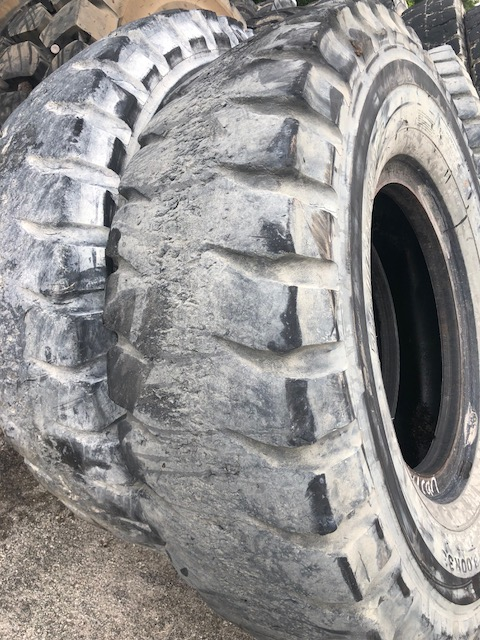 Equipment managers do have to be wary of tire damage. "If you're in a rock quarry and run your tires down until there is no tread left, and there are a million cuts you can stick an icepick in and hit steel, the chances of retreading that tire are pretty slim," Berra relates. "Water and dirt start to get in there and erode the steel. By the time the retreader tries to texturize it and take it down to a certain diameter, there is just nothing left. So one thing a fleet has to think about is whether or not they are running their tires down to near destruction."
Hours of service can be a key indicator in deciding whether or not it makes financial sense to retread a tire. But even if you've identified some rules of thumb in that regard, other factors also need to be taken into consideration.
Berra explains, "You have to think about the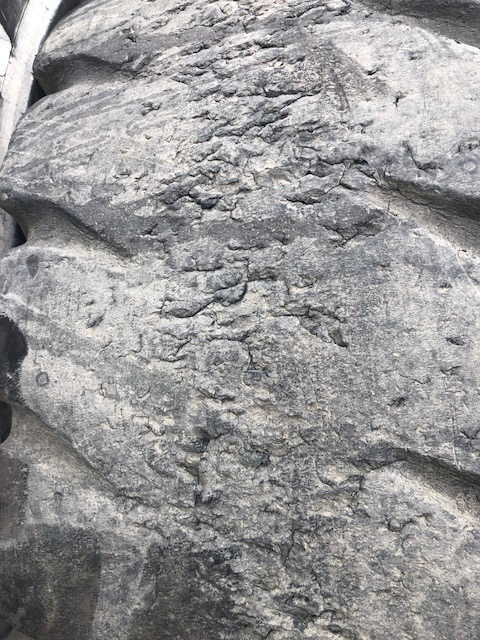 surface the machine is operating on. For example, a construction company running a 70-ton haul truck in Georgia might get 4,000 to 6,000 hours on a new tread. That same application in Texas is much different because the surface is not as abrasive. A company might get 10,000 to 12,000 hours. For that company in Texas, it might not make as much sense to look at retreading because after that many hours of use, the tires might be pretty trashed."
You also have to factor in how the equipment is operating. For example, a haul truck making 5-mile loaded runs all day long tends to develop a lot of heat. That same truck making 3/4-mile hauls, half of them empty, isn't running as hard. That second truck is likely a better candidate for retreading because there's a good chance the carcass and casing are still in decent shape.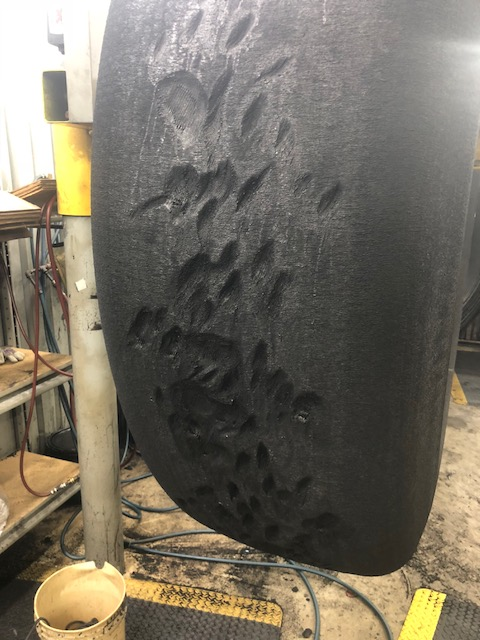 Tires (2400R35) pulled from a quarry operation with little or no tread remaining have a lot of cuts that need to be skived but the casings aren't overly compromised. But tires run this far can risk larger separations from dirt and moisture compromising the bond between the steel belts and the casing.It is important to understand that not every single tire has to be recapped in order to benefit from recapping. "My mindset isn't about capping everything I can," O'Leary points out. "My mindset is about throwing away the casings that can't be recapped. Only 35% to 40% of our tires are recapped with a 1% failure rate over the past five to six years. That's about five tires out of 500 every year. It doesn't make sense to recap 50% to 60% if 10% are going to fail out of service."
Bad tires are bad for everyone
A successful tire recapping program often depends on the vitally important equipment triangle. The tire user, dealer and recapper must all work together toward a mutually beneficial relationship.
King says his tire dealers help him decide which tires to send for recapping. "From there I have confidence in our retread company's inspection procedure because we have had very few recap failures," King says. "Their process exposes all of the casing and all of the flaws."
King is talking about Community Tire Retreading, which also happens to be Copart's most prominent recapper. Community Tire is the recapper for GCR Tires, one of the largest tire distributors in the country. Nearly half of Copart's locations do business with GCR Tires. Developing a relationship with Community Tire has been instrumental to Copart's successful tire recapping program.
"We made it clear that we could be a pretty big customer," O'Leary says. "We also made it clear that we could get along just fine without ever recapping a tire again. In other words, our business was theirs to lose." Granted, Copart is a massive customer with a little more leverage in the triangle than many end-users might have. But O'Leary says every fleet can set the same level of expectation, and every good tire recapper—and dealer for that matter—will work toward the same desired outcome.
"A tire dealer is going to get our business either way, so setting a strong expectation for recaps isn't really an issue there," O'Leary points out. "As for the tire recapper, a fleet can either be the golden goose that lays a lot of golden eggs for a long time, or the recapper can kill us, pluck us, fry us and eat us once. A good recapper will understand that."
Community Tire understands. It uses a unique inspection process that goes beyond the typical visual inspection for tire defects. The company has invested in something called a shearography machine. A tire is placed inside of a chamber. The machine then takes two sets of laser images: one while the tire is in a relaxed state, and a second set while a vacuum is drawn in the chamber. The two sets of photos are overlayed, allowing retread technicians to look beneath the surface of the tread and sidewalls in search of separations and other defects.
This inspection process helps Community Tire avoid retreading tires that likely won't provide adequate service life. Furthermore, provided there is significant tread left on a given tire, a fleet could return that tire to service for a little while longer, or perhaps designate it as a spare to achieve some additional ROI.
Equipment managers should be on the lookout for dealer upcharges for things like shipping and casing repairs. "I don't want to get dinged for a shipping cost because the dealer shipped a bad casing to a recapper halfway across the country," O'Leary says.
As for repair costs, O'Leary says a direct channel of communication with the recapper itself is essential. Early on in Copart's recap program, some dealers were throwing in repair charges. But O'Leary had a fixed price for a recap which included basic repairs.
"The average construction company might just go ahead and pay these extra charges, perhaps not even noticing them," O'Leary says. "Because of our relationship with the recapper, we are able to ask for all repair records with tire serial numbers. This way we can see what repairs are actually being done. Now the recapper bills us directly for any additional repair work."
Getting a tire recapping program started requires good planning, followed up by some close supervision for a year or two to help it mature. "Once a tire program is mature, the fleet manager can start to back off a bit because the program starts running itself," O'Leary relates. Having great tire partners makes it a whole lot easier.
Related Reading:
Are Off-Road Retreads Viable for Your Operation?
What Scrap Tire Analysis Can Do For Your Fleet Maintenance
Proactive Off-Road Tire Management Saves Thousands in Cost and Time