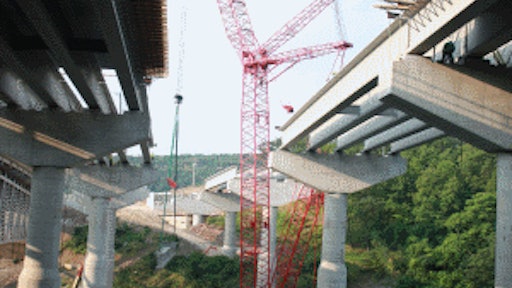 A Manitowoc 18000 is working on a bridge replacement project in Pennsylvania. The project involves completely replacing the Pohopoco Creek and Lehigh River Bridge structures on the Northeast Extension of I-476 in Carbon County, Pa. During the course of the project, 175 beams measuring 102 feet to 168 feet and weighing up to 120 USt, will be placed by the 18000.
Aaron Barnes, assistant resident engineer for the Lehigh River and Pohopoco Creek Bridge Replacement Project, said access and logistics made beam erection a real challenge on this project.
"We installed a construction causeway, where the majority of the picks are made, in the Pohopoco Creek valley," he said "Extremely steep slopes border the creek on both sides, and there is limited space on the causeway that ruled out picking the beams with two cranes. Because of these factors, we needed a crane that can lift beams of over 100 USt at a radius of 118 feet - the Manitowoc 18000 fits the bill perfectly."
The most challenging aspect of the job was the erection of beams for the longest spans on the Pohopoco Creek structures. There was very limited site access, so lifting contractor Cornell and Co. had to pick the beams from the right lane of the southbound mainline turnpike. Traffic lanes were closed while the 18000 set up on the construction causeway 120 feet below the beam.
Except for the northernmost spans of the Pohopoco Bridge, the 18000 is picking the beams without assistance. The picks have to be done so the crane is close enough to handle the weight of the beam, but far enough away so the longest beam - 164 feet - clears the crane's boom.
The crane, which is owned by ALL Erection and Crane Rental, will have several different configurations during its time on the project, but for its most challenging portion, the 18000 worked with 100 feet of mast, 160 feet of main boom and a 130 feet luffing jib. It had 528,000 pounds of crane upper counterweight and 320,000 pounds of carbody counterweight.
As of July 2010, 50 of the 70 precast beams were set on the Pohopoco Creek Bridge. Erection of beams for the Lehigh River Bridge is scheduled to begin in mid-August.
The bridge replacement project began in January 2009 and is expected to be open to traffic in November 2011.