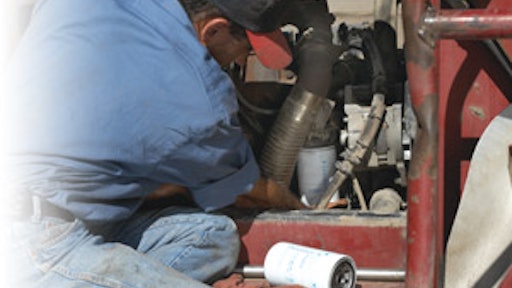 Are your machines overheating on a regular basis? Have your operators complained of a balky transmission? Have you noticed increased engine smoke or noise when accelerating or decelerating? Is fuel economy declining while oil consumption is increasing?
All these can be signs of forgetting to change the oils and filters on a regular basis. Eventually, such neglect can add a big repair bill to an already tight budget.
"The monetary effect of not following the manufacturer's recommended service intervals for oil and filters can be huge," says Paul W. Ewing, national accounts manager, off-highway, Luber-finer division of Champion Laboratories. "Contractors need to control and maintain fluid contamination levels to what the OEMs base their service intervals on."
Cost of neglect
"While the engine or drivetrain may not always produce definite signs that a PM service has been missed, if there's a problem with excessive fluid contamination, it's a different story," says Mark Betner, heavy-duty lubricant manager, CITGO Petroleum Corp.
For example, an engine might have a serious coolant leak that places high levels of coolant in the oil; high levels of dirt may enter via the air induction system; or the fueling system may have fuel injector problems resulting in excessive fuel dilution. "In any of these cases, missing a PM could be disastrous," says Betner. "The result could be premature engine failure. Running an engine after missed service intervals with the oil heavily contaminated, at the very least, will result in severe wear that will show up down the road in shortened component life."
Greg Ufken, product director - liquid filtration at Donaldson, sums up, "The result of missed service intervals is premature component wear, which can lead to vehicle downtime, loss of performance or other system failures."
This, in turn, can significantly impact your pocketbook. "You end up with higher repair bills as you frequently replace components or need a complete and expensive transmission overhaul," states Chuck Hamilton, a technical service engineer at CHS Inc., which markets lubricants under the Cenex brand. "You also experience more downtime."
Some not-so-obvious costs, adds Betner, can include a loss of power and drivetrain efficiency, especially in powershift transmissions. "You may also end up relying on reserve equipment, or need to retain more equipment to back up machines breaking down," he says. "Higher equipment downtime frequently leads to job completion delays and loss of future bids. It could even give your company a reputation for poor reliability."
Betner admits poor maintenance can be a result of not having enough service technicians, having equipment in several locations or bad planning. These situations stress the current service crew, eventually causing higher employee turnover, which adds further cost to the operation.
Oil analysis can help cut costs
The lubricant and filter experts agree that knowing what's actually in your oil is the best way to lower costs and reduce repairs. It's also a way to safely extend service intervals, which could save you more money.
"Oil drain intervals vary by application, load and other factors," says Wayne Mellgren, Donaldson field services manager. "The best way to determine acceptable drain intervals is through monitoring used oil analysis."
He adds, "The most quantitative information comes from used engine oil analysis. For example, you may find that abnormally high wear metal concentrations indicate a corrosive environment. You can then set service intervals accordingly."
All machine lubricants can experience harmful levels of contaminants, either from outside sources or from wear particles or combustion by-products.
"Engines generate soot. When combined with the accumulation of wear particles, you can see accelerated component wear," Betner explains. "Diesel engines also generate heat and acidic compounds, which can cause oil breakdown and depletion of additives designed to fight these problems. Besides wear particle buildup, outside contaminants such as water or dirt can affect drivetrains. Powershift transmissions must also deal with higher operating temperatures, which can cause oxidation of the power fluid. The result is loss of power transfer, clutch plate wear and potentially shortened transmission life. All of these can be determined by fluid analysis."
Hamilton advises, "Work with good lubricant and filter suppliers that can recommend the right products for your application, then use a reputable oil analysis company. This way, you can set drain cycles and work to extend the life of your machines."
Filters help extend oil changes
According to Ewing, when combined with oil analysis, service intervals can be safely extended using a comprehensive program of upgrading filtration efficiency.
"I've worked with many maintenance managers over the years to assist them to achieve their No. 1 goal: saving money through longer component life," he says. "In hydraulics, we have cut wear particles 50% by upgrading the filter media from a 25-micron to a 10-micron media. By changing from a 40-micron to a 10-micron media for transmission filters, we have seen an 80% reduction in wear particles."
In these cases, the filter elements continued to be changed at OEM-recommended intervals. However, the transmission oil remained within OEM specs and could be extended past the drain intervals. "This was achieved through particle counting and oil analysis," Ewing points out. "On the transmissions, we had an ISO cleanliness code of 17/7 at 1,000 hours." The 17/7 code represents oils that are nearly new, and looks at 5- and 15-micron particles.
"With transmission oil this clean, the contractor can continue using the fluid and extend an additional 1,000 hours on the oil, saving hundreds of dollars," Ewing continues. "Luber-finer offers a line of durable synthetic media products that support higher levels of cleanliness for your systems "
Betner cautions that particulate size is not the only consideration with filters. "You should also investigate the durability of the filter material - its ultimate capacity or longevity," he explains. "In other words, the filter that claims the capability of trapping extremely small particles may be compromised by how much contaminant can be stored before the filter is no longer functional."
Betner notes that some fleet managers believe as long as they change the filter periodically, the oil may be able to go indefinitely without actual changeout. "There are two additional factors to consider," he points out. "One is the amount of added oil. It replenishes only some of the used up additives. The other is that overall lubricant condition cannot be fixed by simply replacing a filter or using a more efficient or durable filter.
"In the final analysis," he concludes, "you need to know the overall condition of the oil and the capability of both the filter and the oil."
Keith Bechum, a Donaldson liquid filtration product specialist, adds, "Filters do have a material lifetime and durability limit, which varies by manufacturer, filter and media type." Suppliers such as Donaldson can offer extended service filters that support extended oil drains.
Bechum emphasizes, "There's no substitute for oil analysis and using good quality oil and filtration products."