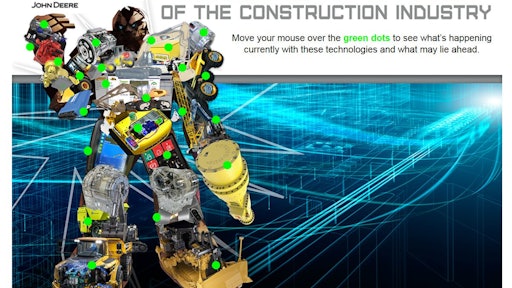 Equipment Today magazine and John Deere, a leader in the construction and agricultural equipment industries, have joined forces to bring a unique perspective on the future of construction equipment design.
"The Transformation of the Construction Industry" (ForConstructionPros.com/Transformation) is an exclusive interactive piece showcasing both current and developing technologies likely to shape, or "transform," the construction equipment industry. It opens with a compelling display of animation that brings together a futuristic hybrid of man and machine. The visitor is then able to mouse over different components to break down the robotic-looking "creature" by its individual parts with viewable descriptions, as well as links to more information and videos.
"The Transformation of the Construction Industry" is the interactive component of a one-of-a-kind pull-out poster, sponsored by John Deere, which appeared in Equipment Today's October 2015 issue. The poster is the lead element of a section highlighting future technology trends affecting equipment design and construction processes on the jobsite.
Coverage of future technology trends in construction is part of Equipment Today's three-issue celebration of 50+ Years of Publishing History in 2015. The August 2015 issue took a look at the previous 50 years in construction equipment history with a print and interactive timeline (www.ForConstructionPros.com/50Years), while the September 2015 issue - featuring a commemorative 50th anniversary cover – presented the Contractors' Top 50 New Products as a representation of today's most innovative new product offerings.
To learn more, as well as to view digital editions of these issues, visit ForConstructionPros.com/magazine.