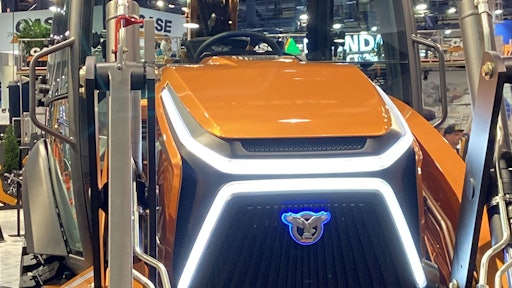 The air was charged with excitement at CONEXPO-CON/AGG 2020 as multiple equipment suppliers chose to highlight hybrid and battery-powered concepts, prototypes and even a few production models. And even those not showcasing alternative-powered equipment had something to say about the latest technology advances available on their machines and intended to make the lives of equipment owners easier.
Following is a glimpse at some of the key highlights. You can find these and more at www.ForConstructionPros.com, as well as in upcoming issues.
Case Wows with Electric Backhoe-loader
Perhaps the biggest jaw dropper at CONEXPO-CON/AGG was "Project Zeus" – the 580 EV (Electric Vehicle) backhoe-loader unveiled on Day 1 of the show by Case Construction Equipment. The 580 EV offers power and performance equivalent to the company's other backhoe-loaders while providing considerably lower daily operating costs and producing zero emissions.
[VIDEO] CASE Announces the New 580 EV Electric Backhoe
The 580 EV is powered by a 480-volt, 90-kilowatt-hour lithium-ion battery pack that can be charged by any 220-volt/three-phase connection. While applications will vary, each charge will support most common eight-hour workdays. The battery separately powers the drivetrain and hydraulic motors, resulting in hydraulic breakout forces equal to diesel-powered machines and improved performance during simultaneous loader and drivetrain operation.   
Though an electric backhoe-loader may seem unusual at first glance, Eric Zieser, director – global compact equipment product line, sees this machine type as an obvious choice for electric power. "The backhoe-loader is perfectly suited for electrification as the varied use cycles, from heavy to light work, provide an excellent opportunity to convert wasted diesel engine hours into zero consumption battery time, yet provide the operator with instantaneous torque response when needed," he states. "At low idle a diesel engine has reduced torque and requires time for the engine to ramp up to meet the load demands. Electric motors, on the other hand, have instantaneous torque and peak torque available at every operating speed."
[VIDEO] Three Benefits of CASE's 580 EV All Electric Backhoe
You may think the 580 EV is a concept or prototype, but it's not. Two units have already been sold to utilities in the U.S., and Case has the capability to produce additional units throughout 2020 before ramping up production to meet demand in following years.
Bobcat Shows All-electric Compact Track Loader
Not to be outdone by its heavy equipment counterpart, Bobcat Company showed two electric prototypes and an all-electric concept machine.
[VIDEO] Bobcat Brings Next Big Thing with First All-electric Skid-steer Loader
The prototypes included the S70e electric/hydraulic loader and the E10e and e17e electric/hydraulic excavators, designed to provide zero emissions, lower noise levels and comparable – and in some cases better – performance compared to diesel. Powered by a ruggedized lithium ion battery, they are especially suited to indoor demolition or urban construction sites.
 Also displayed was the T76e, the first all-electric compact loader. It not only provides emissions-free fully electronic operation, its major innovation is controllability of horsepower and performance through electronic mechanics instead of the traditional hydraulic and diesel system. Bobcat sees the concept as the foundation for future innovations.
[VIDEO] Bobcat All Electric T76 Provides Efficiency Gains Over Electric Hydraulic Models
Hyundai Demos Electric Excavator Prototypes
In its outdoor exhibitor area, Hyundai demonstrated a working prototype R35E electric-powered compact excavator – designed in collaboration with Cummins Inc. – while indoors it featured the prototype R18E electric-powered model.
Powered by Cummins BM4.4E flexible battery modules (5.9 hp each), the R35E prototype is designed to support a full work shift and charge in less than three hours. It contains eight BM4.4E modules connected in a series configuration to provide a total energy of 47 hp. The Cummins-designed and -built battery modules use lithium-ion technology to achieve a higher energy density and proprietary control technology to maintain the battery state-of-charge for a longer zero emission range.
The prototype R18E is a 2-ton-class machine offering power and productivity equivalent to the diesel-powered R17Z-9A compact excavator. It is powered by an induction-type motor with a one-hour current rating of 225 amps. It can operate up to eight hours on a full charge and can be fully recharged in five hours. It features a Li-ION battery (LFP type) that generates 19.6 hp.
[VIDEO] Hyundai Breaks Into Electric Excavator Market with R18E
Gehl Highlights CTL with Modular Battery Concept
In its Festival Ground exhibit, Gehl demonstrated the concept 165E electric compact skid loader. Powered by lithium-ion batteries, this zero-emissions machine is based on the R 165 compact skid loader model and has the same rated capacity of 1,650 lbs. It features simplified maintenance and noise levels are drastically reduced, making it suited for sites where noise emissions are a particularly sensitive issue. The unit is capable of working a full eight-hour day on a 48-volt capability. It incorporates 12 removable battery packs, weighing 48 lbs. each, which can be easily removed, replaced and recharged as needed.
[VIDEO] Gehl Demos Electric 165E Skid Steer
Wacker Neuson Highlights Electric and Telematics
Wacker Neuson continues to build on its portfolio of zero-emissions products, now offering rammers, plates and backpack vibrators incorporating battery power. At the heart of the AS50e and AS60e rammers, AP1840e and AP1850e plate series and ACBe backpack vibrator is the company's BP1000 lithium-ion battery. One system, including battery and charger, easily exchanges between all products. The smart-battery technology is designed to recognize which product it is powering, providing for the most efficient operation. 
Wacker Neuson Provides Battery Operated Equipment with Zero Emissions
The company also highlighted its EquipCare telematics solution, which enables machines to send real-time reports and alerts regarding maintenance needs, technical and performance issues or unexpected relocations. EquipCare machine data is easily accessible in the office or in the field via PC or mobile device. The app can be downloaded from both the Apple Store and Google Play.
Learn more at www.ForConstructionPros.com/10075166.
Kato Builds on Electric Lineup
Kato is adding to its electric lineup with the 17VXB, its newest battery-powered compact excavator featuring an eight-hour run time on a full charge from its lithium ion battery pack. It also features fast charging, with a 30% recharge in one hour and a full recharge in eight hours. The unit is based on the same design as the diesel equivalent but with a battery system and electric motor. Expandable tracks and a folding stabilizer blade allow for access into tight spaces and ensuring stability on uneven ground. The 17VXB has 3,900-lb. operating weight yet can deliver a breakout force of roughly 5,500 lbs.
[VIDEO] KATO's 17VXB with Li-on Battery Power Great for Indoor Jobs
BOMAG Exhibits Fully Autonomous Tandem Roller
CONEXPO attendees at were among the first in North America to see ROBOMAG, BOMAG's first fully autonomous tandem vibratory roller.
The concept roller was developed as a technological study by BOMAG in cooperation with the Technical University of Kaiserslautern in Kaiserslautern, Germany. ROBOMAG combines guidance technologies such as GPS, Lidar and state-of-the-art positioning sensors with the company's ASPHALT MANAGER.
ROBOMAG can be used fully autonomous in a defined work area. The system obtains information on position, situation and movement using a combination of different technologies for spatial orientation, work area awareness and jobsite safety. ROBOMAG features sensory environment recognition to detect objects within its path to avoid collisions.
In addition to fully automatic mode, ROBOMAG provides the option to follow manually entered movement patterns, so the roller can perform its task autonomously, even with special compaction projects.
Takeuchi Offers Electric Charging Options
Front and center in the Takeuchi booth was the TB220E, a fully electric compact excavator powered by a lithium ion battery and offering two charging options: a 220-volt onboard charger (roughly eight hour charge time) or a 480-volt three-phase off-board rapid charger option that will charge in roughly half the time.
The unit is based on the company's TB216 platform and has a 4,277-lb. operating weight, a 7-ft. 10-in. dig depth and a 3,080-lb. bucket breakout force. Features include a retractable undercarriage and standard 9-gpm auxiliary hydraulics.
Learn more at www.ForConstructionPros.com 21121530.
Toro Shows Electric Dingo Utility Loader
Previewed at the ARA show in February, Toro also highlighted its eDingo at CONEXPO. Based on the Dingo 323 platform and offering a 515-lb. rated operating capacity, the unit replaces the 23-hp gasoline engine with an electric motor and lithium ion batteries that take the place of the gas tanks. The motor and 6.5-gpm two-pump hydraulic system are designed to replicate the power and hydraulic performance of the standard 323 Dingo.
The company continues to work on configurations to arrive at run times and recharge times that meet user needs. It expects to have a more definitive product offering within the year.
[VIDEO] Toro Takes Major Step with World's First Electric Dingo Compact Utility Loader
Caterpillar Expands Command of Remote Operation
In addition to introducing a plethora of new and upgraded products, Caterpillar announced the expansion of its Cat Command remote control and semi-autonomous technologies, ranging from operator-assisted compaction to remote control loading, dozing and excavating operations.
Cat Command Console and Station controls are fully integrated with the machines' electronic and hydraulic systems for quick response and smooth control. Operating commands are sent directly to the machine's electronics through a dedicated radio transmitter/receiver, resulting in real-time control. Since the system is a dealer-installed kit fully designed and integrated into the machine, not an aftermarket add-on, it can be quickly switched between similar machines to give the customer increased machine flexibility.
The line-of-sight Cat Command Console comes complete with a lightweight, compact control console supported by a comfortable shoulder harness. The Command Station offers the flexibility of being located onsite for line-of-sight operation or positioned miles away for non-line-of-sight applications. The station includes a modular, customized "virtual cab," where the user is comfortably seated in front of machine controls and displays similar to those inside the operator's cab.
[VIDEO] Caterpillar Demos Next Generation Remote Control Machines
Liebherr Loaders Get Assistance in North America
First launched at bauma 2019, Liebherr exhibited assistance systems for wheel loaders for the first time at a trade show in North America. The systems include active personnel detection, adaptive working lighting, an integrated tire pressure monitoring system and weighing system with Truck Payload Assist. Also featured on the L 566 XPower was a new joystick steering option.
Intelligent Assistance Systems Enhance Comfort and Safety for Liebherr Construction Equipment
The new assistance systems for Liebherr wheel loaders increase the comfort and safety of day-to-day operation in a variety of ways. For example, the active personnel detection uses automatic alerts on the display and audible signals to signal the operator of hazards at the rear of the machine. The system uses sensors to automatically differentiate between people and objects.
At the end of 2020, Liebherr will expand the active personnel detection on large XPower loaders to include a brake assistant. The auxiliary brake function will help to reduce reaction times during braking, increasing safety and reducing the risk of serious accidents.
The new joystick steering option for the L 526 to L 586 XPower models allows the operator to steer comfortably with one hand. The L 566 to L 586 XPower models also offer a steering wheel-free version for even more space and an optimized view of the working attachment.
Learn more at www.ForConstructionPros.com/12134676.
Hitachi Previews Integrated Grade Control
Visitors to CONEXPO-CON/AGG were given a preview of Hitachi Solution Linkage Integrated Grade Control with Topcon, a new technology that will allow the operator to set a grade and hold it. The new option was previewed on a ZX350LC-6 excavator and will be offered on additional Dash-6 models in future.
Using the integrated system, the machine controls the boom and bucket as the operator handles the arm. Customers will have the option of 2D or 3D grade control. The upgradeable 2D grade control controls the elevation of the cutting edge in relation to a benchmark, while the 3D grade control with GNSS controls position and elevation with respect to a global reference.
[VIDEO] Zaxis 350LC Excavator Features Integrated Grade Control
Companies in this article