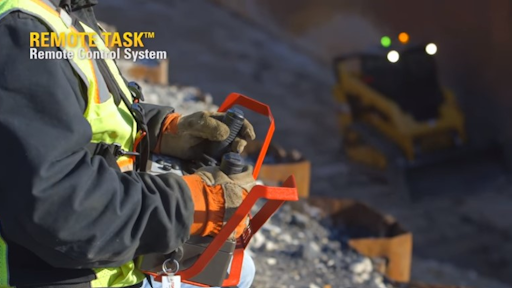 While autonomous technology tends to get more buzz, major strides are also being made in remote operation of construction equipment. The potential to control equipment of all types and sizes from a distance presents exciting prospects, particularly on jobs with lots of obstacles or in environments that could put personnel at risk.
While remote operation has plenty of potential in heavy equipment applications (i.e., mining), remote control of compact equipment offers perhaps more practical use for many of today's construction and demolition jobsites. It can remove an operator from potentially risky conditions, such as overhead work on a demolition project; extremely dusty areas, high heat, confined spaces or other challenging environments; jobs involving extreme slopes or other tipping hazards, etc.
Remote control can also turn a two-person job into a one-person task by, say, removing the need for a spotter to observe and guide the operator performing the task. Because the operator is positioned away from the machine, he or she has clear visibility to the work area and can more accurately guide the carrier and attachment into position for ease of operation and improved accuracy. In addition, remote control is safer for operations that require the carrier to run in reverse, such as trenching applications.
Other benefits can include reduced operator fatigue and the ability to appeal to a younger workforce that is likely to find remote operation more attractive than spending the day inside a cab.
Following is a look at some of the more recent advancements in remote operation of compact equipment, along with examples of their applications plus opportunities to watch them in action.  
Remote Operation from Your Mobile Device
Bobcat was an early innovator when it comes to remote control technology for its compact loaders. However, it recently took this a step further with the introduction of MaxControl, which enables remote operation via a simple app platform for iOS devices. It essentially converts your smartphone into a control unit for the loader, with the ability to command machine functions and operate attachments from outside the cab from up to 300 ft. away. The system can control multiple machines one at a time for even greater versatility.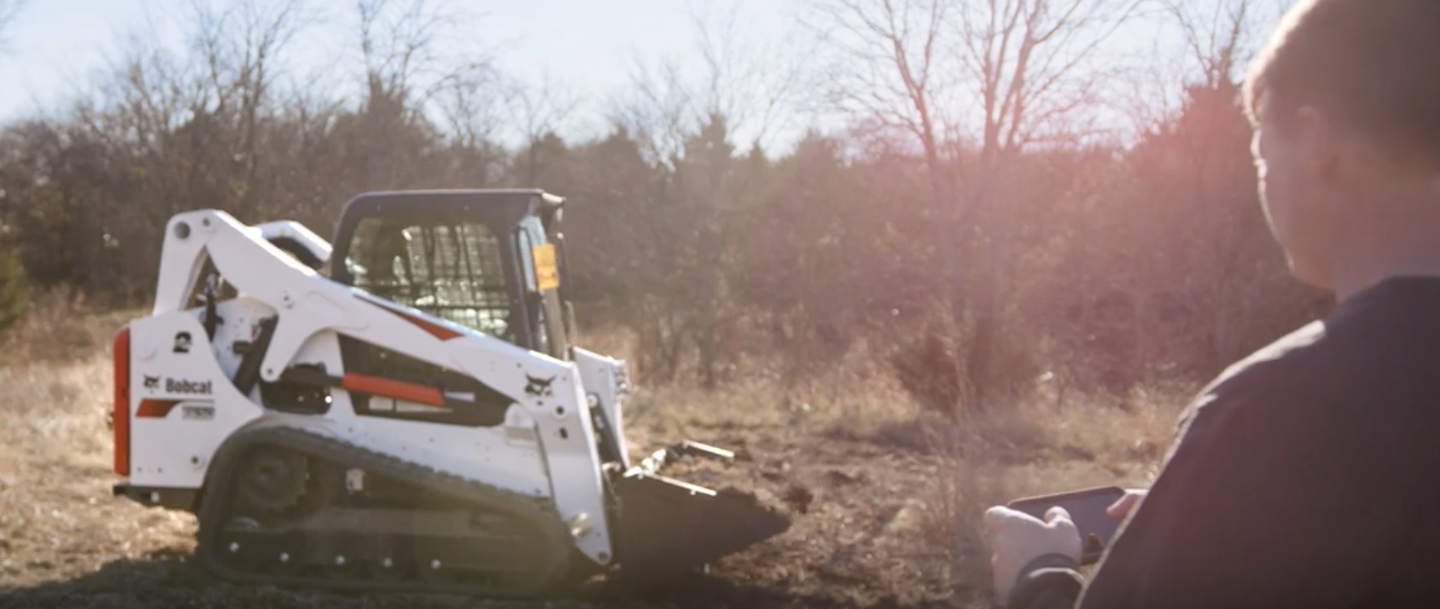 The system is available for the company's M2-Series and R-Series compact loaders with Selectable Joystick Controls. Click here to learn more.
For more on Bobcat's traditional radio remote control system, visit https://bit.ly/32nK3YI, or watch it in action at https://bit.ly/2WXG0kw.
[VIDEO] Remote-controlled Bobcat Loader Helps Paralyzed Man Get Back to Work
Click here to see how a radio remote-controlled Bobcat T595 compact track loader helps Trevor Brown regain independence on his Manitoba acreage after a routine surgery left him paralyzed.
A Team Effort for Remote Operation
In late 2015, Caterpillar and TORC Robotics announced the availability of the RemoteTask remote control system for 16 Cat D Series skid-steer, multi terrain and compact track loader models as a solution to get an operator out of a machine in hazardous or dangerous applications, as well as deliver better line of sight to the work area.  The system enables operators to precisely control the machines, as well as more than 200 work tools, from outside the cab and from as far away as 1,000 ft.
In 2018, Caterpillar expanded availability of RemoteTask to three of its smaller Cat D Series skid steers and compact loaders — the 226D, 232D, 239D and 249D. 
[VIDEO] Caterpillar 259D Compact Track Loader with RemoteTask
Developed specifically for Cat D Series skid-steer loaders, multi terrain loaders and compact track loaders, RemoteTask is a remote control system that allows the operator to control the machine from outside of the cab. Click here to watch it in action.
Demolition Via Remote
Brokk has been in the business of remote operation since the mid-70s, and continues to build on this legacy with demolition robots that replace "dangerous manual labor" with safer, more productive, mechanized alternatives. To that end, it introduced Brokk SmartConcept in mid-2018, a set of technological features that offer improvements in power management, reliability, maintainability and ergonomics. SmartConcept consists of three features — SmartPower, SmartDesign and SmartRemote.
SmartRemote consists of an ergonomic remote-control box. To avoid unintentional operator strain, a wide adjustable belt holds the control box comfortably around the operator's waist, away from the upper back. In addition, intuitive controls allow the operator to work the machine without having to look down at the display. The system uses professional-grade radio technology, with frequency-hopping capability, and has a working range as far as 984-feet (300 meters). This allows the operator to stand at the best viewing position to complete the work, ensuring efficiency and safety.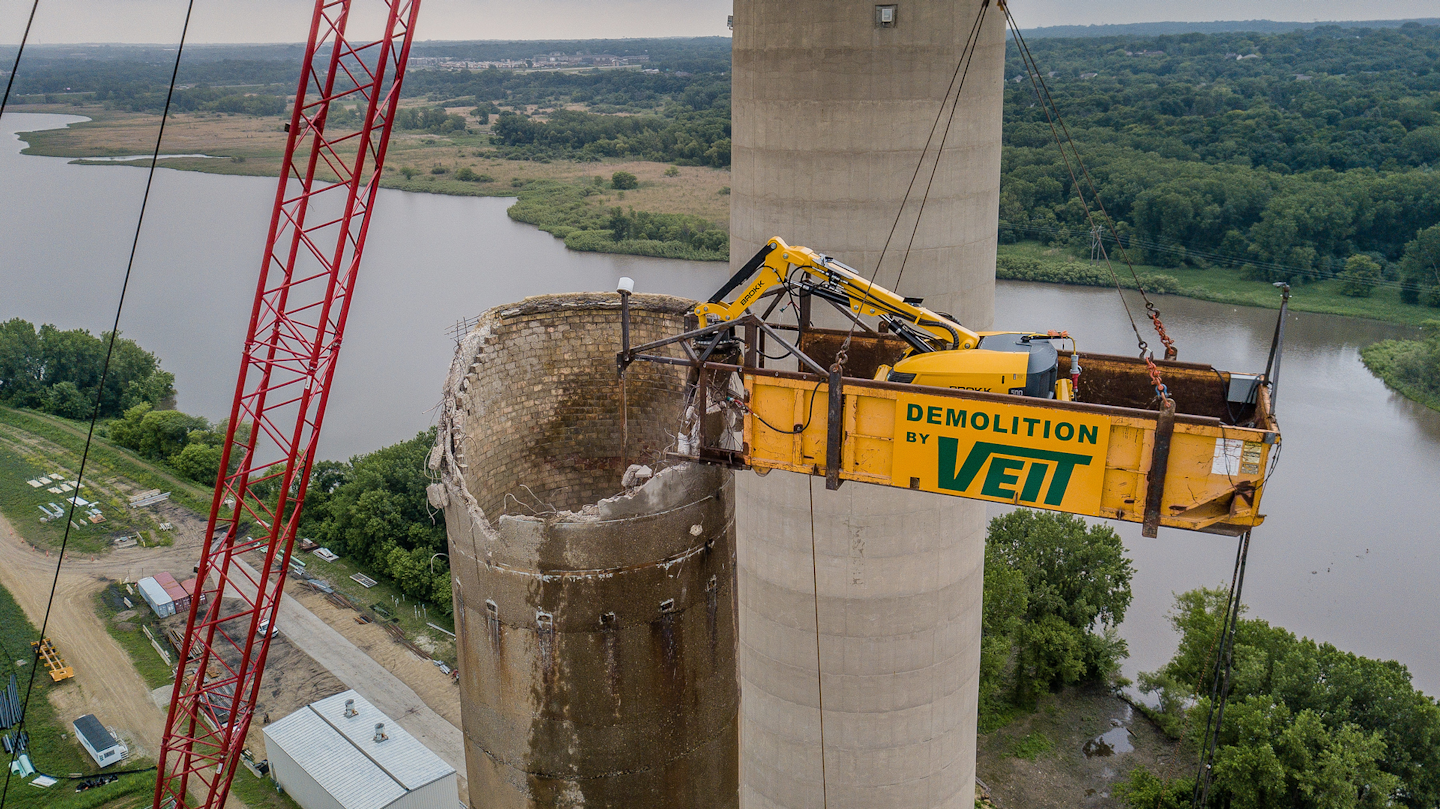 Contractor Uses Remote-Controlled Demolition Robot to Demolish Xcel Energy Smokestacks
Click here to learn how a Midwest contractor employed innovative techniques to take its business to new heights and demolish iconic smokestacks, marking the official end to the plant's coal burning days.. 
Remote Cable Plowing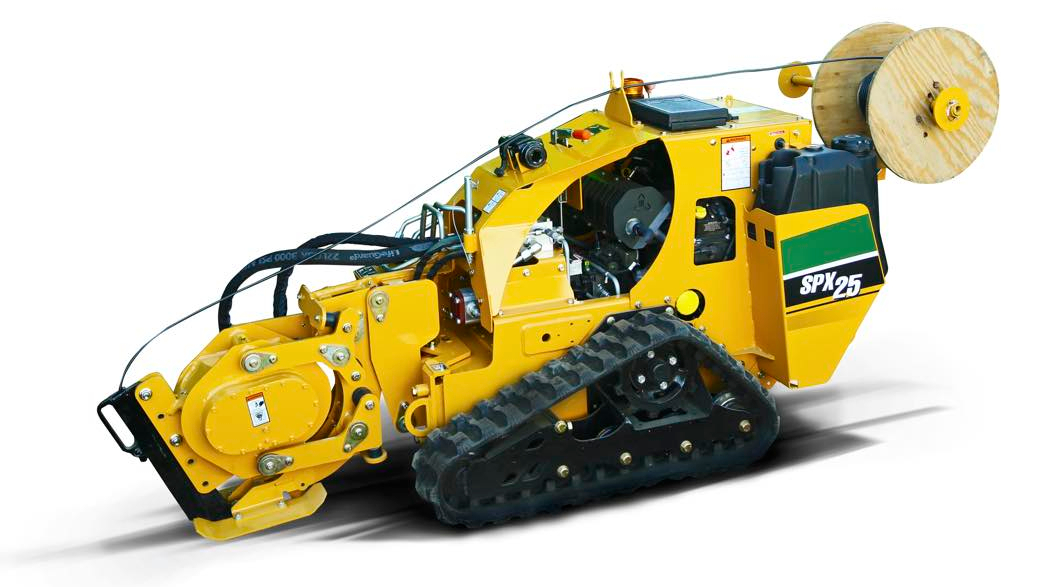 In late 2017, Vermeer introduced the SPX25 vibratory plow offering a full-function remote control that gives the operator a full 360 view of the jobsite to avoid potential obstacles and enables full visibility to the product being installed. Watch it in action www.ForConstructionPros.com/20978661 or https://bit.ly/2K2nGli.
For 2019, the company expanded its remote-controlled equipment options with the SC70TX stump cutter. The unit, which has a 23-in. cutter wheel and a 67-hp Cat diesel engine, is available with optional remote to give the operator greater visibility and flexibility.
Related content

Robotic Dog Goes From Viral Video Fame to a Real Job on Construction Sites

Advancing Technology Means Rethinking the Equipment Operator Environment

Bridging Safety & Productivity with Modern Solutions

Volvo Testing Remote-controlled Wheel Loaders with 5G Network

PODCAST: Bobcat Innovation Develops New Technologies to Keep the Company on the Leading Edge