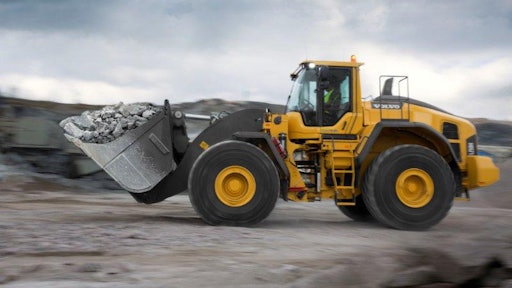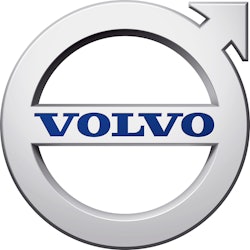 The Volvo L250H wheel loader is a high production machine designed to deliver excellent productivity and profitability in applications including quarry, mining and heavy infrastructure. Operators will experience short cycle times, high breakout force and excellent controllability with this heavy-duty machine. Specifically in North America, the wheel loader is perfectly matched to on-highway trucks, and the L250H will load a 25-ton triaxle on-highway truck in two passes — two full buckets for one full truck.
The L250H's powerful Volvo Tier 4 Final/Stage IV engine provides high performance and low fuel consumption. During the fully automated regeneration process, particulate matter collected in the DPF is burnt off without interrupting performance or productivity for effortlessly clean operation.
Fuel efficiency is enhanced by Volvo's OptiShift technology, which combines the company's patented Reverse By Braking (RBB) technology and a torque converter with lock-up to eliminate power losses and reduce fuel consumption by up to 18%. Automatic Power Shift (APS) and Fully Automatic Power Shift (FAPS) further ensure minimal fuel consumption and fast cycle times, shifting the machine gears in line with engine and travel speed for optimal operation. Meanwhile Volvo's unique eco pedal encourages the operator to ease off the throttle, therefore lowering fuel consumption, by applying a mechanical push-back force when the throttle is used excessively and the engine rpm is about to exceed the economic operating range. Intelligent load-sensing hydraulics supply power to the hydraulic functions only when required for smooth, fuel-efficient operation, as well as excellent control over the load and attachment.
Achieve more
Volvo's Z-bar linkage provides high breakout force for strong, powerful digging in hard materials and facilitates quick load cycles for increased productivity even in demanding applications. The optional Boom Suspension System (BSS) further boosts productivity, by up to 20%, by absorbing shock and reducing the bouncing and bucket spillage that occurs when operating on rough ground. This enables faster and more comfortable work cycles and increases machine life. As for the optimally-shaped bucket, it has been designed to incorporate a spill guard, side cutters and wear plate for faster and more efficient bucket fill and longer service life.
A specially designed 9.0 cubic yard rehandling bucket gives faster and more efficient bucket fill – and up to 10 percent better fuel efficiency. In North America, the rehandling bucket quickly fills a triaxle on-highway truck in only two passes.
With a variety of product options, Volvo customers can adapt their machine to access more applications, such as rock and waste handling. Attachments are purpose-built to work in harmony with the L250H. Functions and properties are ideally matched to parameters, such as link-arm geometry and breakout, rim pull and lifting force for maximum productivity.
Comfort increases productivity
A comfortable operator is a productive operator. The spacious ROPS/FOPS certified cab provides a clean and spacious work environment with low internal noise levels, vibration protection, ergonomically placed controls and ample storage space. Fuel and oil levels, as well as warning messages, are displayed on an easy-to-read information panel that is clearly visible from the operator's seat, even in bright sunlight.
Safety first
When working in the dark, safety and visibility are enhanced by reflectors that follow the contour of the machine. LED entrance lights illuminate the cab for safe entry and exit and additional LED work lamps light up the work area. For added safety, an optional fire suppression system, consisting of up to 16 nozzles, is automatically activated inside the engine compartment if excessive heat is detected. The system, purpose-built for Volvo wheel loaders, can also be manually activated from inside and outside the cab.
Built to last
The L250H wheel loader's durability and ease of maintenance ensure maximum machine uptime and minimum expenditure on servicing replacement parts. The batteries are maintenance-free as are the rear axle cradles, which are fitted with greased-for-life bushings and bearings. Machine wear is reduced thanks to an optional, automatic lubrication system that can be adjusted according to application. Meanwhile a hydraulically-driven cooling fan protects the machine's vital components from damage by overheating. The fan activates automatically and only when needed to limit fuel consumption and noise – and can be reversed to allow self-cleaning of the cooling units. Both the front and the rear axles feature an additional oil cooling feature, which allows the hydraulic oil to flow inside the axle, thereby cooling it.
When carrying out regular service checks, the cab can be tilted through 35° or 70° via a hydraulic pump to provide wide access to the vital components. And like all Volvo machines, the L250H wheel loader is supported by a vast global service infrastructure of technicians, workshops and dealers, providing that all-important peace of mind.