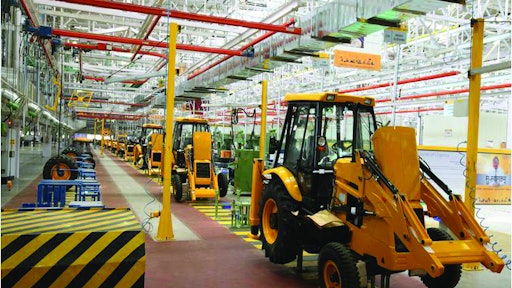 LAS VEGAS, NV - JCB today announced a series of major investments and expansions to take advantage of global market growth as the company reported a 48% increase in revenue for 2010.
The company revealed that JCB's revenue in 2010 was $3.2 billion (£2.0 billion) up from $2.2 billion (£1.35 billion) in 2009. In 2010, JCB sold 51,600 machines compared to 36,000 in 2009.
It also announced that:
It is building a new $100 million (£63 million) factory in Brazil which will produce excavators and backhoe-loaders.
JCB India has invested $30 million (£19 million) in a new engine plant in Ballabgarh, Delhi.
It is launching 13 new products at CONEXPO-CON/AGG.
The 350,000-cu.-ft. factory in Brazil is being built in Sorocaba, a few miles from JCB's existing factories. JCB has been producing backhoes in Brazil since 2001 and excavators since 2010.
The company enjoyed a record year in India in 2010, selling over 21,000 machines. The construction of the new engine factory means it is the first time JCB has produced its Dieselmax engines outside of its UK plant in Derbyshire. The engines are being used in Indian-built JCB products and, starting next month, every JCB backhoe-loader made in India will be powered by a JCB engine to meet new local emissions legislation.
A total of $30 million has been invested in the expansion of JCB's global service support, with the company about to open its 16th parts warehouse in Prague to serve Central Europe and Poland. This follows the opening of a parts warehouse in Dubai to serve the Middle East and North-East Africa and a new facility in Fontana, CA, to serve dealers and customers on the west coast.
At the CONEXPO-CON/AGG construction show in Las Vegas, today JCB also unveiled the first models in a new range of 18 skid steer and compact track loaders designed, engineered and manufactured at JCB's North American HQ in Savannah, GA, as part of a $40 million investment; a 10,000-lb. 950 rough-terrain forklift; 1CX backhoe-loader with innovative tracked configuration; the 512-56 Loadall telescopic handler developed for the North American market; and the Workmax 800 D 4x4 utility vehicle.
Also on display is the recently launched backhoe-loader, which has achieved average fuel savings of 16% at typical work rates. The new generation skid steers offer customers a machine that uses up to 16% less fuel with no loss in productivity, saving customers over 1,000 gal. of diesel per year, equivalent to a saving of over $3,000 annually. And the 8085 midi excavator on display offers average fuel savings of 20%. The Ecomax T4 engine, developed to meet Tier 4 Interim emissions legislation, delivers a 10% improvement in fuel consumption.