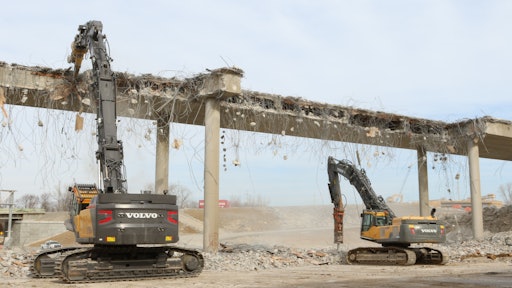 National Demolition Association
Information from this article was first published in Demolition Magazine and is being reused with permission from the National Demolition Association.
Just east of downtown Kansas City, MO, a major interstate reconfiguration is nearing completion. Comprised of 11 new bridges, pavement widening and more, it's a massive undertaking that the city and state wanted to complete with as little disruption to traffic as possible.
That's why the team at Greg Bair Track Hoe Services Inc., put extra effort into demolishing two bridges in about two and a half days.
The project, within view of the Kansas City Chiefs' Arrowhead Stadium, is an interchange reconfiguration of Interstates 435 and 70. The two spans being demolished that late February weekend were about 450 feet long and 50 feet high. The Greg Bair team ran alternating 12-hour shifts that included 15 operators/laborers and two mechanics each.
Because of the time crunch, the crew put together an equipment fleet that included a combination they hadn't used before: two high-reach demolition excavators, a Volvo EC750E HR and EC480D HR, working side by side.
"These bridges were very tall, so a normal excavator couldn't reach them," says Greg Bair, the company's president. "Because of the short time frame, we decided to use two."
The fleet also included 22 other excavators, six skid steers, two wheel loaders, 12 scrap trailers, four 40-ton haul trucks and other support equipment.
"Normally on a job like this, we would probably have about a month, and we'd be working normal hours," Bair says. "This job was bid for speed, so it required a lot more machines and trucks."
Planning and prepping required
Greg Bair Track Hoe Services was a smart pick for such a challenging, time-sensitive job. The company is based in the Kansas City area and has been in the demolition business for three decades. It does a few dozen bridge demolitions annually in addition to several hundred other projects.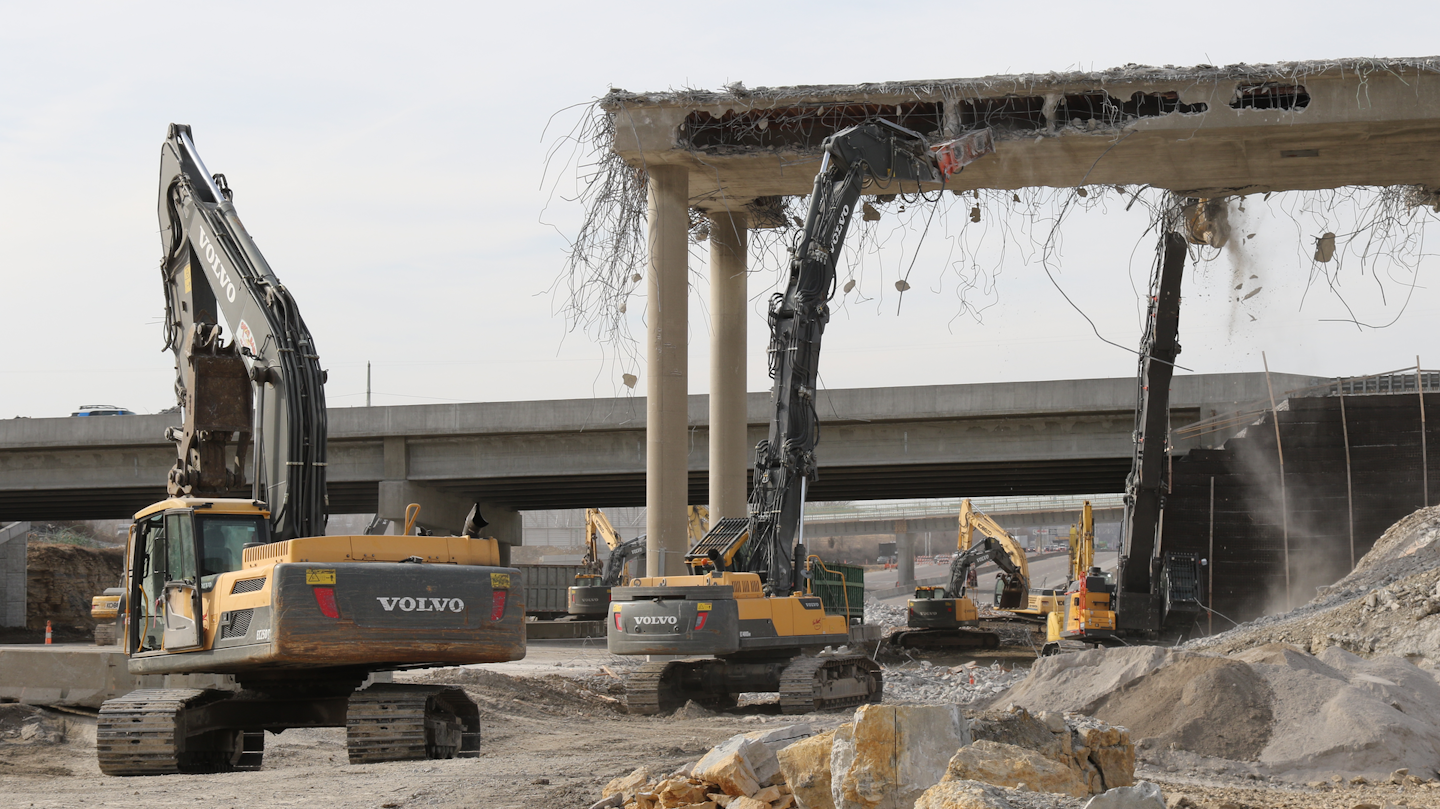 National Demolition AssociationFor the February 2020 interstate project, four weeks of prep work were essential to meeting the deadline, says Bair's estimator and project manager, Andy Shorten.
"We were mobilizing equipment, assembling things, staging materials and trailers, coordinating traffic control and security, and laying out plans," Shorten says. They also had to pad the roads running under the bridges so falling debris would not damage them.
Some machines would be able to work on the bridge decks, but most of the demolition happened from the ground. That's what made the high-reach excavators the stars of the show. They ran the standard booms with extensions on each machine, bringing the reach of the EC480D to 51 feet, 9 inches and the EC750E to 59 feet.
The Volvo EC750E high-reach is Volvo Construction Equipment's newest demolition excavator and was new to Bair's fleet. In fact, this was the first job site they put it on.
"The Volvo high-reach excavators' stability is their biggest asset," Shorten says. "On the 750, we ran a 15,000-pound attachment nearly 60 feet in the air. The working range with a far reach, and a heavy attachment seemed to have no limit, which was impressive."
Shorten said the Volvo EC480 HR ran a 10,000-pound NPK-E225 hoe ram to break the vertical walls of the bridges, while the 750 worked behind it using an Epiroc CC6000 Combi Cutter attachment to crunch the horizontal slabs and 1.5-inch rebar. The 480 also hammered down the pillars.
"We used these Volvo demolition excavators to the max for a weekend, and they treated us real well," Bair says.
Finding the right mix
Shorten said the company's relationship with their local dealer, Van Keppel, was a key to success on the job as well.
"In the weeks leading up to the job, they went above and beyond to make sure the equipment was in prime shape, including the brand new 750 high-reach," he says. "We didn't even need them on the job site that weekend."
National Demolition AssociationThanks to reliable equipment, a strong dealer relationship and a hardworking team, the weekend of work actually wrapped up sooner than expected.
"It was a combination of our equipment selection, the amount of equipment and the size of our crew that was the key to completing it early," Shorten says. "The two high-reach machines allowed us to complete demolition quickly, which then allowed us to have a ton of other equipment staying busy. It took a dozen machines to keep up with what the two high reaches were producing."
He estimates that 1 million pounds of rebar and about 10,000 cubic yards of concrete were collected, and most of it was recycled.
"Projects like this are rare," Shorten says. "It was an aggressive timeline they requested, but we always think it can be done."
Tony den Hoed is the director of national accounts — demolition and forestry for Volvo Construction Equipment. He has worked for Volvo CE nearly 18 years, moving up through various engineering and product management roles. He earned a B.S. in mechanical engineering and a master's in engineering management from Wichita State University.