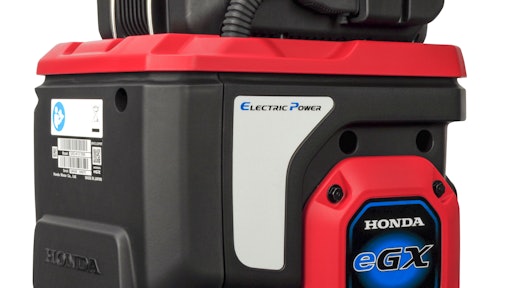 American Honda Motor Co. Inc. has launched the Honda eGX, an advanced electrified power unit and the company's first lithium-ion battery-powered motor designed to be incorporated into commercial OEM power equipment products for indoor and outdoor use.
Convenient, efficient, and eco-conscious, the Honda eGX offers durability, rugged performance, and instant commercial and rental market entry for applications including rammers and vibratory plate compactors.
The high-performance, battery-powered motor, designed to closely match the performance output of conventional Honda GX100 and GXR120 industrial engines, provides efficient operation for existing or new applications in the 100 to 120 cc displacement category such as concrete trowels, vibratory plate compactors, and rammers.
Net Power Output: 2.4 HP (1.8 kW) @ 3,600 rpm
Provides quiet operation, reduced vibration,  and quick charging for maximum operating time.
A high-power, three-phase brushless DC motor increases performance and reliability.
The sealed Honda eGX motor and battery pack are dust and water resistant. Easy maintenance and user-friendly operation with easy starting and easy stopping yield heightened productivity.
With no fuel dependency and zero emissions, the Honda eGX serves to reduce the carbon footprint.
The motor has a three-year commercial warranty; the lithium-ion battery pack comes with a two-year commercial warranty.
The Honda eGX will be available to OEMs in late summer 2021.   
Request More Information
Fill out the form below to request more information about
Honda eGX Electrified Power Unit