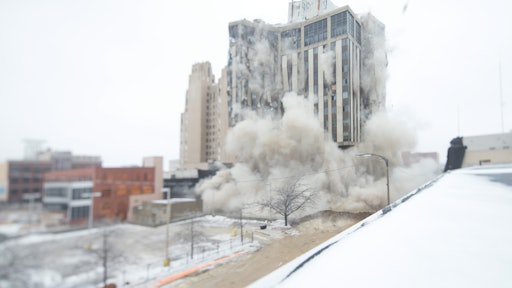 Information from this article was first published in Demolition Magazine and is being reused with permission from the National Demolition Association.
After only 45 years in existence, the tallest building in Flint, Mich., – the 19-story, $6.5 million dollar Genesee Tower was imploded earlier this year. The demolition was a joint project between hometown contractor Burnash Wrecking and Contract Drilling and Blasting of Jacksonville Beach, Fla.
Conducted under the direction of Contract Drilling and Blasting engineer Steve Pettigrew, the implosion brought down the 345,00-square-foot office space and parking facility as planned, in seconds. Seven thousand feet of carefully placed cable pulled it in the direction required to fall it away from the neighboring 15-story C.S. Mott Building, just 33 feet from its wall.
Thirty thousands square feet of fence and blast curtain, 16 shipping containers used as a safety barrier, 1,400 pounds of dynamite, and 1,100 holes drilled for the dynamite put the 250-foot-tall Genesee Tower safety into a 35-foot-high pile.
It took seven weeks to prepare for the blast and four days to load the explosives and wire the building.  The day of the blast was ideal, with a heavy mist in the air left over from the perfectly timed freezing rain the night before. Along with the dust suppressors, it kept the dust contained to under half of the 600-foot safety limit.
Martin Burnash, president of Burnash Wrecking said "People would ask me if I was starting to get nervous with a couple of days of the blast. I would just remind them that Steve Pettigrew has 37 years under his belt in this business. He's one of the most respected implosion contractors in the field. I had faith in him." Dave Lurvey, project manager for the demolition said the cleanup of the site would involve between 28,000 to 32,000 tons of concrete, taking 800 to 1,000 truckloads of debris.
Flint leaders say they are determined to reinvent the city and the successful implosion of the Genesee Tower is a continuing part of that effort.