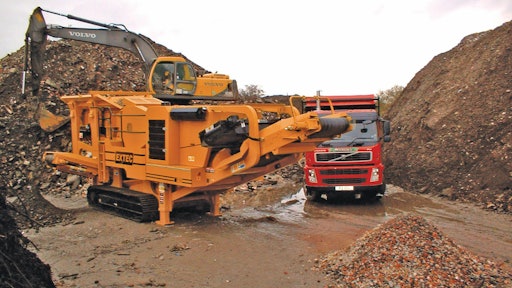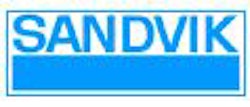 The new C-10+ is designed specifically for applications in small quarries, demolition sites, and recycling facilities. With a working length of under 41 feet and an operating weight of 71,000 pounds, the C-10+ is powered by a 214-hp Caterpillar C6.6 diesel engine that meets all known emissions regulations. A vibrating feeder ensures a consistent flow of material to the unit's 3' x 2' fully-adjustable and hydraulically-controlled jaw crusher.
The C-10+ is designed for optimum uptime coupled with the lowest possible levels of maintenance. The jaw action can be quickly and easily reversed to free blockages while a "fast track" facility helps clear the machine of tangled steel reinforcing bar, a common cause of crusher downtime in recycling applications. The entire machine can also be raised hydraulically to facilitate cleaning and routine maintenance duties. In addition, the Extec C-10+ is supplied with SKF sealed for life bearings and an automatic jaw lubrication system as standard.
Doublescreen performance
The new S-4 track-mounted mobile screen is designed for various quarrying, mining and recycling applications and which provides optimum performance in a variety of materials including sand, gravel, coal, limestone, granite and construction and demolition waste.
Weighing 62,000 pounds, the S-4 is the smaller brother to the Extec S-5 and shares many of the features and benefits of its larger sibling. The Extec S-4 is powered by a Deutz BF4M 2012 diesel engine developing 100 hp that meets or exceeds all known emissions regulations.
Despite its compact dimensions -- 52 feet long by 55 feet wide in working configuration with the conveyors extended -- the Extec S-4 uses two independently-adjustable screen boxes to produce a screening area that is equivalent to a traditional 16' x 5' screening system.
Driven and angled separately, this Extec Doublescreen system allows the first screen box to be used to remove fines in even the most cohesive materials, while the second screen box acts as a materials grader. As a result, the Doublescreen system is able to produce consistently precise material grades.
To supplement the productivity and versatility of the Extec S-4, the unit is offered with a variety of optional extras including a remote control system, shredder box for green waste applications, and a vibrating grid.
Request More Information
Fill out the form below to request more information about
S-4 screen and C-10+ track-mounted jaw crusher