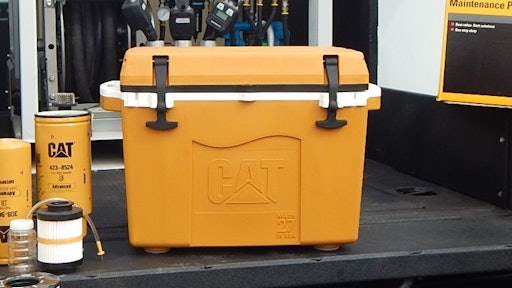 Taiga Coolers, a veteran-owned, USA-made cooler manufacturer, recently signed a licensing agreement with Caterpillar Inc. to produce Cat-branded rugged coolers.
Backed with a limited lifetime warranty, Cat coolers are built to stand up to harsh conditions. The coolers are injected with polypropylene, a material which is FDA approved for food contact, UV-resistant, and heavily insulated to keep food and beverages cold all day long. The Cat cooler's 27-quart capacity makes it a good size for personal use; large enough for a long day on the job or for a 24-pack plus ice for after hour use. The larger 55-quart model will be available in June.
The Cat cooler incorporates many user-friendly features into the unique cooler design. The seamless, one-piece lid gasket along with the rigid foam barrier seals the lid to keep heat out and cold in. The lid is secured with rubber latches and a lock can be added to prevent theft. The slim design molded handles make transporting a full cooler easy, yet are built close enough to the cooler body as to not take up too much space. The lid is attached with an aluminum hinge rod, allowing it to stay open if desired.
Review: Can Tiaga Cooler Keep Ice for a Week?
"We know our customers work extremely hard, and need rugged products for their jobsites," said Phil Raso, Caterpillar Program Manager. "We are excited to partner with Taiga to provide a Cat work cooler that will stand up in our customers' work environments and keep their food and beverages cold for a long time."
"Taiga Coolers is proud to be partnering with Caterpillar. When we first started this company, we set out to make the most durable cooler available," said John Hohenshelt founder of Taiga Coolers. "The fact that our coolers meet the demanding Caterpillar standards shows we have accomplished our goal. We look forward to seeing them get put to work."