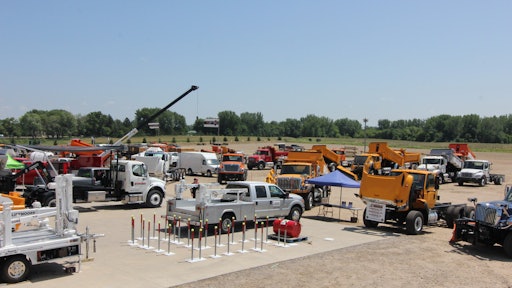 Towmaster, Inc. held their 4th Annual Equipment and Education Expo on Tuesday, July 16, 2013. More than 300 key people from MN-DOT, multiple county, township, and city agencies, attended this event. The event featured over 30 exhibitors, and included 4 educational seminars all focused on the needs of the local and statewide transportation field.
"This expo has become a huge event for Towmaster and its partners", statedTim Erickson, Towmaster truck equipment sales manager. "It builds and solidifies relationships between us, our suppliers, and our customers, as well as offers ongoing education and information vital to the various maintenance departments of cities, townships, counties, and the State of Minnesota."
Towmaster partnered up with representatives from Omaha Standard/Palfinger, Falls Plows, Valley Blades LTD., Force America, Whelen, Astleford International, Boyer Trucks, and Swenson Products, by sponsoring this event. Attendees learned about trailer payload & GVWR requirements, DOT Commercial Motor Vehicle regulations, upcoming crane operator certification requirements, and cutting edges, from attending the educational seminars. A lunch was provided and prizes were given away, including a $4000 Swenson Spreader to one lucky municipality.
"This event has grown over the last four years and it's something unique to Towmaster", says Len Stulc, president of Towmaster. "Our employees pull together as a team and work hard to make this event positive and successful. Our partners help in a tremendous way and all the exhibitors told me it was a great event for them."
Towmaster uses this event as an opportunity to network and build positive and ongoing relationships with both supplier partners and customers.