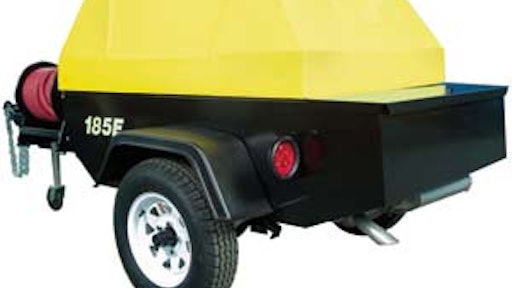 GrimmerSchmidt Muscle Compressor
GrimmerSchmidt's Muscle Compressor features a Chrysler 5.7-liter HEMI engine. The MonoBlock design, which uses one bank of a V8 engine for power and the other bank to compress air, features on oil system and one oil filter that serves both the engine and the compressor. Unit provides 185 cfm, which easily handles two 90-lb. breakers.
JLG Mast-Style Boom Lifts
A series of self-propelled mast-style boom lifts are being introduced by JLG Industries. These unique machines have a vertical telescoping mast with a jib boom that extends the platform away from the mast. Coupled with 360-degree pivoting capability, workers have unparalleled access to hard-to-reach overhead sites. With the mast lowered and jib retracted, the lifts become compact units that are easy to navigate through narrow aisles and in tight spaces. The E26MJ model has a 26-ft. 2-in. platform height and 440-lb. platform capacity.
Godwin Generators & Light Towers
Godwin Pumps introduces a line of generators and light towers to complement its rental fleet of pumps. From 20 to 350 kW, the diesel-powered portable Godwin Power generators include a programmable control panel that monitors, protects and controls engine and generator operations. The new range of Godwin Lights light towers illuminates from five to seven acres.
Crown Screed King
The next generation of Crown Construction Equipment's Screed King features 75 percent less vibration to operator's hands. No tools are required to remove the Mag-Flo board. Unit offers better concrete consolidation, improved board integrity and simplified handle bar adjustment.
Multiquip Moonlight
The new Moonlight glare-free lighting systems from Multiquip eliminate the fans required by other balloon lights to maintain air in the balloon. The balloon inflates in seconds and a simple plug maintains air pressure and protects the light. Ideal for freeway paving projects, security lighting, traffic control and other indoor and outdoor functions, unit can rise to a maximum height of 10 ft. Units are available in 150-, 400- and 1,000-watt outputs and illuminate areas up to 100 ft. from the light source.
ASV SR-80 Track Loader
The SR-80 features the ISR-4 undercarriage, which combines a 20-in. track width with an independent, multi-level suspension. Unit features a 2.84-psi ground pressure and 15 in. of ground clearance. Other features include a 6,200-lb. tipping load with a 3,100-lb. rated operating capacity; 80.5-gross-hp Perkins diesel engine; travel speeds up to 12.5 mph (high range); and a 30-gpm standard hydraulic system with variable flow control.
Bil-Jax 3522A Aerial Work Platform
The new Bil-Jax 3522A articulated aerial work platform provides 43 ft. of working height, 22 ft. of outreach and 19 ft. up-and-over height. The trailer-mounted unit features an automatic, self-leveling hydraulic outrigger system that allows for set-up in 30 seconds when all four outriggers are deployed simultaneously. Unit is available with 24-volt DC battery power or a combination DC and Honda gas hybrid engine package.
Genie Telehandlers
Genie's telehandlers provide a lift capacity between 5,500 and 10,000 lbs. These eight models have lifting heights between 18 ft. 10 in. and 56 ft. Offering various attachment options, the telehandlers feature infinitely variable hydrostatic transmission and four-wheel drive. Units also offer interchangeable, common components plus easy no-tool access service and test points.
Stone Champion Silo Mixers
The Champion SM1200 and SM2000 offer 12- and 20-cu.-ft. capacities and can be used under any size silo. The Power Blend system with heavy-duty triple-8 mixing action provides a smooth, uniform mix. Suited for jobs where mortar, grout, plaster and color mixers are supplied in pre-blended bulk bags, unit features adjustable legs that allow positioning within any silo footprint, and facilitate leveling and positioning closer to silo discharge chute.
Vermeer RTX350
Vermeer's RTX350 ride-on trencher is designed for installing footings, irrigation system and drainage tiles. Equipped with rubber tracks, unit offers increased side hill stability, flotation in soft or sandy soils and the ability to maintain a straighter trench when digging. The RTX350 includes a patent-pending track mounting system that allows users to locate the tracks in the optimal position, based on the job application and the attachment needed.
Toro Trench Filler Attachment
The Toro Company introduces the trench filler attachment that allows operators to fill trenches in a single pass. Developed for use with the Dingo compact utility loader, the trench filler is equipped with two sets of opposing augers that direct the spoils from the sides of the trench back into the hole. It then levels off the work area as it continues to push material forward, quickly filling the trench. Unit has a 48-in. working width and a 14-in. auger diameter.
Thompson Pump 88HST
The 88HST 8-in. high head, high-flow, hydraulic submersible pump handles solids up to 3 in. With a maximum capacity of 3,300 gpm, the 88HST pumps efficiently at heads up to 240 ft. Unit is designed to run dry without damaging components. Constructed from heavy-duty cast-iron and steel.
Terex HR16E
Terex unveils its HR16E compact crawler excavator designed specifically for the rental market. Weighing 10,320 lbs., unit features a 47-hp engine and delivers a 12-ft. 10-in. dig depth and 20-ft. 4-in. reach. The HR16E also features a large cab, load-sensing hydraulics and top-mounted boom cylinders.
Pirtek Hydraulic Hose Fittings
Pirtek USA's new line of hydraulic hose fittings enables the Pirtek Mobile Service Units to crimp up to 1¼-in. high-pressure spiral hose on site utilizing a non-skive ferrule. This eliminates the need to have external rubber removed from each end of the assembly to ensure correct retention and integrity of the hose assembly. Users will enjoy a quick response to their needs, reduced downtime on site, and will benefit from a wide range of fittings from both Pirtek Mobile Service Units and Pirtek Centers.
Skyjack Telescopic Boom Lifts
Skyjack's new SJ 40T and SJ 45T telescopic boom lifts feature 40- and 45-ft. platform heights and 360-degree continuous rotation. The 40T offers a 600-lb. platform capacity, while the 45T offers 500 lbs. Swing-up cowlings offer unrestricted compartment access and a swing-out engine tray allows for quick maintenance and inspection.