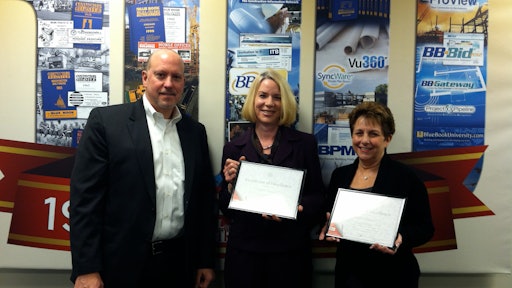 The Blue Book Building and Construction Network, publisher of targeted company, contractor and project information for the commercial construction industry, has announced the successful sale of the previously family-owned company to an Employee Stock Ownership Plan (ESOP) in conjunction with the celebration of the company's 100th year in business.
Founded in 1913, The Blue Book Network kicked off its anniversary celebration with a company-wide meeting in December to inform all 500 employees of their shared ownership of the company. In his announcement at the celebration kick-off, Richard Johnson, president, communicated the wishes of Jim O'Malley, current chairman and previous owner, that the company be sold to the employees to ensure it would live on with the people who helped build it.
Over the course of its 100-year history, The Blue Book Network has consistently grown in revenue, number of employees and products and services offered, despite recent economic conditions which severely impacted three of the industries that the company is involved with - construction, advertising and publishing. The Blue Book Network has not laid-off any employees, maintaining its 100-year tradition of no layoffs.
For 2013, The Blue Book Network will continue in its mission to advance the industry, focusing on education through its latest offering, www.bluebookuniversity.com, and continuing to develop web-based solutions to streamline workflow from the design phase through maintenance and renovation.