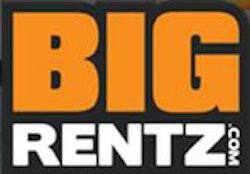 BigRentz, a leading provider for online construction equipment rentals, has announced its partnership with Kabbage - the world's fastest and easiest way to get a line of credit, providing working capital within minutes through a simple online application. The partnership will now offer instant financing on equipment rentals to the million-plus visitors who visit the BigRentz website.
BigRentz continues to innovate and simplify the way construction equipment is rented in America. A full-service, one-stop shop, BigRentz handles every step of the rental process from sourcing the equipment to on-site delivery, and now even offers the funds to make it happen.
Unlike a traditional business loan, Kabbage gives ongoing access to funds with a permanent line of credit. Simply select the amount needed, and funds will be deposited directly into a bank or PayPal account in as little as seven minutes. Customers may draw against the line as often as once a day and pay only for what is needed.
Kabbage puts the power of business growth back in your hands. Together, BigRentz and Kabbage make every construction equipment rental possible.
Robert Gray, vice president of business development of BigRentz, said that the company is innovating the rental experience through its technology platform. BigRentz is the first online equipment rental site to offer instant financing through Kabbage, an A-rated Better Business Bureau company that has provided more business loans online than anyone in the industry.
 "Our entire business model revolves around simplifying the way construction equipment is rented," Gray stated. "We are proud to partner with Kabbage to continue to deliver an unmatched experience in the rental industry."
For more information BigRentz or details on the company's business financing through Kabbage, call (855)-999-LIFT (5438), or visit: www.BigRentz.com.