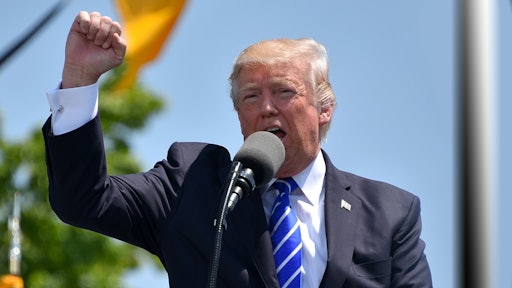 Image by Gerard Altmann from Pixabay
The U.S. Environmental Protection Agency (EPA) and the Department of the Army jointly issued a statement announcing they will be rolling back the controversial Obama-era Clean Water Rule: Definition of "Waters of the United States" (WOTUS), which was issued in 2015.
The repeal of WOTUS is the culmination of an executive order signed by President Trump shortly after his inauguration, which directed the EPA and the Army to "review and rescind or revise" the regulation. The order noted that while it was in the country's best interest to keep waterways pollution-free, any rule must also allow for economic growth and reduced regulatory uncertainty.
At issue has been how the EPA and U.S. Army Corps of Engineers define which bodies of water are subject to federal authority. Opponents of WOTUS argued it was too broad and could be applied to virtually any ditch – natural or man-made – containing standing water. The American Road & Transportation Builders Association (ARTBA) notes the regulation could subject roadside ditches to unnecessary federal oversight, delaying transportation improvements, increasing project costs and jeopardizing highway safety. As such, ARTBA and its allies have been actively challenging the regulation in federal court.
ARTBA: 'Waters of the US' Reg Rewrite should Prioritize Construction Project Approval
Reasons for Repeal
The EPA and Army indicated their assessment of the WOTUS regulation reached four conclusions that led to their final ruling:
The 2015 Rule did not implement the legal limits on the scope of the agencies' authority under the Clean Water Act (CWA).
In promulgating the 2015 Rule, the agencies failed to adequately consider and give due weight to the policy of the Congress in the CWA to "recognize, preserve, and protect the primary responsibilities and rights of States to prevent, reduce, and eliminate pollution" and "to plan the development and use . . . of land and water resources."
Repeal would avoid interpretations of the CWA that push the envelope of their constitutional and statutory authority absent a clear statement from Congress authorizing the encroachments of federal jursidiction over traditional State land-use planning authority.
The 2015 Rule's distance-based limitations suffered from certain procedural errors and a lack of adequate record support.
Consequently, the agencies determined it was in the country's best interest to move forward with full-scale repeal. Both Andrew R. Wheeler, EPA administrator, and R.D. James, assistant secretary of the Army for Civil Works, signed the final rule repealing WOTUS, and the EPA is in the process of submitting it for publication in the Federal Register. The new rule will revert standards back to the 1986 guidelines under the CWA. The Trump administration aims to have the regulation fully in place by the end of 2019.
Positive Industry Response
The news of the agencies' action was welcomed by ARTBA and other construction industry stakeholders. According to the association, the new final rule will help to restore clarity to federal wetlands regulations and serve to reduce transportation project delays.
"The regulatory ping-pong on roadside ditches has created vast uncertainty for years with little environmental benefit. Regulators should understand that delay and uncertainty only serve to increase transportation project costs," says Dave Bauer, ARTBA President and CEO. "The Trump administration repeal is a commonsense approach to harmonize wetlands protection and the delivery of needed transportation improvements." 
How Recent Regulatory Reform Impacts Road Building Contractors
The National Association of Home Builders (NAHB) also applauded the WOTUS repeal, which Greg Ugalde, NAHB Chairman, called a "vastly expanded federal overreach over water and land use by regulating man-made ditches and isolated ponds on private property."
Ugalde added, "By repealing the 2015 rule, the EPA and Corps have finally provided consistency among all 50 states, which will make the federal permitting process more predictable and affordable. Now, the agencies need to finalize a new definition that restores common sense to the regulatory process by respecting states' rights and balancing economic and environmental concerns."