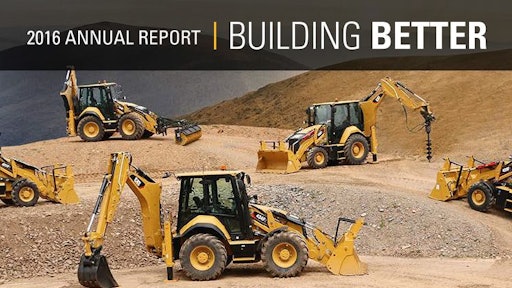 Caterpillar Inc. (NYSE: CAT) published its Sustainability Report  highlighting the company's focus for more than 90 years on building better – better lives, better communities and, ultimately, a better world. Titled "Building Better," the report showcases how Caterpillar customers use the company's equipment to develop infrastructure, energy and natural resource assets that improve living standards and make sustainable progress around the world.
"Our dedication to building better is stronger than ever," said Caterpillar CEO Jim Umpleby. "Caterpillar, our customers and dealers are investing to help address the world's persistent challenges, such as resource and energy scarcity, poor sanitation, unsafe water and poverty."
Specific sustainable development achievements highlighted within the report include among others:
A continued focus on restoring natural infrastructure essential to healthy economies, societies and environmental preservation.
Active participation in the circular economy through the remanufacturing and rebuilding of Cat used machines, engines and components.
An ongoing commitment to address energy availability and access – essential for economic prosperity, growth and security – through the development of products and solutions designed to meet these needs.
Continued success building on the company's safety, diversity and inclusion efforts, lowering its recordable injury frequency by 92 percent since 2003 and setting targets to increase the number of women within its workforce and leadership.
To read the report, visit http://reports.caterpillar.com/sr/. The company's Annual Report is also now available at http://www.caterpillar.com/en/investors/annual-report.html.