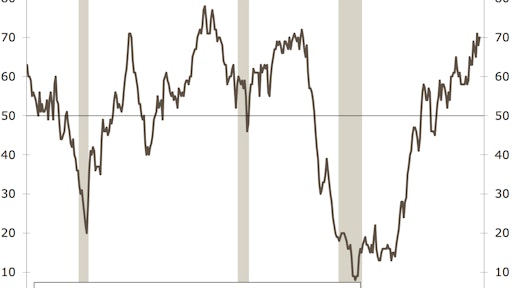 Wells Fargo Securities
The National Association of Home Builders/Wells Fargo Housing Market Index rose two points in May to 70, hitting its second highest level of the cycle. Demand is particularly strong in the West and South.
With weather distortions now comfortably behind us, the strength we are seeing in home buying reflects a real fundamental improvement in housing demand. The present sales index rose two points to 76, while the future sales index jumped four points to 79, reaching its highest level June 2005.

Demand for single-family homes is being driven by stronger job growth and a rising supply of millennial buyers.
Demand is strongest in the West and South, where population and employment growth have risen the fastest. Some of the improvement is likely coming from energy-producing areas, where job growth has ramped back up again.
Supply constraints remain a hurdle for builders. Shortages of lots and workers have kept starts below levels seen the last time the NAHB index was as high as it is today.