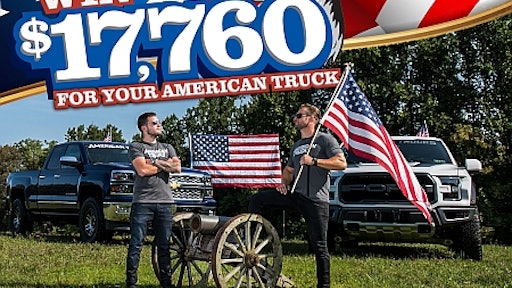 AmericanTrucks.com, which provides  aftermarket parts and accessories for Chevrolet Silverados, GMC Sierras, Dodge Rams, and Ford F-150s, along with its sister store, AmericanMuscle.com, have joined to host a truck parts giveaway valued at $17,760, an amount selected in a patriotic theme for the year America was founded (1776). The American Build Giveaway will choose one finalist to receive the grand prize package. A total of 76 runners-up are eligible to enter to win a limited edition American Build Prize Pack.
The grand prize winner will receive an additional $5,000 to cover the cost of installing the selected products. One entry per person per week during the entry period is allowed until the promotion ends on March 20, 2018. The grand prize winner will be selected the final week of March 2018, and the winner will be notified using the information they provided when entering the giveaway.  
Runners-up must use the hashtag #americanbuildgiveaway on their social media platforms to enter into the drawing for the 76 available American Build Prize Packs, which consist of $25 gift cards to AmericanTrucks.com. Winners of the secondary prizes will be notified through the social media platform they used to enter by the final week of April 2018.  
"We're really proud to host this giveaway," said Andrew Voudouris, co-founder of AmericanTrucks. "Our original site, AmericanMuscle.com, has shown incredible growth within the Mustang industry since it came online in 2003. We launched AmericanTrucks.com six months ago to transition into the truck industry due to the success of the F-150 parts we sold on AmericanMuscle.com. The giveaway is an opportunity to establish our brand, connect with more truck owners and build the site. We plan to expand from the current 1500 models of Chevy, GMC and Dodge RAM as well as the F-150 trucks into the 3/4-ton and full-ton trucks next year."   
AmericanTrucks.com features a variety of products to customize vehicles from the factory standard. Brake kits, exhausts, lift kits, lights, wheels, tires, suspensions and more are all available on the website. The products are vehicle-specific so the winner of the giveaway will be able to customize their specific truck with parts to fit.     
Official rules and entry form for the giveaway can be found here: https://www.americantrucks.com/at-mega-sweepstakes.html.