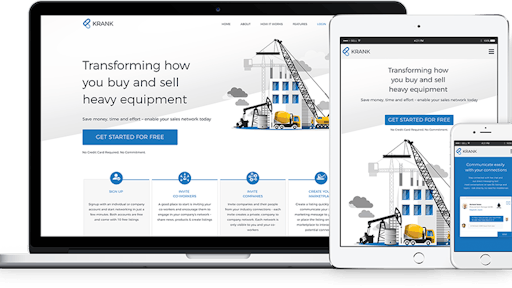 UK-based Krank is a new online company-to-company network platform that enables companies, both regionally and globally, to create private networks to easily trade large industrial items such as cranes, wheel loaders, trucks, excavators or other pieces of capital equipment. The site acts as a private sale room with users able to customize their online dashboard to suit their needs, facilitating the buying and selling of machinery without the fees that are traditionally associated with trading capital equipment.
"Krank is an exciting new venture and we believe that it will revolutionise the way that companies deal with each other in buying or selling new or used equipment," said David McCarthy, co-founder of Krank. "Having spent many years in the industrial equipment arena, we recognise that there is a need to do things differently. Krank is going to make it easier, quicker and cheaper for companies to trade their equipment."
Krank uses bespoke online technology and the latest analytic tools to create both a secure company-to-company networking tool and an online trading platform for equipment. Users can register on the site as an individual or through a company profile that allows an unlimited number of colleagues to join. They can then create their own private network of contacts and invite co-workers to join, or request to connect with anyone from other companies, whether that person is within a company they already networked with or not.
Those who use sites such as LinkedIn, Facebook and Twitter will be familiar with some of the networking functions, such as viewing and posting on news timelines, sending one-to-one messages, and creating group chats. Those who use sites such as Amazon will recognise the sales procedures. Users can communicate simply, whether that's just for networking purposes and to explore the possibilities of doing business together; or they can upload information and images of machinery they want to sell. In order to trade, the seller can offer the item on a private basis to specifically selected customers via the 'Network Marketplace' tab, or the unit can be offered on an open basis via the 'Public Marketplace' tab. The buyer and seller are responsible for carrying out their own checks, due diligence, and financial transactions.
"In a world where social media is an integral part of most people's lives, it makes sense that we harness this to be used for the practical purposes of doing business," added McCarthy. "Krank is an intuitive company-to-company platform that puts users in charge of their own marketing and trading options. There is no limit to the amount of transactions that each company makes and so it's a cost-effective way to carry out industrial commerce. Of course, as with everything, you get out what you put in, and so we believe that if you network more, you will trade more."
Customers new to Krank can select from one of two different account types:
An individual account: this is limited to one email user, but can be used with any personal address such as Gmail or Outlook, and comes with 1,000 free product listings per month.
A business account: customers must register with their business email addresses. Registering with the business account allows companies to have an unlimited number of email users and the account also comes with 1,000 free product listings per month. To purchase more listings, customers are able to purchase add-on packs.
"Each company's network of contacts and client database is secure, and the equipment listings they post can always be private, if that's what they choose, so there is no danger of sensitive commercial information being leaked," said McCarthy. "Krank is designed to offer a service to suit all needs."
To find out more or register, go to krank.com