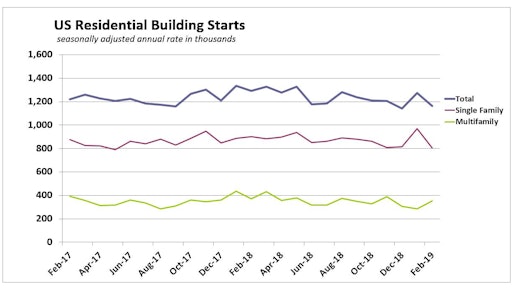 Data: U.S. Department of Commerce
Total U.S. housing starts fell 8.7% in February and are pulling back this year overall, with a slew of factors such as weather, the government shutdown and housing affordability potentially impacting the data.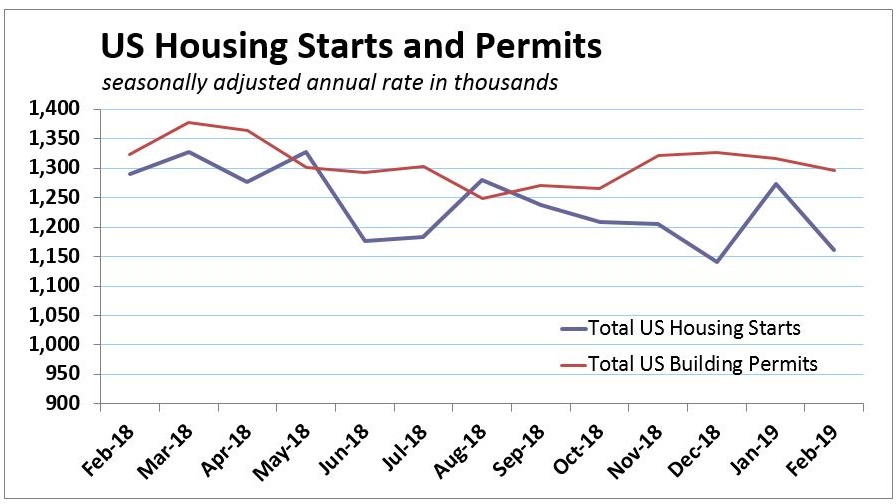 Year-to-date housing starts are down 8.2% compared to 2018, with single-family starts down 2.3% and multifamily starts down a hefty 20.5%. Building permits were 1.9% below the first two months of 2018, with single-family permits down 6.5%.
Department of Commerce data showed February starts at a 1.16-million-unit seasonally adjusted annual rate. The unexpectedly deep drop largely reversed January's solid gains, the Wall Street Journal points out.
With unseasonably mild January weather across much of the country, single-family starts had surged 19.2%. Wells Fargo Economics notes the improvement was also evident in employment and construction-spending data from the period.
"February saw the return of more typical winter weather, which we saw earlier this month in the employment data. Single-family starts declined 17% this past month, reversing most of the improvement reported the prior month," according to Wells Fargo's analysis of the February numbers.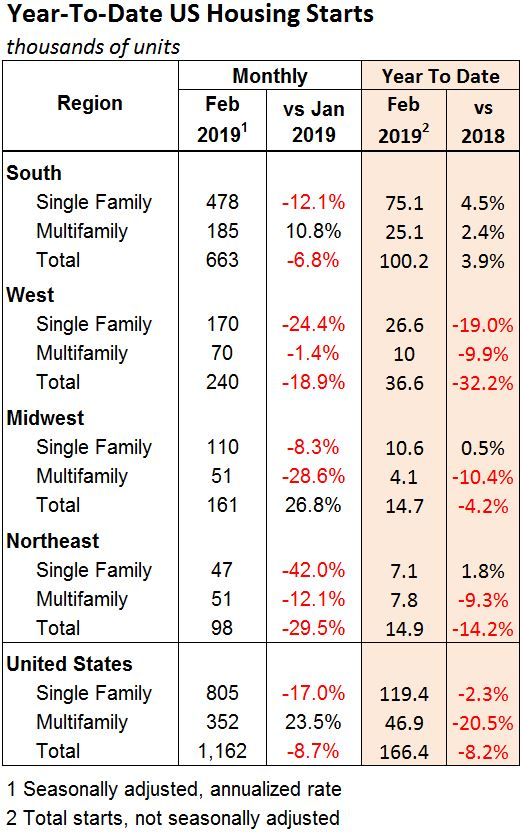 Year-to-date housing starts are 8.2% below the first two months of 2018, with single- and multifamily declines only significantly counterbalanced by growth in the South.
Multifamily starts are less subject to weather, and starts rebounded 23.5% in February following declines of 7.1% in January and 18.1% in December.
Since the first of the year, housing starts are down 8.2% compared with the same period in 2018, with single-family starts down 2.3% and multifamily starts down a hefty 20.5%.
Perhaps more nettling in the Commerce Department's February estimates is the issuance of residential building permits dropping 1.6%, following a 0.6% decline in residential construction permitted in January. All of the February drop occurred in multifamily units.
Year-to-date permits issued were 1.9% below the first two months of 2018, with single-family permits 6.5% below their 2018 level. Permits issued this year for multifamily construction, however, are 7.2% above 2018.
The apartment market has outperformed expectations over recent quarters, with apartment demand and supply staying balanced at vacancy rates around 6%.
"Periodic concerns about overbuilding have so far proved unfounded, although we do feel that the supply of luxury and lifestyle units delivered in many major downtown areas may be getting ahead of demand," suggests Wells Fargo's analysts.
Apartment construction is now pivoting to lower cost locations in the suburbs and in lower cost metro areas. Several cities are also making a concerted effort to boost construction of affordable housing.
"Even with the recent slide in interest rates, which reflects weakening economic conditions, we do not feel we will see a rebound in housing demand until the storm clouds emanating from slower global economic growth clear later this year," Wells Fargo says.
"Homebuilder confidence has rebounded in recent months but has not returned to its previous highs. Moreover, many builders discounted homes heavily late last year to move inventories and are unlikely to aggressively get ahead of demand after just a few months of lower mortgage rates."
Taken together, the direction of starts and permits signal an inauspicious start for housing construction in what could turn out to be a pivotal year for the U.S. economy and construction spending. But the Wall Street Journal makes note of a technical issue that may have distorted early-2019 numbers.
The partial government shutdown that stretched into January could be affecting housing data from January and February. Commerce said the response rates on which the starts report is based were "consistent with normal levels," but "delays in data collection for December and January could make it more difficult to determine exact start and completion dates" for properties. This could have caused significant revisions to the data in recent months.
More Resources
US Construction Spending Jumps 1.3% in January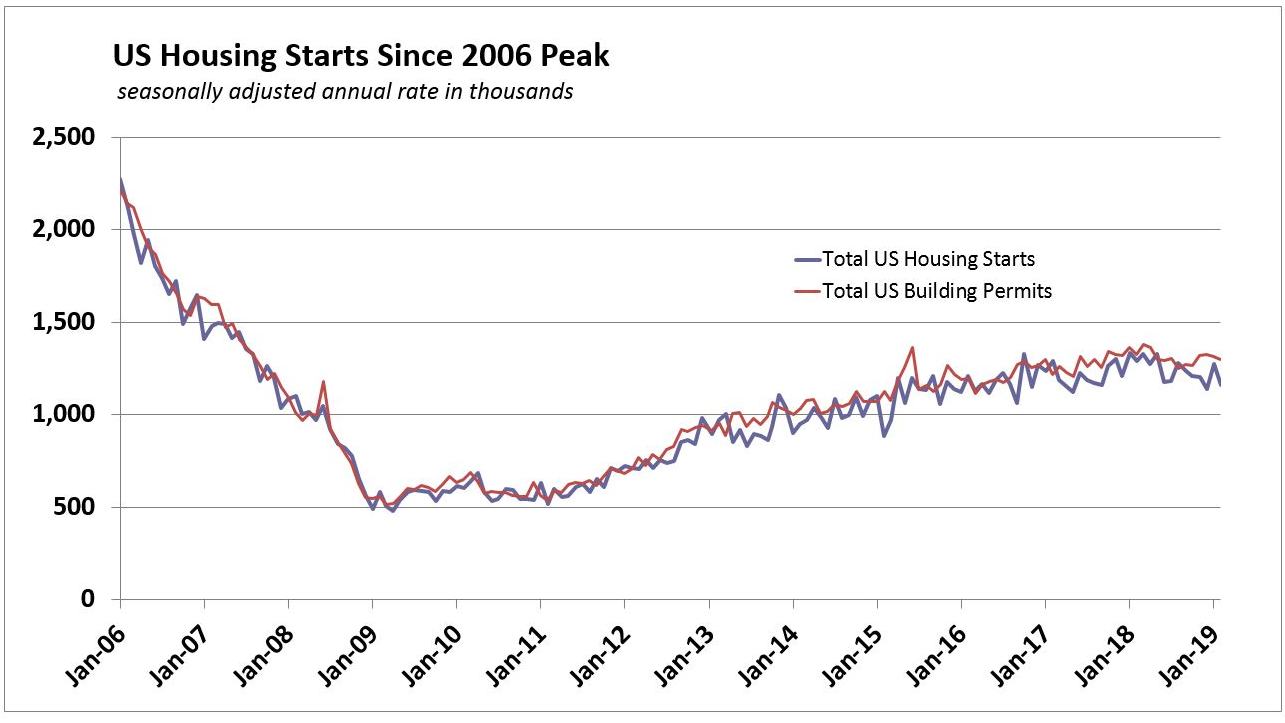 Data: U.S. Department of Commerce