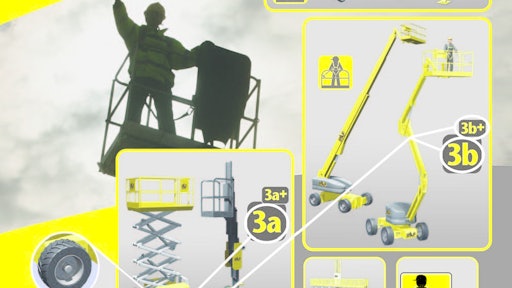 Both the US ANSI A92 standards and Canadian CSA B354 standards have been undergoing a thorough review over the past several years and new standards are expected to be issued by early 2017. Each country will issue a new design, safe use and training standard covering the majority of all aerial work platforms in use, with the noted exception of vehicle-mounted devices.
All of these draft standards have been issued for public comment, but as history can support, it is not until the standards are published that the public really pays attention to what changes have been made. While these standards are still undergoing review and additional changes might still occur, this article will address some changes proposed in the public comment drafts. The current standards are and will be in effect until these new standards are approved and published. Users will need to read and understand the entire standard when it is published.
Read next: User Guidance on ANSI A92 Standards
One change that might seem inconsequential is terminology. Aerial work platforms (AWPs) will now be known as mobile elevating work platforms (MEWPs). So when you read or hear the term MEWP(s), you are referring to all equipment that you previously referred to as an aerial lift or AWP(s).
In a more significant change in terminology, you will use the terms 'group' and 'type.' Currently the industry has titled equipment by the name of the individual standard, such as "self-propelled elevating work platforms" covered by ANSI A92.6 and CSA B354.2. Most users refer to this equipment as scissor lifts, but not all actually have scissors as the lifting structure, so that term is never used in the standards themselves. The new designation for this MEWP category will be 3a (type 3/group a).
All mobile elevating work platforms will fall under either group 'a' or 'b'. Group 'a' MEWPs have a work platform that is designed to be inside the tipping lines at maximum inclination in all platform configurations (a vertical platform, i.e. scissor lift). Group 'b' is all other MEWPs, typically identified as boom-type MEWPs.
MEWP types relate to ability to travel when stowed or elevated and the location of the controls when performing travel at either the work platform or chassis. Type '1' refers to MEWPs for which travelling is allowed only when in the stowed position, type '2' travelling with the work platform in the elevated travel position is controlled from a point on the chassis, and type '3' travelling with the work platform in the elevated travel position is controlled from a point on the work platform.
While terminology itself does not change manufacturing, it does address how MEWP classifications (a group and type combination) must be manufactured, such as all group 'b' MEWPs require occupants to wear personal fall protection and are required to have anchorages.
As a contractor or user of aerial lifts, you will likely think the design standard has nothing to do with you as you don't manufacture the equipment. While you do not need to know how to make an aerial lift/MEWP, you do have to know how to safely operate and maintain it.
Coming soon: Load sensing
A new requirement is that all MEWPs covered by these standards are equipped with platform load sensing (with limited exceptions). While no one should be overloading the platform beyond the manufacturer's defined safe working load (generally two persons, 500 lbs. working load), some might have exceeded the rated load and the machine actually lifted the load in many configurations. Load sensing will now prevent the operation of the platform movement if overloaded. What does this mean to you? You must do what you should have been doing already: know the weight of any load you are placing on the platform first and never exceed your safe allowable work load. If you do overload the work platform, the controls will not operate until the excess load is removed. This may be manageable when you are not elevated, but if you overload when elevated, e.g. by booming out, your options are more limited.
Read next: Tilt and Load Sensor Design Changes
Some might consider this change as a step backward for users, but this design limitation can allow manufacturers to design AWPs (MEWPs) to potentially reach farther or higher, as the safe working load is now more precisely controlled and the ability to be stable in different configurations increases.
Safe use changes
The safe use standard has several significant changes too. One addition is the requirement for risk assessments prior to operation. This detailed process must be applied to all work at height to identify potential hazards and develop methods to eliminate or mitigate the risk and communicated to all appropriate workers.
The following are additional changes in the safe use standard that users and operators will need to comply with:
MEWPs must display the date the last annual inspection occurred. While some might do this today, it is currently not mandated by our standards. This allows a user or operator to know that the MEWP owner has completed this required inspection prior to operation of the MEWP. If you are a contractor who owns a MEWP, you must apply this label after you complete the annual inspection.
As part of the risk assessment, you must include a rescue plan for work at height, especially when personal fall arrest systems are used.
The user must select workers who are both physically and mentally capable of performing the task.
The user shall now have the responsibility to ensure that after familiarization, the operator is allowed to operate the MEWP for a sufficient period of time to achieve proficiency. This applies to all new model MEWPs an operator is authorized to operate.
All group b MEWPs require personal fall protection. This is not a change in the requirement, only a change in the terminology used in the standard.
Weather conditions are addressed in detail within the standard, to include wind forces on the MEWP and materials being handled in the work platform, local effects of wind, and use in thunderstorms. These are issues that must be addressed in a risk assessment.
Language to address working on public roads has been added.
As this standard currently does not include insulated aerial devices, it addresses electrical hazards with specific minimum safe working distance requirements of 10 feet when working near any energized conductor, greater distances as voltage increases.
Vacating an elevated MEWP has generally been prohibited without the guidelines and instructions provided by the manufacturer. Manufacturer guidelines will be general and in addition to the standard's required risk assessment, the ability for a qualified person to provide site-specific guidelines and instruction for this procedure has been added.
New training standard
To apply the requirements set forth in the safe use standard, the new training standard provides training requirements for the use, operation, inspection, testing and maintenance of MEWPs. General operator training provides clear requirements for the content of the theory classroom training and practical hands-on training. Guidance documents are offered to document both theory and hands-on training.
Operator training now includes occupant knowledge that operators must convey to ensure all occupants have a basic level of knowledge to work safely on the MEWP. A minimum list of topics is included in the standard.
Read next: What is Compliant Operator Training In the New ANSI A92.24 Work Platform Standard?
IPAF's PAL Card will prove compliance with the new standards, while completion of the MEWPs for Managers course will meet the requirements set out below.
A significant addition to the training requirements is supervisor training for personnel who directly oversee MEWP operators. While this is an addition to the training standard, supervisors should have had this knowledge in the past to adequately address safe MEWP operation. Further, the standard states that the user shall designate a qualified person to monitor, supervise and evaluate operators on a regular basis to ensure their proficiency. This evaluation will determine the necessity for operator re-training.
Make sure you schedule time in 2017 to take appropriate action to begin your implementation.