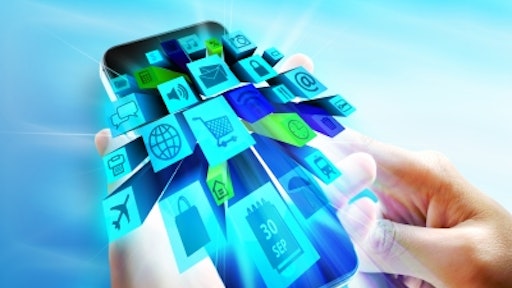 In 2016, the number of smartphone users will, for the first time, exceed one quarter of the global population. That translates into 2.16 billion users, and the number is expected to grow to include one third of consumers worldwide by 2018.
It only makes sense that the same mobile technology – be it on a smart phone or tablet – that allows us to order everything from a new pair of shoes to tonight's dinner in less than five clicks would also become a key tool in our equipment rental transactions.
Just in the last few months, major rental firms – including Herc Rentals, United Rentals and BigRentz – have all introduced new customer portals to streamline the rental process for mobile performance, allowing renters to browse, price, reserve, schedule and pay for equipment through any internet-enabled device in one transaction.
"Our first day as an independent company coincided with the launch of several major technology platforms, including our new website and mobile app," says Larry Silber, president and CEO of Herc Rentals. "The purpose-built, native mobile app sets new technology and user-experience standards for the equipment rental industry and will continue to evolve to include tools and features designed to improve our customers' experience."
Also in July, United Rentals launched its new online service that automatically checks inventory availability at the branches closest to the jobsite and inputs order details directly into the rental enterprise system. The customer selects the rental dates, delivery and payment options, and if desired, can call or live chat for assistance.
A consultative approach is necessary for some situations, but many customers value a streamlined transaction, says Chris Hummel, chief marketing officer of United Rentals. "As digital transactions have become the norm in many industries, we've created a self-service shopping experience that is information-rich, mobile friendly and simple to use for those renters who want to operate in a more digital manner," he says.
BigRentz recently announced its new responsive-design customer portal that requires no software downloads and adjusts to fit any screen, providing customers a consistent experience whether accessing their accounts on a smartphone, tablet or a desktop computer. 
"Whether you are managing a warehouse, operating a logistics project or in the middle of a movie shoot, you will have access to all the equipment you will need through our online customer portal," says Dallas Imbimbo, president and CEO of BigRentz. "The portal was born from thousands of conversations and daily interactions with our customers who wanted a single location to manage their rental activity through BigRentz."
Imbimbo adds, "In just a few clicks, our customers can place an order and schedule equipment for a project. No need to call several vendors, research equipment online or wait on the phone to negotiate rental terms."
Better customer service
"A web portal allows rental customers to self serve 24/7," explains Graham Dobbs, managing director of software provider inspHire. "It provides customers with an online platform to view a catalog of items, get directions to depots, see stock availability and pricing. Customers can also place orders online. Having a web portal in place means rental businesses can provide better service, all of the time."
And customers appreciate the time savings.
"Mobile technology allows information to flow faster than ever," says Tim Lajaunie, senior software engineer with Corporate Services. "When customers can make decisions quickly, and while on the go, efficiency and productivity gains can be enormous."
Often, renting decisions are made on the jobsite between a customer and a sales rep. Those transactions can benefit from mobile technology as well.
"The highest customer satisfaction comes from a full customer relationship management system (CRM) with transactions and equipment availability integrated," explains Patrice Boivin, president at Orion Software. "Sales representatives are able to provide a quick response on availability of equipment and send a quote or reserve equipment directly on their mobile device."
He adds, "Customers want to be empowered in today's world. There is no value in a construction worker taking an hour to pick up equipment himself when he can simply order the equipment from a mobile device and continue to work while it's being delivered."
According to Matt Hopp, general manager at InTempo Software, today's consumers want greater efficiency, but they also expect more communication from the providers they deal with, and renting is no different.
"24/7 customer portals are accessible from any internet-enabled device and empower renters without compromising any control on the part of the rental business," says Hopp.
Richard Marani, senior vice president and chief information officer at Herc Rentals, agrees, adding, "When customers can see what equipment is available, compare rates, schedule delivery, and extend or release equipment without calling or visiting a branch location, you've provided a service that makes the customer more efficient and effective in running their business."
Greater efficiency for everyone
When things run more smoothly, they tend to be less expensive. Mobile technology can help rental companies with that, specifically in assisting with on-site maintenance and repairs, deliveries and collections, as well as the capturing of signatures, photos and geo-location stamps.
"This means rental companies can produce legally certified documents there and then," says Dobbs, "Being able to complete tasks on a mobile or tablet means the so-called paper trail is easy to follow; a history of all documents is stored within the system so there's no need for filing or storing lots of paper."
And when a delivery is done, information can be recorded in real time to the rental platform, which saves time, reduces redundancy, and prevents the loss of documents. It's good for logistics, too.
"With GPS, dispatchers can locate the drivers, reorganize the route plan in real time and provide full documentation to continue the route. The driver can capture electronic signatures and order new equipment directly from the field," says Boivin.
There are other, less obvious benefits as well, such as better condition reporting.
"With mobile apps, the yard person or driver can use a phone or tablet to take date/time and geo-stamped photographs of equipment at the time of delivery or pickup," Hopp explains. "Employees can also create on-the-go equipment condition reports and add comments. In this case, everybody wins: the customer won't be blamed for problems they didn't create, and the rental operator leaves no room for uncertainty regarding the state of the equipment. This documentation can be pushed to the software, leaving an electronic 'paper' trail that can be referenced at any point in time."
Improved use of data
Besides transactional and operational benefits, mobile technology offers some companies the advantage of using data for greater big-picture intelligence.
"The rental industry must continue to find ways to operate smarter in order to keep margins intact," explains Dale Asplund, chief information officer and senior vice president – business services at United Rentals. "At United Rentals, we analyze historic data to better predict the future, to make sure we have the right fleet in the right place at the right time for customers, and at the lowest cost."
Marani agrees, adding, "Equipment rental businesses that approach their ongoing IT development from a 'mobile first' strategy will ultimately gain advantages in using analytics to gain better insights into customer preferences and patterns that drive ongoing improvement."
The amount of data generated by rental transactions is enormous, but that alone is not enough, Asplund says. "You can expect large rental companies to focus on creating advanced algorithms that better inform business decisions in real time. This has a ripple effect on safety, utilization of assets and customer satisfaction."
He adds, "Predictive use of data is an effective weapon in dealing with the challenges faced by rental businesses today, including rate pressure and cost increases from regulatory mandates such as emission standards."
Less pressure to compete on price 
According to Boivin, the integration of mobile technology into a rental company's operations will allow them to worry less about offering the lowest rate because customers will see them as a market leader and desirable partner.
"Leaders in the market are consistently delivering on time and readjusting within a short period," he says. "With the help of mobile technology, they are much more agile than their competitors. Instead of competing on price, the competition will be on reliability, speed, paperless and online equipment availability factors. The end customers often incur high cost when equipment is late, not maintained or if the administration is complex. They will value the benefits and realize they save money by choosing the right provider."
What will happen to late adopters?
Marani at Herc Rentals says it's helpful to remember that mobile technology is the front end of a much more intensive back end IT data infrastructure. 
"If the back end technology is already sound and managed properly, the front end mobile piece is simply pulling all of that data together and developing a user friendly way to help customers interact and transact with you," he says. "To exist and succeed in an environment where requirements are ever changing and slight adjustments are the new constant, we have to embrace the technology trends in the key areas of the cloud, mobility, analytics, and Industrial IoT (Internet of Things). Employing these concepts and technologies will allow for the necessary flexibility and efficiency needed to drive the business forward and earn a competitive advantage over companies that do not embrace it."
Eventually, customers will assume and expect the benefits that technology can offer, and their absence could even be a deal breaker. Regardless, there's no doubt the transition will be painful for some.
"Those without technology will compete on price instead of value-added services," Boivin says. "Why would an end customer go to a company that doesn't know if their equipment is available or when they can get it delivered if a competitor is offering them quick answers and does what they say they will do?"
He adds, "More and more in every business sector, technology automates outdated processes. End users are getting used to it and expect it from all providers. Those that don't adapt will lose market share, compete more on price and could eventually disappear."
Hopp says it's not quite that dire. "Right now, mobile rental software development is being led by demand for automation in rental logistics, delivery and pickup connectivity, electronic signature capture, and the ability to look up information about a customer – history, credit standing, etc. – among other things. In the end, the best use of mobile technology amplifies and extends what rental operators already are focused on: building relationships with and providing excellent service to their own customers."