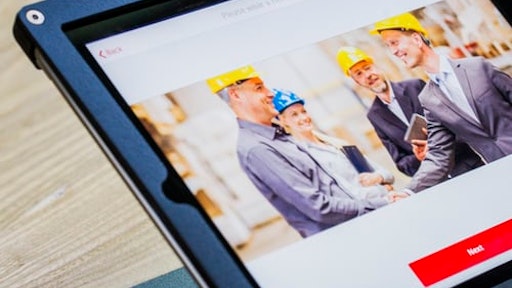 UNSPLASH
There is no denying the world is undergoing a digital transformation, but is the equipment rental industry keeping up?
Greg Bennett, vice president of Point-of-Rental Software, doesn't think so. Bennett discussed digitalization and key priorities for the rental industry at the Access, Lifts and Handlers (ALH) Conference & Awards Sept. 12-13, 2019.
As Bennett noted, technology has helped transform many different industries and has helped optimize many businesses. For example, agriculture businesses have grown dramatically since they have been able to incorporate new machinery and information technology. Farmers have adopted sensors, smart irrigation systems and many more new technologies to optimize their production.
Likewise, the fast food industry has changed, too. Today, someone can walk into a fast food restaurant and order from an electronic kiosk. Meanwhile, the kiosk gives the customer suggested items based on what they are ordering, and it gets them to buy more than they originally went in for. This has made sales go up by 30%, said Bennett.
"Technology is growing exponentially," he said. "And the more you stay stuck where you are at with technology, the further you lag behind."
Unfortunately, Bennett believes the rental industry has always lagged behind, saying, "I do believe our industry is resistant to change, and I don't think we've been good at adopting technology."
To get ahead, Bennett said there are two technologies all equipment rental companies should already be incorporating plus a new technology they should be looking at in the near future.    
Is Your Company Mobile Friendly?
Mobile phones aren't what they used to be. Today, business owners can manage their entire operation all from the devices in their pockets.
"I can chat, send emails, create quotes, log in to my CRM and interact with my customers all from that device," Bennett said.
Being able to communicate with your customers the way they want to be communicated with is the most important thing. And the truth is, younger generations want to interact through phones, said Bennett. So, if a company doesn't have an online operating system they are already behind.
Companies are able to do a lot of transactions through mobile apps, as well. For example, a driver can drop off a piece of equipment at a jobsite and the orders can be finalized with an app. Condition photo of the equipment can also be taken in real time and submitted via the app to report damage.
"In the past, if we didn't communicate to the contractor that there was a damaged piece of equipment within a few hours, our likelihood of getting paid for that damage was almost zero. But today, we are communicating all of that stuff in real time," Bennett said.
Is Your Company Going Paperless?
According to Bennett, companies have the ability to be 100% paperless because of electronic signatures.
Companies are able to use electronic signatures for anything including project management, sales, purchasing or staffing documents. Apps like DocuSign allow businesses to legally streamline all of their paper-based processes into an easier and secure format. 
Electronic signatures aren't a new breakthrough technology, yet not every business owner has fully incorporated them.
Read next: Is It Possible to Go Paperless?
"The problem I find is for most companies when you show up and start taking paper, they fight to hold onto it. But we have the ability today to be 100% paperless," Bennett said. 
For Bennett, this is an example of the technology equipment rental companies have available to them but still refuse to fully embrace.
Is Your Company Looking Toward Rental on Demand?
Beyond taking advantage of available technologies, Bennett believes it's important to continue looking to the future if you really want to get ahead of the game.
For him this means thinking about the direction the industry is heading – and he believes it is going toward rental on demand.
Bennett predicts daily, weekly and monthly rental rates will be going away.
"The younger generation is not going to want to pay for a machine sitting on a jobsite collecting dust," he said.
Instead, he envisions the industry heading on a route similar to the latest scooter rentals. Customers will be able to walk up to a machine and only pay for the exact amount of time they are going to use it before they put it back.
"That's coming to our industry," said Bennett, "so how are we going to adapt to it?"
New technology is always emerging and companies have the opportunity to embrace, shape and mold it into what will best work for their business. For now, Bennett believes there are technologies such as mobile apps and electronic signatures that not all rental companies are taking advantage of but are critical to staying ahead of the curve.