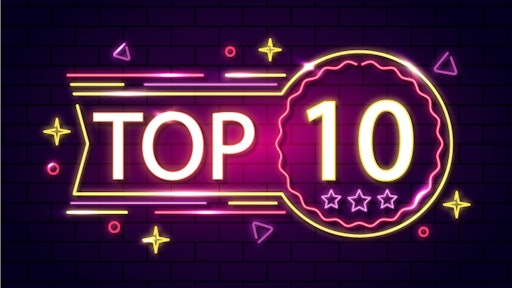 superstar @ stock.adobe.com
The year 2020 has been a wild ride. Back in January, I'm sure no one predicted what this year would look like. But here we are again, ready to usher in a new year and say, "Good riddance!" to everything 2020.  
However, there has been a plus-side to the misadventures, changes, and struggles we've faced. This year has given us some great and uplifting stories, new digital ventures like Rental's The Bottom Line and Rental Rundown, and opportunities to adjust, adapt, and learn new ways of doing business.
Because of this, we decided to take a look at the top 10 stories, articles, and podcasts of 2020. These were selected based on popularity and page views throughout the whole year by you, our lovely readers and audience! 
Without further ado, here are the top 10 stories from 2020. Stick around to see if your favorites made the list!  
#10: 
A 
T
ime of Change by Alexis Brumm
(hey, that's me!) 
This was my first piece for Rental back in May 2020, an introduction letter to give readers more insight about who I am and my background. Looking back at that nervous new editor from seven months ago, I can't help but smile. This change has been such a highlight of my year, and as I wrote in the piece, "If this quarantine period has taught us anything, it's that change can be a good thing in one way or another. I'm here to prove that to you."  
Ditch Witch shares with us a few different reasons how and why vacuum excavators are becoming more popular throughout the rental industry. Versatility and low maintenance are just two of those reasons why they're great for rental customers, and who can argue with that?  
Our first Rental's The Bottom Line podcast on the list! In this episode, I spoke with Skyjack President Ken McDougall and Vice President of Marketing Malcolm Early to talk about Skyjack's WERISE campaign, the future of the rental industry, and how to stay positive amidst challenges. It was a really great episode that I thoroughly enjoyed filming (and it also had a subsequent article as well)! Malcolm and Ken were great guests, and I'm happy our audience thought so too.  
These days, there's no shortage of resources to help business owners identify health and safety measures to protect their workers and their businesses. Ensuring safety and compliance was already complex, but now with COVID-19, the workload has increased. Colby shares some tips on how to make that process easier for everyone.  
Number six is another great episode of Rental's The Bottom Line, this time speaking with the wonderful team at Milwaukee Tool. We chatted about the new MX FUEL System, which won a 2020 Editor's Choice Award back in October/November, and how these tools can help benefit the rental industry. If you haven't listened to this one yet, go do so right now!  
And here we are: our top five stories for 2020!  
Where there's dark, there is light, and you all were definitely excited to read about Chicago Pneumatic's LED light towers in our story from the August/September issue! Waters Construction Company decided to test a Chicago Pneumatic CPLT V5+ light tower for a bridge repair project in Connecticut. You'll have to read the story, if you haven't already, to hear the results!  
A big drumroll please! Our Editor's Choice Awards from our October/November issue definitely made a splash taking on the #4 spot in our countdown. This year, we broke the winners into five categories: Construction, Earthmoving, General Tool, Lifts, Material Handling, and New Tech, so there's a little something for everyone. Go see who won and let us know your favorite product or two from the list!  
This article comes to us from our good friends at Gearflow, who sat down with ex-CEO of Nickell Rental, Josh Nickell. The conversation evaluated how Nickell Rental approached growth differently than most, and how the incremental improvements that Josh made changed everything. So many lessons wrapped into one article!  
We're nearing the end of our list. Are you excited?!  
It seems that you readers were interested in how to read tire damage! No, this isn't reading like a reading by a fortune teller. This is reading like studying, analyzing, and learning! Rental fleet managers can learn a lot about a machine's health by the state of its tires. Recognizing types of wear and damage can be extremely helpful with avoiding costs or hazards in the future, and who doesn't like to save some money?   
And our #1 story for 2020 is:   
Our top story is an inside look into why the construction industry, and rental business owners alike, need to start investing in and learning about e-commerce. The digital transformation is here, and it's only going to accelerate. The longer you wait or put off e-commerce, the more you risk missing out on or losing customers – or in terms of COVID, the longer you put off e-commerce, the more at risk your business becomes.  
As Ben says at the end of the article, "The demand for a digital experience will outlast the pandemic. When everyone goes back to work and it's time to build, consumer behavior and expectations will have changed. Now is the time to ask yourself, what you are doing to adjust to the new consumer? Businesses that take action now will come out the other side of this pandemic more efficient and effective. Those that don't will risk getting left behind."  
Those are our top 10 stories, articles, and podcasts of 2020. What do you think? Did your favorites make the list?
Let us know! Shoot me an email at abrumm@acbusinessmedia.com.