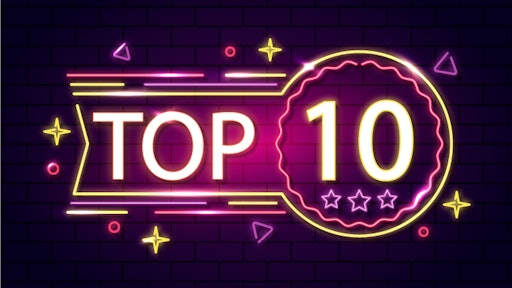 superstar @ stock.adobe.com
We recently took a gander at the top 10 stories, articles, and podcasts of 2020, but we would be remiss to ignore the top news stories from the year, too! After all, news is an important facet of our daily lives. How else would we know what's going on in the world, what new products were released, or what's happening with companies in our respective industries?  
These are some of the biggest news stories and announcements that 2020 had to offer outside of COVID-19. Because, really, who isn't sick and tired of hearing about the pandemic anyways?  
Time for a drum roll, please! These are the top 10 news items of 2020.  
Here we go, starting with number 10! H&E Equipment Services entered the specialty rental business by adding a trench safety product line and establishing an exclusive partnership with GroundWorks Safety Systems. H&E now has the exclusive U.S. rights across all 50 states to provide innovative and reliable trench safety products. 
A big leadership change for United Rentals makes its way in at number nine. UR announced that Paul McDonnell, chief commercial officer, was going to leave the company on Sep. 30. His leadership responsibilities, with respect to sales and specialty operation, were absorbed under Dale Asplund, chief operating officer. 
Coming in at number eight, Home Depot Rental. Created to solve project and worksite challenges through a continuously improving rental experience at 1,100+ locations, The Home Depot Rental took that commitment to another level with the introduction of 10 total new rental centers and rental operations facilities. 
A leadership change comes in at number seven. Back in June, Terex Corporation announced that Matt Fearon, then AWP's president, would leave the company Aug. 1 after 25 years with Terex, AWP, and Genie, AWP's flagship brand. John L. Garrison, Jr., chairman and CEO of Terex Corporation, would take on additional responsibilities as president of Terex Aerial Work Platforms (AWP), and Simon A. Meester, vice president, global sales and marketing administration for AWP, would be promoted to COO of Terex Aerials. 
Environmental sustainability was a big topic in 2020, and our readers were curious about how companies are handling it! At number six, United Rentals released its 2019 Corporate Responsibility Report, including a new goal for a 35% reduction in the intensity of greenhouse gas emissions from direct operations by 2030. 
New product alert! In September, Hilti North America launched a new four-in-one cordless multi-head drill driver to help contractors tackle the most demanding and difficult to access applications. The SFE 2-A12 multi-head drill driver is designed to reach places that a common tool in its class cannot. 
In some Canadian news, Cooper Equipment Rentals, an independent equipment rental company in Canada, acquired the Atlantic Canada assets of Herc Rentals. Those assets include two full-service branches located in Dartmouth, Nova Scotia, and Saint John, New Brunswick. 
And here we go with the top 3 news items of 2020!  
In August, Lowe's announced that they would begin rolling out tool rental departments nationwide, creating a one-stop shop for the tools and equipment pros and DIY customers need to complete home improvement projects. Lowe's Tool Rental started its a multi-year national roll-out with its first space opening in Charlotte, North Carolina, on Aug. 20. 
Our readers were interested in learning that Sunbelt Rentals posted about $1.415 billion in fiscal fourth quarter 2020 revenue, up slightly from $1.387 billion in the fiscal fourth quarter of 2019. The total figure includes Sunbelt Rentals U.S., Sunbelt Canada, and the newly branded Sunbelt U.K., formerly known as A-Plant.  
And our top news story of 2020 was:  
Drama! In October, Ahern Rentals, a leading renter of construction equipment, sued rival, Equipmentshare.com, in Texas federal court for allegedly infringing a patent covering a method to control rented equipment remotely.  
There you have it! Those are our top 10 news items of 2020, outside of anything COVID-19 related. What do you think? Shoot me an email at abrumm@acbusinessmedia.com and let me know your thoughts!