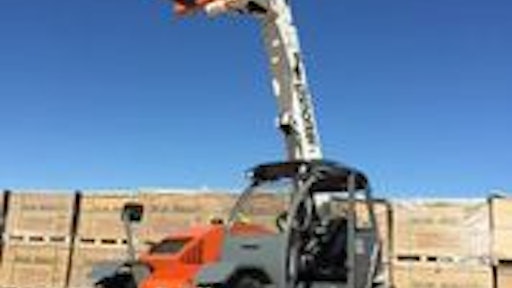 Snorkel launched several new products at The Rental Show 2015 which ran Feb. 22-25 in New Orleans. 
The global manufacturer of aerial work platforms officially debuted the first-ever Snorkel telehandler. The Snorkel SR5919 is the first model of the brand new line of rough-terrain telescopic handlers, which demonstrates the company's expansion of its products beyond aerial work platforms.
Snorkel also unveiled its new family of electric slab scissor lifts which are now available to order in North America. The family includes four models, ranging from the S3219E which delivers a 19-foot max. platform height from a 32-inch wide chassis, to the S4732E which delivers a 32-foot max. platform height from a 47-inch wide chassis. The new scissor lifts have been designed with a focus on the rental industry and include a number of innovative features that help lower total ownership costs.
In addition, Snorkel showcased the first in a new line of mid-size telescopic boom lifts. The Snorkel 660SJ is a 66-foot rough-terrain telescopic boom lift that includes a 6-foot 6-inch jib. Built to handle tough environments, the 660SJ boasts an all-steel cowling and boom, fully proportional controls for all boom functions, as well as a brand new tri-entry platform design featuring saloon-style entry gates and the new 'Snorkel Guard' secondary guarding system fitted as standard.
Visitors to the Snorkel booth were among the first to see Snorkel's updated paint scheme. The company will introduce a brighter shade of orange paint to its lifts later this year as well as switch from black paint, predominantly used on chassis weldments, to a mid-grey paint, which improves visibility for service engineers working on the equipment.
Alongside the new product launches, Snorkel displayed a number of established lifts that are popular with the rental industry, including the S3970RT compact rough-terrain scissor lift; the MB26J self-propelled mast boom lift; the TM12 telescopic mast lift with roll-out extension deck; the A38E electric articulated boom lift; the A46JRT rough terrain articulated boom lift with new Tier 4 compliant engine; and the EZ-Loader EZ18 custom built delivery truck.