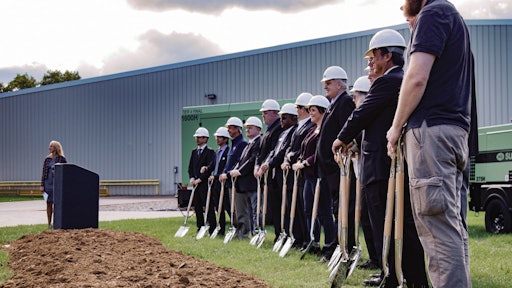 Sullair is investing $30 million to expand its North American operations and headquarters campus in Michigan City, Indiana. The company held a ceremonial groundbreaking earlier this month.
"In our nearly 55 years of business, this $30-million-dollar investment is one of our largest – if not the largest – on record," says chairman Jack Carlson. "Many call LaPorte County one of the 'compressor capitals of the world.' We are confident this investment helps ensure LaPorte County maintains this reputation for generations to come."
Following the remarks, the speakers participated in a ceremonial groundbreaking that also included Clarence Hulse, Executive Director, Economic Development Corporation Michigan City; Katie Eaton, President, Michigan City Chamber of Commerce; Larry Ballah, Architect, Tonn and Blank; Pat Boy, Indiana State Representative, District 9; Don Przybylinski, President, Michigan City Council; Charlie Takeuchi, COO and Executive Vice President, Sullair; Mike Guido, CFO, Sullair; Henry Tanaka, Senior Vice President, Global Operations and Product, Sullair; Chad McKeever, Senior Director of Operations, Sullair; George Oudhuis, Team Lead, Sullair; and Ben Oudhuis, Manufacturing Engineer, Sullair.
Dozens of dignitaries from city, county and state organizations joined to celebrate.
The expansion project includes the construction of a new 80,000-square-foot manufacturing building, a canopied storage building and an additional parking lot for employees. The project will also reconfigure and optimize portions of the existing, primary 280,000-square-foot manufacturing facility on the campus.
Construction is expected to begin this week and will create nearly 80 construction jobs with Tonn and Blank Construction.
The project will also create more than 30 full-time jobs with Sullair.