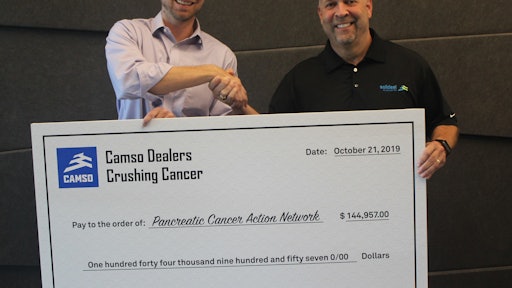 Twenty-four dealers across America has joined Casmo in its Casmo Crushing Cancer 2019 program, raising $144,957 that will be donated to the Pancreatic Cancer Action Network.
The program ran for the months of August and September across Camso's construction tire and track dealer network in the U.S. During this period, the company also donated a portion of the proceeds from the sale of select construction tires to the Pancreatic Cancer Action Network as well.
"When we launched this program last August, little did we know that we would be able to raise such an important amount for our donation to the Pancreatic Cancer Action Network," says Jim Donoghue, Director, Marketing and Sales Support – North America at Camso. "Most of us know families who have been affected by this disease, and we are proud to support this cause."
Camso would like to thank each dealer for their generosity in joining this cause:
Best One Tire

Blue Ribbon Tire

Cassidy Tire

Commercial Tire

Dakota Tire

Gallagher Tire

Lapps Loader Service

McCarthy Tire

Midstate Tire

Northwest Tire Factory

Parkhouse Tire

Pomps Tire

Quality Tire Company

Ray's Tire Service

Redburn Tire Company

Royal Tire

Service Tire and Truck Center

Southern Tire Mart

Sullivan Tire

Tandem Tire

TF Tire & Service

Tiresoles Group

United Tire Center

Wingfoot
"We are sincerely grateful for this generous gift from Camso and their dealers," said Brooke Caviglia, PanCAN Associate Director, Community Engagement, "Their support will directly benefit thousands of pancreatic cancer patients and their families and will help in our fight against this deadly disease."
According to PanCAN, pancreatic cancer is currently the third leading cause of cancer-related death in the United States with a five-year survival rate of just nine percent. Funds raised for PanCAN through the Camso Crushing Cancer 2019 program will advance critical research programs, including PanCAN's Clinical Trial initiative, Precision PromiseSM, Early Detection Initiative (EDI), precision medicine initiative Know Your Tumor®, additional field research, and other patient advocacy efforts – all to improve patient outcomes.