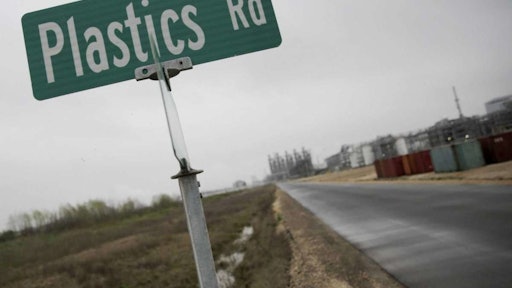 ELIZABETH CONLEY, HOUSTON CHRONICLE / STAFF PHOTOGRAPHER
Dow has been included on FORTUNE's 2019 "Change the World" list, a ranking of 52 companies that have made an important social or environmental impact through their profit-making strategy and operations. Listed as number 26 in the ranking, Dow is recognized for its program to pilot the use of recycled plastics in roads as part of the company's long-standing commitment to reduce plastic waste and drive sustainability solutions.
"Dow is honored to be recognized by FORTUNE for advancing new applications and markets for recycled plastics," said Dow CEO Jim Fitterling. "By developing solutions such as this, we are demonstrating that plastics, from design to disposal, have tremendous value and can continue to benefit people and society in new ways."
Dow announced the completion of the first public U.S. recycled plastic modified asphalt (RPMA) reinforced roads in the Great Lakes Region in Michigan - four public roads and two parking lots. This is the second phase of Dow's recycled plastic road pilots in North America, following the completion of two private roads at its Freeport, TX facility earlier this year.
Dow believes that plastic waste has value and can be transformed into new products and energy. In addition to plastic roads, Dow is working with key partners in South America to use recycled plastics to develop construction materials for schools in Colombia. Dow is also at the forefront of developing and scaling chemical recycling technology to take recycled plastic waste back to feedstock for the creation of new products. By reimagining new ways to reuse, recycle and repurpose plastic waste, Dow and its partners are leading the way in the development of innovative circular economy solutions.