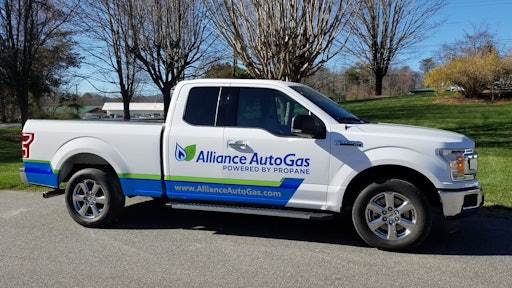 For the first time in the U.S., Port Fuel Direct Injection (PFDI) technology fueled by propane autogas is a viable solution. As more fleets move toward Port Fuel Direct Injection engines, Alliance AutoGas (AAG) has found a solution for those who want to lower their emissions and use cost-effective propane autogas.
AAG has successfully engineered PFDI conversion systems for the 2018 Ford F-150 in two engine choices: a 3.3-liter V6 and 5.0-liter V8. This new technology features autogas as the primary fuel, while strategically utilizing gasoline as a combustion lubricant. At the 2018 Work Truck Show in Indianapolis this week, AAG is displaying two vehicles with the new Propane-PFDI (P-PFDI) technology offering participants the opportunity to view the new autogas system.
 AAG engineers expect the P-PFDI engine to continue growth within the larger vehicle markets. "We plan to be prepared for the advancement in OEM technology with the complementary propane autogas conversion technology," said Ed Hoffman, President of Blossman Services, Inc. "Propane autogas is the most popular alternative fuel worldwide, proven in more than 28 million vehicles, and we must always be prepared to meet the demand of fleets throughout the country."
Stephen Holland, Director of Engineering for Blossman Services, Inc., explained that his team noticed a major shift in OEM technology several years ago as manufacturers began to implement PFDI engines in small cars. Holland said, "PFDI is a fairly complicated technology, and we knew it was only a matter of time before PFDI became widespread, including implementation into big trucks. It was important for us to begin engineering an autogas solution quickly." Holland continued, "We were prepared with a conversion system as soon as Ford introduced the first PFDI commercial truck. We know that PFDI will continue to grow, and we will be ready for the next class of vehicles as they come to market."
AAG's platform-specific engineered P-PFDI conversion system allows fleets to utilize autogas and experience top performance with the following features and benefits:
Reliability

: The new autogas PFDI system provides performance fleets can depend on in extreme weather conditions. There are no cold start issues, nor hot weather complications.

Emissions Reduction

: Autogas PFDI technology dramatically reduces tailpipe emissions, most notably include CO

₂

, CO, and NOx. "The tailpipe emissions on the 3.3-liter engine puts this vehicle in the same emissions class as a Hyundai Elantra or Subaru Outback. The 5.0-liter engine is in the same emissions class as the Chevy Volt and the Toyota Yaris," stated Holland.

Range

: "This P-PFDI system eliminates the range anxiety that can come with other alternative fuels. The P-PFDI system retains the same range as gasoline to keep your vehicles on the road, no matter where it may lead," said Hoffman.

Proven OE hardware

: The P-PFDI conversion system is an adaptation of AAG's proven technology that is currently utilized on over 100,000 vehicles globally with demonstrated success.

Support

: AAG provides an industry leading 5 year, 100,000 mile warranty supported by a trained nationwide service network.