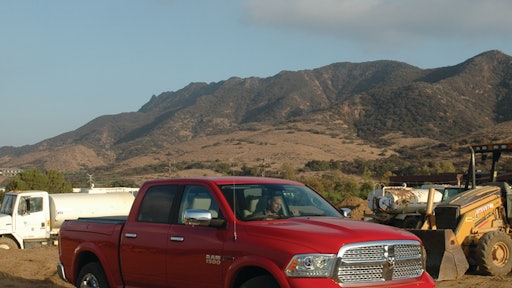 As the first half-ton pickup truck with a diesel engine in North America, we know the 2014 Ram 1500 EcoDiesel has the potential to be a game changer. Some driving in the mountains north of Los Angeles suggested that the new diesel Ram delivers real performance bang for its first-to-market buck.
Video: Ram Talks Performance and Payback on New Half-Ton Diesel Pickup
Ram filled a long-standing request by a dedicated segment of truck buyers for a diesel option in this vehicle size. Unlike its larger 2500/3500 siblings, though, the 1500 EcoDiesel is not a Cummins. Instead, Ram trucks turned to VM Motori, Chrysler Group diesel engine supplier since 1992.
Video: 2014 Ram Uconnect Demonstration
The 3.0-liter EcoDiesel may be new to the Ram 1500, but a variant has a proven track record powering the European versions of the Jeep Grand Cherokee and Chrysler 300. This 60-degree V6 engine with a dual overhead camshaft and 24 valves produces 240 hp and 420 lb.-ft. of torque. The combination of the available torque and the inherent efficiency of a diesel engine will translate into 9,200 lbs. of towing capacity while delivering better than 25 mpg on the highway.
In the Ram Truck this engine will be mated to the same TorqueFlite 8 eight-speed automatic transmission also offered with the 3.6-liter Pentastar V6 gasoline engine. The additional gears enhance drivability while enhancing fuel economy.
The 3.0-liter EcoDieselis definitely a modern, high technology design featuring a compacted graphite iIron (CGI) block designed and cast for light weight, and heat-treated aluminum cylinder heads with individual bearing caps that help reduce friction, noise and vibration. Durability is enhanced with forged steel crankshaft and connecting rods. Aluminum alloy pistons with a 16.5:1 compression ratio reduce reciprocating mass and benefit from cooling oil jets. A water-cooled, electronically-controlled, variable-geometry turbocharger virtually eliminates turbo lag.
An advanced common rail fuel injection system provides 29,000 psi of line pressure. High dispersion fuel injection nozzles and a new servovalve enable up to eight fuel injection events per cylinder cycle to precisely control fuel consumption, noise and emissions. An selective catalytic reduction (SCR) aftertreatment system is used to meet the most stringent emissions requirements.
Driving impressions
But enough with the technical details, how does the package perform? Upon initially starting the vehicle, we noted that it had a subdued exhaust note not much louder that a gasoline engine of comparable capability, yet you definitely would not mistake this for anything but a diesel.
We started our drive with a windy road through the mountains with 15 to 20 mph corners connected with 40 to 45 mph straightaways. This is where you could mistake the truck for its gasoline equivalent. The variable-geometry turbocharger coupled with the electronic eight-speed transmission made acceleration brisk. This was a pleasant surprise and the Ram 1500 almost had an automotive feel. Another pleasant surprise was the fuel economy. Heavy throttle followed by heavy braking usually does not yield the best fuel economy numbers, yet if you believe the display from the on-board computer, the pickup averaged around 26 mph in these conditions.
We also had a chance to test trailering capability, although the ski boat hooked to the back didn't weigh enough to challenge the engine. It was almost difficult to tell if anything was back there. I am sure that a load much closer to the 9,200-lb. limit would provide a better test.
Besides integrating the diesel engine, much of the 2014 Ram 1500 remains the same as the 2013 that earned Consumer Reports' recommendation over the higher-rated 2014 Chevy Silverdo. Refer to the Ram 1500 First Drive on this site for further details. Basically, Ram Trucks has taken an innovative truck with many industry first and raised the bar yet again. It will be interesting to see how the industry responds in this very competitive market segment.