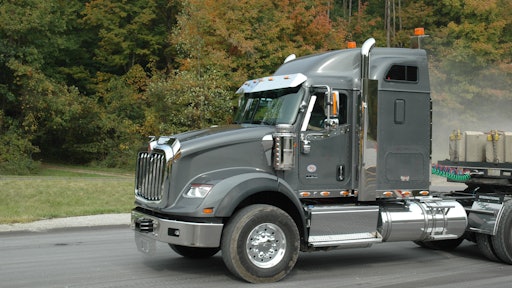 When spec'ing a heavy haul truck, there is no single best solution. The weight of the load, distance traveled, amount of time spent off road and terrain determine the proper choice.
"The most important thing is to understand the work environment, estimated payload and highway traveling time in order to spec the truck to the exact needs," says Greg Treinen, heavy vocational product marketing manager, Daimler Trucks North America (DTNA).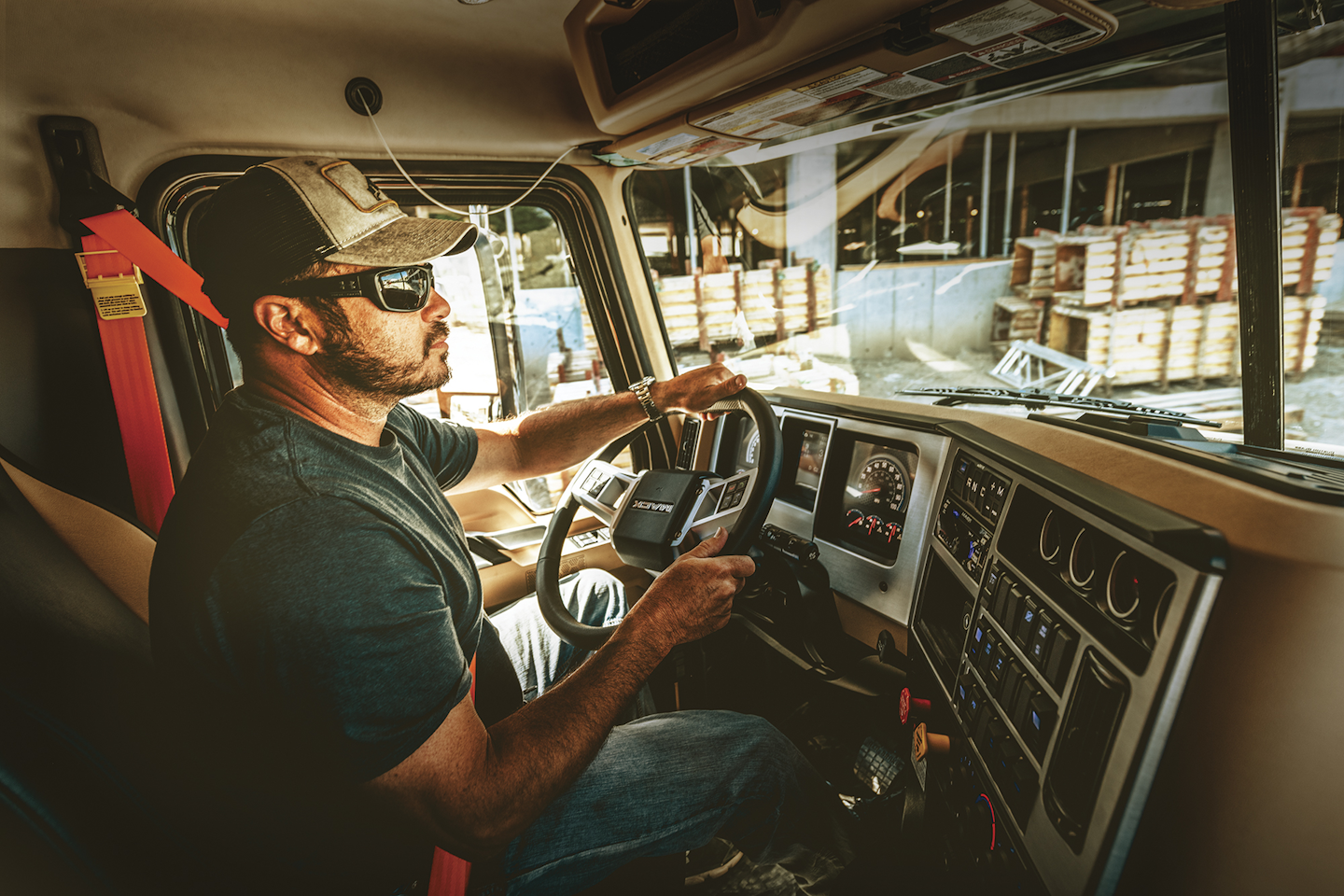 To address low-speed steering effort, Mack introduced Command Steer, which adds additional steering boost to reduce the required steering effort.Mack TrucksEvery heavy haul application is unique. "When looking at heavy haul applications, weight will affect whether or not the truck requires a special permit or not," says Stu Russoli, Mack highway product manager. "Secondly, whether a special permit is required or not, you should consider where the truck will travel and if there are any weight regulations in the areas, states or provinces it will travel. Ask if the truck's axles are rated correctly and if they are spaced in the correct locations to carry that load through those territories."
"Heavy haulers that transport loads above 120,000-lb. gross combination weight (GCW) must carefully specify their trucks for both durability and power," says Ryan Breezee, Kenworth vocational marketing manager. "An over-spec'd truck may reduce fuel mileage and increase acquisition costs, while an under-spec'd truck may not be sufficient to move the load, or may increase maintenance costs. The challenge is to achieve the right balance between the truck's job requirement and expected annual mileage to help produce the lowest operating cost per mile."
Weight and terrain are determining factors. "First ask what is the weight you are going to be hauling and over what terrain," says Chad Semler, product marketing manager, Navistar. Different loads and varied geography make it difficult to suggest a generic heavy haul spec.
Different weight levels require different components. "There are a number of levels of heavy haul applications," notes Breezee. "The first is 120,000 to 140,000 lbs., which can be met fairly easily with normal components. The next level is 140,000 to 180,000 lbs., which is more expensive but nothing specialized. The 180,000- to 240,000-lb. level starts requiring dedicated components to do the job. The 240,000- to 330,000-lb. level requires planetary axles and an auxiliary transmission. As the GCWR goes up, vehicle speed comes down and the price of the chassis goes up dramatically — in some cases, three to four times what a 120,000-lb. tractor would cost."
Balance startability and top speed 
Knowing where and how a customer plans to operate a vehicle is essential in optimizing the powertrain.The engine, transmission and axles must work in concert to get the load started and keep it moving at the desired speed.
"To ensure performance of the truck is not compromised, the engine should have sufficient horsepower to handle highway speeds and also plenty of torque for startability," says Treinen. "Selecting a transmission with deep low gears and matching axle ratios will contribute to a truck's performance."
Gear ratio selection is critical. "As with any truck spec, you need to look at the low gear relative to your rear axle ratio and make sure you're going to be able to start the load rolling, as well as reach highway speed without being gear limited," says Russoli. "Having good startability but not being able to go over 55 mph will not make a driver very happy."
"With a typical highway freight tractor, drivers can typically operate with a 10- or 12-speed transmission with a low gear around 12:1 to 9:1 and a rear axle ratio somewhere around 3.07," says Russoli. "This will start an 80,000-lb. GCWR tractor and run down the road at 65 or 70 mph. But when a driver starts moving heavier loads, or moving them around in tight areas, you need to have some lower end gears in your transmission for easy startability."
Many heavy haul tractors rely on 18-speed manual transmissions, although there has been a movement toward automated manual transmissions (AMTs) with creeper gears, such as Mack's mDrive HD 13-speed AMT with 19:1 creeper gear or the mDrive HD 14-speed AMT with 32:1 creeper gear. These transmissions allow you to get the load rolling and control it around the jobsite, then work your way through the gears to get it rolling down the highway.
"We prioritize and optimize the powertrain first when spec'ing a truck," says Michael Stricker, director of sales and distribution, Detroit. "This includes everything from the driveline, axles, transmission and engines. A good starting point is the desired road speed and startability. Knowing where and how a customer plans to operate a vehicle is essential in optimizing the powertrain. At Detroit, we have dedicated technical resources located in each region in the U.S. and Canada to ensure all of the requirements above are considered and optimized."
GCWR impacts driveline selection and the torque capabilities of drivelines. The driveline serves as a fusible link, protecting the expensive items like transmissions and rear axles. "Drivelines must be capable of transmitting the torque required to do the job, though, so often up-sizing drivelines is required in these applications," Breezee explains. "Most heavy axles rated 46,000 lbs. or higher are capable of some high GCW ratings. But gear ratios and transmission selections are key to finding low enough gears to pull the heavy loads up grades as well as achieve top speeds as required to haul on the highway."
Components need to be properly rated. Determine the maximum engine torque you can transmit through the transmission gearing and axles. Consideration and analysis of the terrain and geography need to be performed because each will affect driveline torque.
Technology makes it easier to perform the necessary calculations. "We now have programs where you can input your desired speed, grade and load and it will help you determine an optimum range of gear ratios," says Semler.
Make sure you understand the trade-offs with any decisions. "The rear axle ratio choice will affect startability, but choose it carefully to ensure a good balance between cruise speed and low gearing," says Breezee. "Kenworth recommends a startability of 15% or 20% for most heavy haul applications. You typically don't want to spec anything faster than a 4.11:1 ratio unless you are running a two-speed rear axle or an auxiliary transmission. In extreme applications involving bridge decks or oilfield equipment, you may see ratios upwards of 10:1 or even 14:1.
"For haulers running long distances at highway speeds, the ratio chosen should be as low as possible without undermining startability," he adds. "As a rule of thumb, pick the rear axle ratio for efficiency on the highway and get the startability required from your transmission ratios."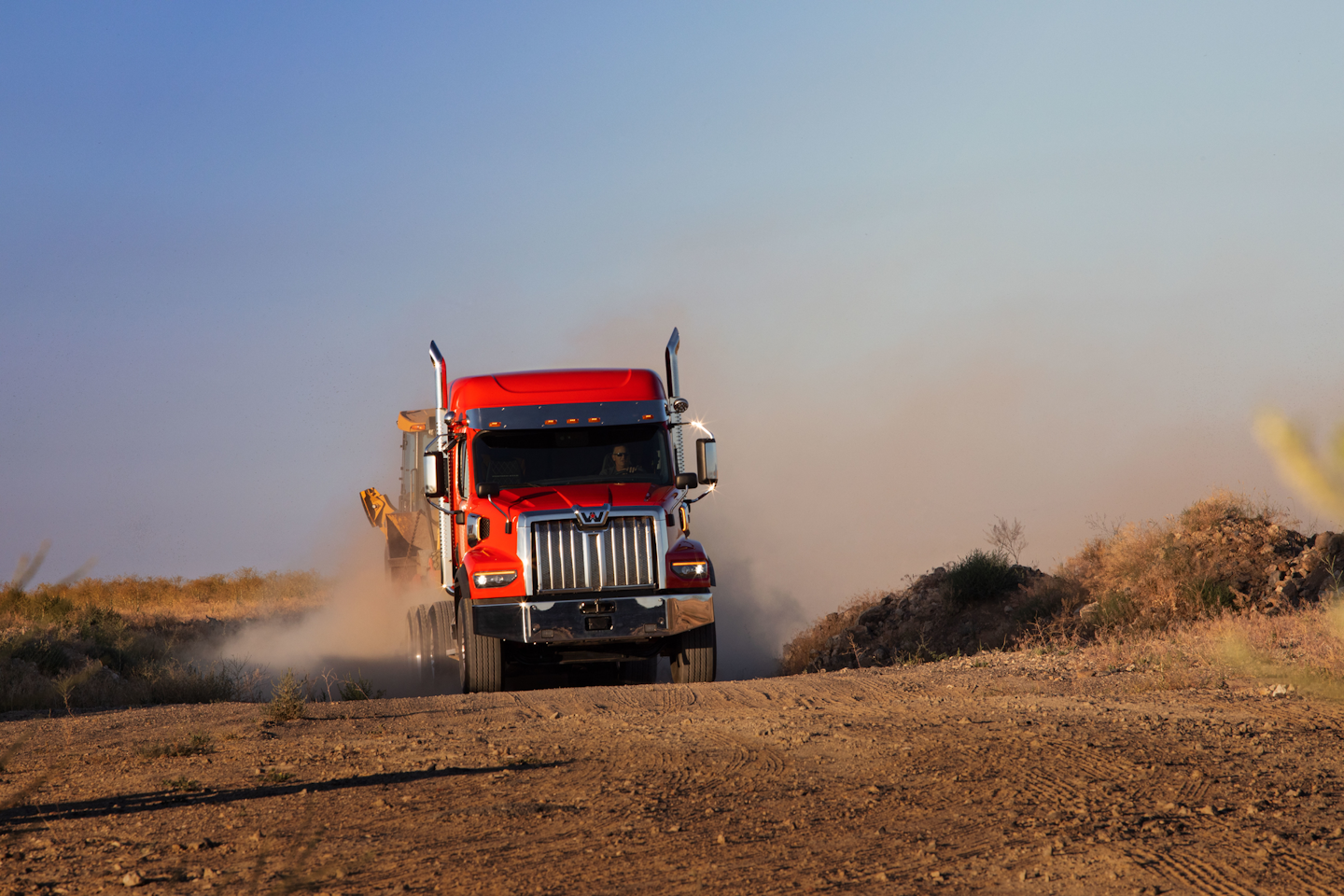 New vocational ratings are being introduced with the Western Star 49X on the Detroit DD15 Gen 5 engines with coverage up to 505 hp and 1,850 lb./ft. of torque. For higher gross combination weights in heavy haul applications, the proven Detroit DD16 engine is ideal with ratings up to 600 hp and 2,050 lb./ft. of torque.Western Star
Prevent off-road slip
Heavy haul trucks typically operate at least part time off road. This places an emphasis on traction control.
"Kenworth recommends wheel differential locks or a cross lock on at least one drive axle," Breezee states. "Automatic Traction Control is an option on anti-lock brake systems that controls wheel spin on slippery surfaces, which can be a big help when starting a load on a muddy jobsite."
Mack axles come standard with an interaxle power divider. "It will automatically shift up to 75% of the power to the axle that has traction," says Tim Wrinkle, Mack construction product manager. There is also available inter-wheel from side to side; it will apply up to 75% of the power from one wheel to the other. "We also have the differential lock available. If you are stuck, you can lock those axles and walk out."
Keep the wheelbase as short as possible 
Don't make the truck's wheelbase any longer than necessary since it reduces maneuverability, which is critical for heavy haul tractors that need to negotiate crowded jobsites.
"There are several advantages and disadvantages to longer and shorter wheelbases," says Semler. "In tractors, a longer wheelbase may be desired for spreading the load. A longer wheelbase may also be required for accessories or additions you are going to have on the truck, such as headache racks, toolboxes and lift axles for added capacity. But a longer wheelbase does reduce your maneuverability and turning radius. A shorter wheelbase with a setback axle is your most maneuverable.
"Generally, you will get more front axle loading with a setback axle and a shorter wheelbase," he adds. "That may cause issues if you are off road in the soft soil. You want to keep loading pretty equal so you don't cause sinking in soft soil."
Lift axles are often necessary. "Heavy haulers in need of pusher axles to comply with local weight and axle requirements can choose from steerable and non-steerable types," says Breezee. "A 20,000-lb. steerable is most common, but a 22,000-lb. steerable or non-steerable is also available.
"Operators who run non-steerable pushers often have to lift the pusher to negotiate corners or they end up scrubbing tires," he points out. "Steerable pushers offer the benefit of improved tire life because the axle will steer through the corner rather than scrubbing the tires. This also reduces the stress on the truck in these situations.
"The most versatile configuration is a 22,000-lb. steer axle, 46,000-lb. tandem drive axles and a 20,000-lb. steerable pusher," he adds.
Remember to account for the pusher axle when operating off road. "If you have a pusher axle, the axle will need to be lifted to go off road. So, you need to make sure your steer and drive axles have creep ratings that will allow for the additional weight which will be added when the pusher is lifted," says Russoli.
Proper positioning of the fifth-wheel is also critical to ensure full use of the rated capacity of all axles, especially the front. "The position of the fifth-wheel changes the weight distribution between the steer and drive axles," notes Treinen. "Moving the fifth-wheel toward the front axle will increase the weight on the steer axle and reduce weight on the drive axles. Finding an ideal fifth-wheel position will ensure that weights are not exceeding legal limits."
Wider tires can help handle heavy loads and meet certain state requirements, but come with a maneuverability penalty. Certain heavy haulers need wide-aspect front tires to handle the load as well as meet some states' tire-width requirements.
"The rule is typically 600 psi of tire width, but it can be as low as 500-psi width," says Breezee. "Mounting 425/65R22.5 tires on the front will be good for up to 22,000 lbs. on the steer axle in most states. You can go to wider 445 section tires to maximize tire width and improve flotation over loose surfaces.
"Heavy haulers often find themselves on jobsites maneuvering at slow speeds, which places a lot of pressure on the steering system," he continues. "This creates cooling concerns. Kenworth recommends an oil cooler on the steering system to maintain safe operating temperatures under demanding conditions."
To address low-speed steering effort, Mack introduced Command Steer, which adds steering boost to reduce the required steering effort. "This makes it quite easy to maneuver around tight jobsites at low speeds," notes Russoli.
Engine considerations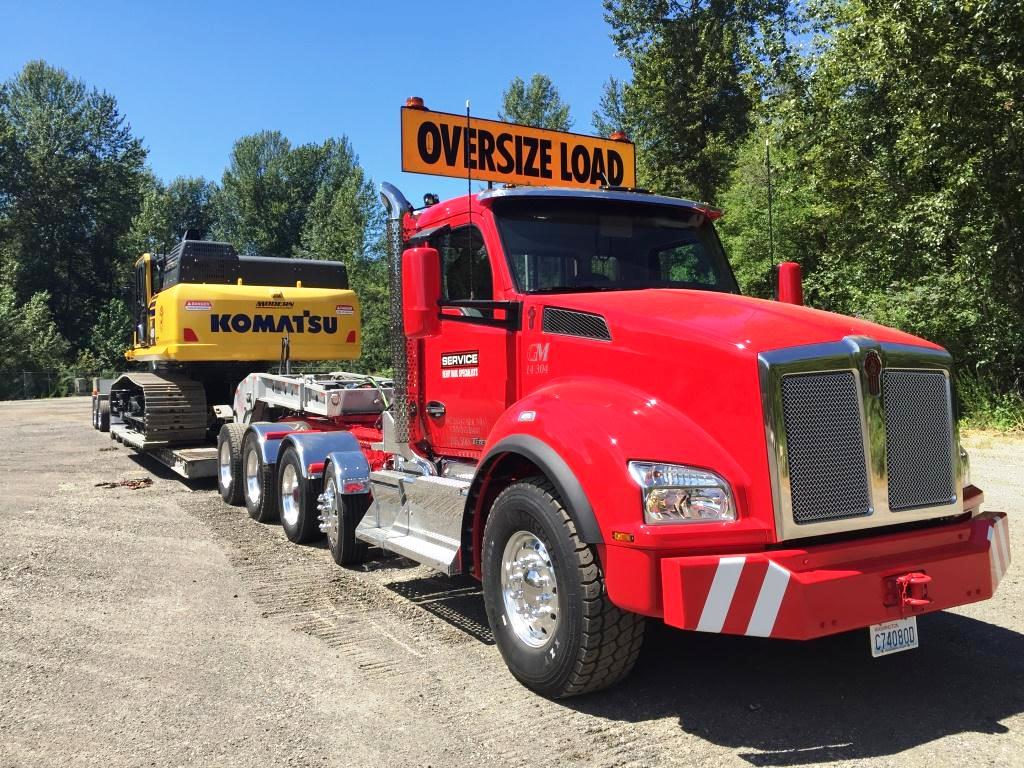 Heavy haulers that transport loads above 120,000 lbs. gross combination weight (GCW) must carefully specify their trucks for both durability and power. An over-spec'd truck may reduce fuel mileage and increase acquisition costs while an under spec'd truck may not be sufficient to move the load, or may increase maintenance costs.Traditionally, most heavy haulers use a 15-liter engine. But the truck industry as a whole has been "right-sizing" engines for the specific demands. As power densities have increased, 13-liter engines now cross over ratings of many larger 15-liter products.
"Engine size and horsepower will vary according to the weight of the load you are moving, as well as whether you are traveling the coastal plains, rolling hills terrain or crossing the Rockies," says Russoli. "Mack's 13-liter MP8 is available with up to 505 hp and 1,860 lbs.-ft. of torque. Generally speaking, 505 hp at 1,860 lbs.-ft. of torque will move most loads. It doesn't matter if that power is coming from a 13-liter engine or a 15-liter engine; 505 hp is 505 hp. There will be loads that need more power and many loads that can be moved with less power."
Both Western Star and Freightliner also offer 13-liter engines with up to 505 hp, but believe customers should have the engine offering they desire at their disposal. "We recognize that many heavy haul applications still require larger displacement and big torque to handle the task," says Stricker. "We continue to offer customers a complete line of 13-, 15- and 16-liter Detroit engines with up to 600 hp and 2,050 lbs.-ft. of torque."
"New vocational ratings are being introduced with the Western Star 49X on the Detroit DD15 Gen 5 engines with coverage up to 505 hp and 1,850 lbs.-ft. of torque," says Treinen. "These new engine ratings offer weight reductions, improved fuel consumption and increased DPF maintenance intervals, which make this engine ideal for vocational use. For higher GCWs in heavy haul applications, the proven Detroit DD16 engine is ideal with ratings up to 600 hp and 2,050 lbs.-ft. of torque."
While larger displacement engines are popular for lowboy and heavy haul applications, smaller displacement engines are gaining popularity for additional weight savings.
"There has been a greater focus on 13-liter engines as various manufacturers have increased the top ratings on these engines," says Treinen. "Improvement to fuel systems, aspiration and higher compression ratios have contributed to this. It is important to understand there are technical limitations to any engine and that constantly running at the higher power ratings means the engine will be operating closer to its design limit.
"Also keep in mind the life of the vehicle, as this will have an effect on the size or displacement of the engine," he adds. "A larger displacement engine will come with an extended B50 life, meaning it will have an extended life until an overhaul is needed."
Gear for success
"Heavy haulers typically choose an 18-speed manual [transmission] or AMT because of the super-low ratios and close gear splits," says Breezee. "Allison automatic transmissions are also becoming popular with heavy haul customers, both for ease of operation and the initial torque multiplication provided by the torque converter. Two popular examples are the 4500RDS and 4700RDS."
Two- and four-speed auxiliary transmissions and two-speed axles are needed for the heaviest loads. "In both cases, they double the number of available ratios, allowing improved startability and driveability," says Breezee. "A two-speed auxiliary transmission will double the reduction, while a two-speed rear axle will increase the reduction by a third. A two-speed axle works well up to about 190,000-lb. GCW. Above that, Kenworth recommends an auxiliary transmission with a 52,000-lb. tandem to give a GCWR of 240,000 lbs."
AMTs are gaining popularity in the vocational market just as they have in line haul. "We offer Eaton MHP, MXP and VXP transmissions, which have very high GCW specifications," says Semler.
The Mack mDrive HD AMT can go up to 220,000 lbs. and includes specific software and shift modes for heavy haul. The engine, transmission and axles are all tuned together. The Heavy Haul shift mode makes more aggressive shifts and with less skipping.
The startability and steps between gears of the mDrive HD 13-speed with creeper gear matches up favorably with an 18-speed transmission. The 13-speed mDrive offers a 17.5:1 low ratio. "With a standard transmission, typically a low would be around 10:1 and a low/low would go down to 14:1," says Wrinkle. "With an 18-speed transmission, there is about a 20% gap between each gear shift, so when you make that shift, you are dropping about 250 rpms. It works, but that is a lot of gears to shift through.
"Ten-speed transmissions, on the other hand, have a 40% step between those gears, and that rpm drop is going to be 500 when you are shifting between them," he continues. "So when you have a big, heavy load and you need to keep that momentum up, that rpm drop is hurting you in performance and efficiency."
The 13-speed mDrive splits the difference. "It has about a 28% step in between the gears and it is automated so your foot is not having to do the clutch," says Wrinkle. "The computer can do it a lot quicker than humans, so you are not losing those rpms and you are getting a lot better performance."
Western Star now offers vocational versions of its DT12 automated transmission. "The all-new Detroit DT12-V and -VX vocational transmissions, available on the Western Star 49X, were specifically designed for vocational customers," says Treinen. "Their large and robust planetary gear design has a wider overall ratio, which promotes improved startability and low-speed maneuverability. That new design also allows for increased torque limits and higher gross combination weights of up to 330,000 lbs. on the DT12-VX.
"Additionally, the DT12 Vocational series transmissions feature skip shifting, which selects the correct gear based on load and grade to improve acceleration," he notes, "and a power launch option, which automatically increases engine speed up to 1,200 rpm during launch to build up maximum engine boost and torque." This ensures smooth, powerful takeoffs with heavy loads while still protecting the clutch and driveline.
Treinen adds, "Auxiliary transmissions can be used for extreme applications with higher GCWs as they provide additional reduction when needed."
Support the load
Double frame rails are not necessary but are preferred by many heavy haul fleets for added durability on longer wheelbase vehicles.
The amount of frame reinforcement required will depend on the truck's wheelbase and axle capacities. "An inserted 3/8-in. frame is usually required for most heavy haul tractors, but you can get two inserts," says Breezee. "The longer the wheelbase and the more axle capacity you add, the more rigid the frame needs to be."
"Many people think they need a double frame rail regardless and they may not," says Semler. "It depends on the fifth-wheel load on the tractor. You may have a high GCW, but you don't have that huge a load on the fifth-wheel. Most of it is back on the trailer. If you do have a very high fifth-wheel load, you may require a double frame."
In some cases, you may want to consider alternatives to a standard lightweight frame. "There is the option of a taller single frame that gives you more strength without the weight of a double," says Semler. However, there are other trade-offs. "As you go to a taller frame, you have a higher fifth-wheel, so you have a higher ride height for your trailer."
"With the right frame and suspension selection, a customer can avoid an over- or under-spec'd truck for budget, weight optimization and truck longevity," says Treinen. "Where possible, try to find a truck model with the RBM rating you need using a single-channel frame rail. Using a high-strength single-channel rail can be key in reducing the weight of the truck and therefore increasing your payload. Consideration should be made for possible lift axle installations as this may have an effect on the frame and suspension selection."